Pavilion Lake, British Columbia, Canada
Welcome to the ultimate guide for history, statistics, local fun facts and the best things to do at Pavilion Lake.
If you're considering Pavilion Lake vacation rentals, we've made it super easy to explore accommodations and nearby hotels using the interactive map below. Simply click on a listing to compare similar properties, best rates and availability for your dates. Or keep scrolling to read our Pavilion Lake guide!
Pavilion Lake visitor and community guide
Something's going on at Pavilion Lake in British Columbia's Cariboo region . . .something besides the trout fishing, the camping, hiking, canoeing and scuba diving. Pavilion Lake is the home base of a joint space exploration research project between NASA and the Canadian Space Agency. For over seven years the joint research project has been investigating the proliferation of rare freshwater microbialites which have created coral-like structures on the floor of the lake. Fossil microbialites are some of the earliest remnants of life on Earth, and were common from 2.5 billion to 540 million years ago. Microbialites are found today in environments where conditions are often too harsh for most organisms. However, the microbialites in Pavilion Lake and nearby Kelly Lake are growing at the present time in environments that also support fish, plants and other aquatic species! The space exploration research teams hope by studying these rare life-forms to better understand the conditions under which extreme space environments might possibly support life.
Scuba divers at deep, spring-fed Pavilion Lake were the first to discover what they believed to be 'fresh-water coral'. Some interested divers broke off a piece and sent it to a research center several years ago, which promptly rejected it. Later, however, space researchers realized that the 'fresh-water coral' sample was NOT fossilized coral from some long-forgotten sea but a calcium carbonate structure created by currently-living microscopic bacteria. Research funding was sought and research begun almost immediately. Much to the disappointment of the divers, scuba diving is now limited to carefully controlled areas to protect the delicate life-forms. However they realize the necessity of the regulation and are pleased to see their 'found' treasures identified and investigated.
Pristine Pavilion Lake lies along Highway 99 northeast of Kamloops. Marble Canyon Provincial Park encompasses a portion of the eastern shore. The park and lake have long been popular for camping and trout fishing. The clear waters support trout planted by the province, primarily rainbow trout, with some cut-throat trout and bull trout. Few other fish species are present as the lake is extremely oligotrophic and has few plant species growing to provide habitat for many varieties. The lake receives very little run-off so remains very clean and the water pure. Canoeing and kayaking on the long narrow lake is a popular way to experience the scenic grandeur of the surrounding chalk cliffs and enjoy the local wildlife. Car-top boats can be launched from the shore at the nearby campground.
Marble Canyon Provincial Park, hidden in the rugged Pavilion Mountain Range, lies in a unique limestone canyon which was once part of a Pacific island chain. Smaller Crown Lake and Turquoise Lake also lie totally within the park. There is a rustic campground available with a picnic area nearby. Crown Lake offers a small swimming beach. The park is extremely popular with climbers, who say that Marble Canyon has the best and most easily-accessed ice falls in the region. A number of other canyons run off the main Marble Canyon.
The white, chalk-faced slopes of Marble Canyon are composed of limestone, unlike the granite slopes of the nearby Coast Mountains. The weathered peaks, surmounted by the remarkable Chimney Rock, have the appearance of a crumbling castle wall. Chimney Rock, known as Coyote Rock by members of the Fountain Band First Nation, draws the eye and is the most easily recognized feature in the area. The area is extremely arid – almost desert climate – and tends to get very hot during the mid-day summers. A hand pump for drinking water is available at the campground.
Wildlife viewing and photography find many subjects for study near Pavilion Lake. Black bears and cougars are common in the area and should, of course, be avoided. A waterfall at the end of Turquoise Lake is a favorite for vacation souvenir pictures, and the water attracts a variety of small mammals and birds. Turquoise describes the color of all three lakes – a color attributable to the lakes' slightly alkaline state. The Ts'kw'aylaxw First Nation, also known as Pavilion Indian Band, owns and operates the Sky Blue Water Resort on Pavilion Lake where they rent cabins, offer tent camping and rent canoes and boats for use on the lake. The resort is temporarily closed, likely due to the research activities going on at the lake. Other than tribal homes, development along the lakeshore is nearly non-existent.
The settlement closest to Pavilion Lake is the Village of Cache Creek. Located 30 miles to the east at the junction of Trans-Canadian Highway 1 and Highway 97, the well-known Caribou Highway of gold rush fame, Caches Creek enjoys its reputation as a tourist's destination.
Hat Creek Ranch, once a roadhouse serving the express stage coaches that traversed the old wagon road near Pavilion Lake, is a museum today, and the original buildings still stand as they did in 1901. Here visitors can see blacksmith demonstrations, take a wagon ride, or go trail riding. The local Stuctwesemc (Shuswap) people from the Bonaparte Reserve have reconstructed a traditional Shuswap Village beside Hat Creek with an actual kekuli pit house. Guides will show you the crafts, tools, and technologies of a self-sufficient culture from the recent past. The Ashcroft Museum, located five miles south of Cache Creek, has displays of historical artifacts of the area. Year-round Horstings Farm Market offers fresh baked bread and fruit pies, and the store is brimming with fresh produce, local honey, jams, syrups, country crafts, wicker and unique gift items. Close by is Loon Creek Hatchery, which raises kokanee salmon and rainbow trout.
Also in Cache Creek, visitors come to watch the BC Old Time Drags and Rod Run, when hot rods from all over the Pacific Northwest arrive to take part in races and a hot rod parade. That same weekend, the Cache Creek Graffiti Days bills itself as an escape back to the 50s and 60s, with the racing, sock hops, car cruise and other fun nostalgic activities.
Pavilion Lake has something going on, but much of it is hidden in plain sight. A quieter, more natural setting for a vacation or a trout fishing trip cannot be found. Other than the currently closed resort, rental properties can't be found on the shore of the lake. Nearby, however, hotels, private rentals and fishing cabins can provide lodgings for those not attracted to rustic camping. And, although real estate isn't often available at the lake itself, there are purchase opportunities in the vicinity, even along the shores of other bodies of water. If you are a scuba diving fan, you simply must make the excursion to Pavilion Lake your next diving destination. Plenty of the famed microbialite structures are located in the allowable diving zones to fill your underwater album with some very rare and unusual pictures. Oh, and bring the fly rod and tackle; a shore lunch will be just the ticket to end your strenuous day. See you at Pavilion Lake!
Custom Pavilion Lake house decor
Read our full review of these personalized lake house signs.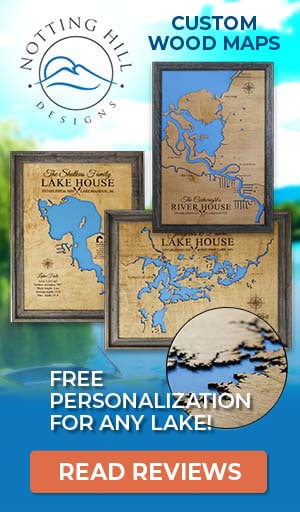 Things to do at Pavilion Lake
Vacation Rentals
Fishing
Boating
Beach
Canoeing
Kayaking
Scuba Diving
Camping
Campground
Picnicking
Cabin Rentals
Hiking
Waterfall
Wildlife Viewing
Birding
Provincial Park
Museum
Fish species found at Pavilion Lake
Bull Trout
Kamloops
Kokanee Salmon
Rainbow Trout
Salmon
Trout
---
Best hotels and vacation rentals at Pavilion Lake
The Pavilion Lake map shown above is a simple and stress-free way to search for trip accommodations. But if you want to take a deeper dive to find the ideal waterfront home, cabin, condo, hotel or resort, visit our favorite lodging partners by clicking the buttons below.
Note: These are affiliate links so we may earn a small commission if you book through them. While there is no extra cost to you, it helps provide resources to keep our site running (thank you)! You can read our full disclosure policy here.
---
Pavilion Lake photo gallery
New photos coming soon!
Pavilion Lake statistics & helpful links
We strive to keep the information on LakeLubbers as accurate as possible. However, if you've found something in this article that needs updating, we'd certainly love to hear from you! Please fill out our Content Correction form.
Advertise your Pavilion Lake vacation rental
LakeLubbers will soon offer homeowners and property managers the opportunity to to showcase their vacation rentals to the thousands of lake lovers searching our site daily for accommodations. If you'd like additional details, please contact our advertising team here.
Looking for the Pavilion Lake forum?
LakeLubbers previously offered visitors the ability to create accounts and participate in lake forums. When we overhauled the site's content management system in 2021 we had to disable those features. We're evaluating options and welcome your comments and feedback here.
We also encourage you to join our lake-lovin' community on Facebook and Instagram!
Spread the word! Share our Pavilion Lake article with your fellow Lake Lubbers!