Okanagan Lake, British Columbia, Canada
Lake Locations:
Also known as:  Lake Okanagan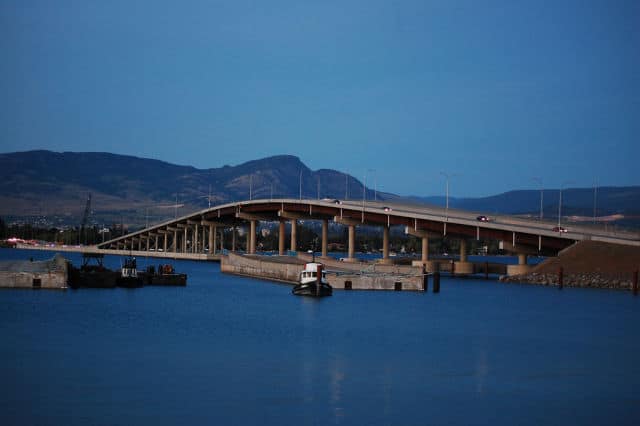 Okanagan Lake, located in British Columbia's Napa of the North Country, is a vacationer's paradise. Its sheer size and convenient location make this well-developed area the perfect destination for any activity you can imagine. Visitors can enjoy an active day on the water fishing, boating, parasailing, wind surfing, water skiing, canoeing, or swimming. On dry land there are beaches to sunbathe, trails to explore on foot, horseback, or bicycle, golf courses to test your skills, and small towns to explore. Okanagan Lake even has its own monster to boast of, called Ogopogo. This majestic lake offers plenty of opportunity for recreation for the whole family or to just relax and enjoy the scenery with a glass of locally produced wine.
Surrounded by the semiarid hills and plateaus of the Okanagan Valley, Okanagan Lake was glacially formed when the last continental ice sheet retreated 10,000 years ago. Summer water temperatures reach 78 degrees in this oblong-shaped lake that drains into the Okanagan River after passing through the Okanagan Lake Outlet Dam. Also known as Lake Okanagan, the name has a history of multiple spellings and interpretations. Most people agree that the name comes from an Interior Salish word meaning "place of water". Today, the native people who inhabited the area, long before the arrival of missionaries, fur traders, and ranchers, remain on reserves around the lake. The terraced land and fertile soil of the valley has long supported fruit orchards, in particular grape vineyards. With dry summers and mild winters, the climate is perfect for high quality grapes producing wine known throughout the world. After the river flows through the valley, waters from the lake eventually join the Columbia River near Brewster, Washington.
Anglers looking for a big catch can count on a great fishing experience at Okanagan Lake. The lake's deep waters make it well-suited for trolling, especially for the large rainbow trout that are frequently caught here. Anglers often come away with 20-pound rainbow trout. Other species include kokanee, salmon, whitefish, ling cod, carp, and burbot. Fishermen will also find numerous bays and coves all around the lake to drop a line and relax while enjoying the majestic scenery. Access to the lake can be found via boat ramps and marinas located in parks as well as private property around the lake. Visitors looking forward to cooking up their catch are in luck as there no fish consumption advisories as of 2009. Water quality in the lake is an extremely important issue to government and private interests in the region. There has been a concerted effort in recent years to improve the quality of the water, which has resulted in increased fish populations.
In addition to excellent fishing locations, countless beaches, campgrounds, and parks dot the shores of Okanagan Lake, providing camping, swimming, fishing, hiking, and numerous other activities. Some parks have playgrounds, basketball and volleyball courts, picnic shelters, beaches, campgrounds, and interpretive trails. With the exceptionally deep waters comes the opportunity to SCUBA dive, which is available on the northeastern side of the lake at Ellison Provincial Park. Additional features to check out around the lake include a popular cliff-diving area called Squally Point, a floating bridge called the William R. Bennett Bridge, and Rattlesnake Island near Okanagan Mountain Park.
Rattlesnake Island is supposedly home to the very famous lake monster, Ogopogo. The native people of the area called the monster N'ha-a-itk, meaning "snake of the water." European settlers reported sightings dating back to 1872. Since then, Ogopogo has captured the imagination of authors, film makers, TV writers, and video game makers. A search on the internet will result in thousands of links to stories and pictures from professional and amateurs alike fascinated with this creature, which has been feared by many for centuries.
Okanagan Lake has something for everyone along with any type of accommodations you can dream of. Whether you'd like a cottage on the lake's edge or a villa complete with a boat, Okanagan Lake has vacation rentals available for you, located just about anywhere on its shores. The lake features various resorts with all the amenities along with public and private campgrounds. For those looking to relocate to the area, plenty of real estate is available. Three cities are located along Okanagan Lake's shores: Vernon on the north end, Kelowna mid-way down on the eastern side, and Penticton at the south end. The cities are bustling with tourists, which is a major economic factor for the communities. Additionally, the agriculture and forestry industries are top employers, as is copper mining.
Less than a half hour's drive from Kelowna International Airport, Okanagan Lake is extremely convenient for visitors. You could stay busy for weeks with all the activities just at Okanagan Lake, without taking into account the endless options in the rest of the Thompson Okanagan Tourism Region of British Columbia. No matter how particular each member of your family is, Okanagan Lake is sure to keep the entire family happy at rest and play.
Things to do at Okanagan Lake
Vacation Rentals
Fishing
Boating
Swimming
Beach
Canoeing
Water Skiing
Parasailing
Wind Surfing
Scuba Diving
Golf
Camping
Campground
Picnicking
Hiking
Biking
Horseback Riding
Provincial Park
Playground
Fish species found at Okanagan Lake
Burbot
Carp
Cod
Kokanee Salmon
Rainbow Trout
Salmon
Trout
Whitefish
---
Okanagan Lake Photo Gallery
Okanagan Lake Statistics & Helpful Links
Spread the word! Share our Okanagan Lake article with your fellow Lake Lubbers!