Otsego Lake, Michigan, USA
Lake Locations:
USA - Midwest - Michigan - Northwest -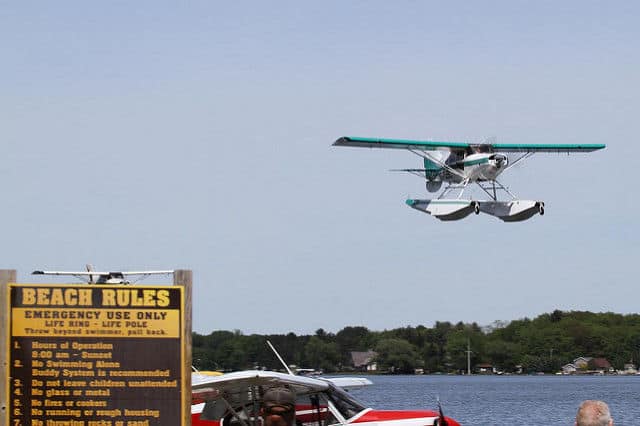 A plane's deep droning in the distance becomes louder and louder as visitors at Otsego Lake look up towards the sky. Those new to the scene quickly realize the aircraft is a seaplane, which soon proves itself by dropping delicately into the lake. The pilot skims the lake's surface, eventually coming to a stop and joining others along the shoreline for Otsego Lake's annual Seaplane Splash-In.
Rolling mountains cover the 12 miles of shoreline at Otsego Lake, a 1,972-acre lake in northwestern Michigan. With a length of five miles and an average depth of about 10 feet, Otsego Lake resembles a long, slightly crooked finger in Otsego County. Its geologic history shows that the lake was formed from glaciers many years ago, making it similar to other bodies of water in the state.
Along the southern portion of Otsego Lake's eastern shoreline rests Otsego Lake State Park. A little over 60 acres of the park wraps itself close to the lake's shores, with a half mile devoted to a sandy beach. Kids scatter themselves along the beach, splashing into the water during the summertime while parents sun themselves on beach towels. Boats launch into the lake from this site, setting off to explore various sections of this elongated lake.
Anglers may choose to set up their lines from the fishing pier at Otsego Lake State Park, or they may try their luck in different sections of the lake. Fish species bound to crop up with proper patience include northern pike, perch, smallmouth bass and largemouth bass. Other species, which are less populated in the lake, are sturgeon, walleye, bluegill and crappie.
Lakeside vacation rentals and real estate opportunities make exploring Otsego Lake a snap. Securing hiking boots on your feet and settling a walking stick in hand, seek out your own trail along various sections of the lake. While Otsego Lake is not known for an elaborate trail system, succulent blueberry bushes pop up into view as wild orchids nestle under the trees.
For a little social stimulation away from Otsego Lake, travel north a few miles to the city of Gaylord, known also as Alpine Village. From winter to summer, this vibrant community engages locals and visitors with outdoor and indoor recreation. Downhill skiing, cross country skiing, snowshoeing, and snowmobiling allow for a perfect winter weekend experience; once the snow melts off the mountains, dig in the dirt with experts in search of wild mushrooms.
Close to the city's limits, tucked onto 100 acres of fenced-in hilly grassland, is the Gaylord City Elk Park where a herd of elk can be viewed throughout the year. Although these elk may not dip their velvety muzzles into Otsego Lake for a quick drink, other wildlife such as white-tailed deer and black bears make their way carefully to the water's edge. Birders can grab a glimpse of bald eagles and common loons spotted alongside migratory birds passing through the lake's habitat on clear days.
As the sun sets through the maple, oak and pine trees, take in the the surroundings at Otsego Lake as the day comes to an end. Days spent boating or canoeing around the lake, swimming the shallow depths or chatting with new friends end peacefully from your vacation rental's cozy porch. Or take it one step further and find yourself entrenched into the Otsego Lake community for its snow-filled winters and warm summers — you won't regret it.
Things to do at Otsego Lake MI
Vacation Rentals
Fishing
Boating
Swimming
Beach
Canoeing
Hiking
Downhill Skiing
Cross-Country Skiing
Snowmobiling
Wildlife Viewing
Birding
State Park
Fish species found at Otsego Lake MI
Bass
Black Bass
Bluegill
Crappie
Largemouth Bass
Northern Pike
Perch
Pike
Smallmouth Bass
Sturgeon
Sunfish
Walleye
---
Otsego Lake MI Photo Gallery
Otsego Lake MI Statistics & Helpful Links
At LakeLubbers.com, we strive to keep our information as accurate and up-to-date as possible, but if you've found something in this article that needs updating, we'd certainly love to hear from you!
Please let us know about it on our Content Correction form.
Spread the word! Share our Otsego Lake MI article with your fellow Lake Lubbers!