Otisco Lake, New York, USA
Lake Locations:
USA - Mid-Atlantic - New York - Finger Lakes -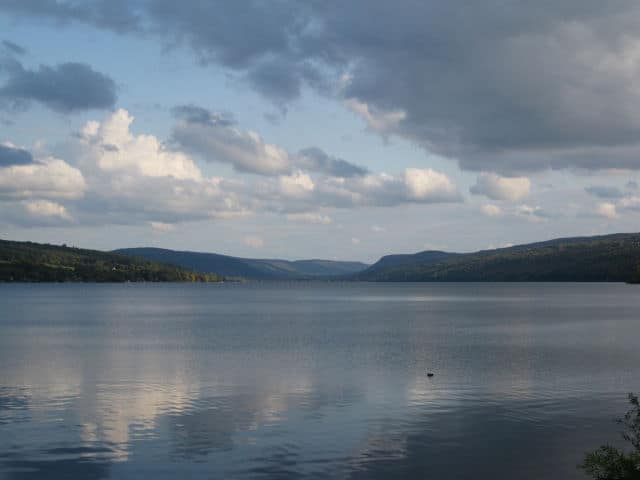 Approximately 20 miles southwest of Syracuse, New York, Otisco Lake is the easternmost of the 11 Finger Lakes. Just under six miles long, 3/4 miles across at its widest point, and 60 feet deep at its deepest point, it is seventh in size among the Finger Lakes. It is fed at the southern end by Spafford Creek, Amber Brook, Rice Brook, and Willow Brook. Its northern outflow feeds Onondaga Lake by way of Nine Mile Creek and then Lake Ontario by way of the Seneca and Oswego Rivers. Surrounded by wooded hills of the Finger Lakes vacation region, the quiet countryside of the area makes Otisco Lake a great place to picnic, boat, or fish.
The Iroquois named the lake Otisco meaning "where waters dried away." Prior to 1869, the water level of the lake fluctuated greatly and often dried up completely resulting in mostly unusable marshland. In 1869 a dam was built on the northern end outlet into Nine Mile Creek to raise the water level by nine feet and to provide a water reservoir for the Erie Canal. In 1908 the dam was rebuilt raising the water level an additional four feet to provide drinking water for Onondaga County. The dam is owned by the Onondaga County Water Authority.
Otisco Lake is divided into two distinct basins by a rock causeway at the south end. The causeway was originally built to carry a road for use by wagons to cut across the lake rather than go around it. The road is no longer used. A break in the causeway near the west bank allows boats to travel between the upper and lower parts of the lake. The southern smaller basin is rather shallow and extremely turbid which contrasts sharply with the relatively clear water of the main lake. Although not maintained as a public facility, the causeway is a favorite fishing spot and offers a beautiful view of the lake.
Despite the small size of Otisco Lake, its natural beauty and proximity to Syracuse has made the lake a desirable place to live. It now has more than 550 lakefront properties. This has greatly limited the public's access to the lake. Fishing is allowed, but the shoreline available to anglers is first come, first served. Like most of the smaller Finger Lakes, Otisco Lake has little wind and is more suited to motor boating than sailing. The lake is extremely popular in the summer months and experiences a huge increase in population every Memorial Day. An annual fishing derby sponsored by the Otisco Rod and Gun Club, usually around the second week in June, fills the lake with boats.
Although limited, access to Otisco Lake is not impossible. The last will and testament of Waldemar F. and Marjory G. Hirsch contained a gift to Onondaga County. Three acres of land owned by the Hirsch family was to be used as a park, and not be sold for individual lots or private development. Otisco Lake County Park was dedicated on July 12, 2000. It has four commemorative benches, towering evergreens and 600 feet of shoreline. It is open year-round from dawn until dusk. Parking is limited to five cars, and pets and swimming are prohibited. There are restrooms and hand launch boating. The park is located at 2525 Otisco Valley Road in the town of Marietta.
The Otisco Lake Causeway has parking for eight cars. 600 feet of shoreline are perfect for fishing, but again, no pets or swimming. It is open year-round from dawn until dusk and offers hand launch boating. The west side of the causeway offers a unique chance to see the lake from the surface.
On West Valley Road, 2 miles north of Saw Mill Road, is a small and popular hand launching area. Parking is limited to ten cars, and there is a small pier. The Otisco Lake Marina also provides public access to the lake; it is located at 1697 Otisco Valley Road in the village of Marietta.
If you're a fisherman, Otisco Lake has much to offer. The lake is stocked yearly with 3,500 brown trout, 45,000 walleye, and 7,500 tiger musky. The north end of the late is noted for good panfishing (bluegill, pumpkinseed, white perch, yellow perch, crappie, rock bass and bullhead). Largemouth and smallmouth bass also frequent these waters. Largemouth bass over 20 inches are frequently caught. Walleye fishing is best during the spring, early summer and fall months. Casting from shore or the causeway at dusk is best for walleye. Brown trout can be caught in the spring by trolling. The tiger musky makes a nice trophy for the skilled angler, and Otisco Lake might be one of the best waters in the state for this fish. Tigers are most often caught in the weedbeds at the north and south ends of the lake. Carp are also found throughout the lake, usually in the shallower areas. The north end usually freezes over in the winter and offers good ice fishing.
Currently the lake is experiencing a problem with zebra mussels. These non-native mollusks cling to the rocks, docks and pretty much anything else in the water. This invasive species was introduced by outside boaters and has since become a large problem for lake management. The sharp shell of this mussel can easily slice through skin, so swimmers and waders should wear foot protection.
If fishing isn't your idea of fun, try a scenic drive along East Lake Road. You will be able to see neighboring Skaneateles Lake as well as Otisco Lake. The two lakes are separated by a high rolling hill that offers a fantastic view of both lakes. Photographers and nature lovers will enjoy sightings of geese, ducks, loons, blue herons, white-tailed deer, muskrats and beavers throughout the area.
Whether it be fishing, boating or just the need for peace and quiet found in the upstate New York countryside, Otisco Lake has much to offer.
Things to do at Otisco Lake
Vacation Rentals
Fishing
Ice Fishing
Boating
Sailing
Swimming
Picnicking
Wildlife Viewing
Fish species found at Otisco Lake
Bass
Black Bass
Bluegill
Brown Trout
Carp
Crappie
Largemouth Bass
Perch
Pumpkinseed
Smallmouth Bass
Sunfish
Tiger Muskellunge
Trout
Walleye
White Perch
Yellow Perch
---
Otisco Lake Photo Gallery
Otisco Lake Statistics & Helpful Links
Spread the word! Share our Otisco Lake article with your fellow Lake Lubbers!