Oologah Lake, Oklahoma, USA
Also known as:  Oolagah Reservoir
Welcome to the ultimate guide for history, statistics, local fun facts and the best things to do at Oologah Lake.
If you're considering Oologah Lake vacation rentals, we've made it super easy to explore accommodations and nearby hotels using the interactive map below. Simply click on a listing to compare similar properties, best rates and availability for your dates. Or keep scrolling to read our Oologah Lake guide!
Oologah Lake visitor and community guide
Located in the northeast corner of Oklahoma, in the Green Country region, Oolagah Lake hides a wealth of surprises for the visitor. Located just a half-hour northeast of Tulsa, Oolagah Lake has become a favorite of sail boaters due to the brisk winds and large expanse of open water. The lake was developed by the Army Corps of Engineers by damming the Verdigris River to provide for better navigation, flood control and water supply. In the process, the Corps developed one of the premier water and wildlife spots in northeast Oklahoma. Pronounced oo'-la-gawh, the name is a Cherokee word meaning "dark cloud. Anyone having experienced on of the severe windstorms that can brew quickly in this area holds the name as appropriate.
This area of Oklahoma is historical due to the interchange of Native Americans and European settlers early in the 1800s. The eastern Oklahoma area was officially known as "Indian Territory" and a great many tribal groups were moved to the area in the mid 1800s. It was here that the infamous Cherokee Trail of Tears ends as the Cherokee were removed from their traditional lands in the Southeast. The Cherokee, Chickasaw, Choctaw, Creek, and Seminole in the area were called, somewhat prejudicially, the "five civilized tribes" because of their willingness to assimilate into the white culture. They soon owned much of the land in the area around what is now Oolagah Lake. Into this blended society, Will Rogers was born near Oolagah to part-Cherokee parents who owned a prosperous ranch. His father was a Senator, humanitarian and Cherokee leader. Will became one of America's greatest newspapermen, radio stars, rodeo attractions and silent film actors but was most revered for his common-sense philosophy. He was one of the world's most celebrated humorists and commentators. His death was mourned by millions when he was killed in a plane crash in 1935. Will always considered himself a Native American and did much to promote tolerance and understanding between all races. Much of the family ranch now lies under the waters of Oolagah Lake but the ranch house still stands on the banks as a public museum and monument to a great American.
The majority of the shoreline of Oolagah Lake is owned by the Army Corps of Engineers and managed as public lands for wildlife preservation and water quality protection. Several public use areas provide improved campsites. All include nature trails and walking access to the water. Some trail routes are set aside for those on horseback. Two marinas are operated by concession and provide for watercraft rentals including personal watercraft. Oolagah Lake is the perfect place to spend the day or a week or a month. All types of watercraft are allowed and water sports are a favored activity. Sailing and windsurfing are favorites. For those left on shore, there are plentiful picnic areas, including grills or visitor may choose to purchase food from venders authorized by permit.
Fishing is always a favorite activity at Oolagah Lake. Large mouth bass, white crappie, white bass, channel catfish, flathead catfish, blue gill, sand bass, walleye, striped bass hybrids and blue catfish are caught. Locals say the northern reaches are great for shallow water fishing, with deeper water in the southern half of the lake. Areas around the dam in the tail waters are also reputed to be excellent. Nearly all public areas of the shore have a public boat ramp to provide easy boat access. Areas north of the lake are set aside as wildlife management areas. The public hunting areas have quail, prairie chicken, turkey, squirrel, rabbits, dove, duck, geese and deer in season by legal hunting license. Non-game species, such as coyotes, raccoon, fox and bobcat are often seen. Bald eagles often winter at the lake and shorebirds stop on their spring and fall migration route.
Oolagah Lake isn't the sole attraction in the area: historic Route 66, called The Mother Road, runs through Claremore south of the lake. Surviving sections of the old road are filled with the relics of America's original love affair with the automobile. Tourist attractions and historic lodgings sprang up along the old route and flourished until the traffic was diverted to Interstate 44. Route 66 hobbyists enjoy looking for old landmarks, signs and businesses that still remain. Main Street in Claremore is a part of the old route and is home to over 300 antique and collectible dealers. Historical restorations are on-going. Other 'must see' locations are J.M. Davis Arms & Historical Museum, The Will Rogers Hotel with it's famed mineral baths and The Belvidere Mansion. Nearby, on the shores of Oolagah Lake, is Will Rogers Memorial and Birthplace Ranch.
Surrounding Rogers County has many attractions such as Will Rogers Raceway, Oak Hills Winery, Talala Historical Museum, the Oklahoma Maritime Educational Center & Park at the Port of Catoosa, the Arkansas River Historical Society Museum and much, much more. There are plenty of golf courses in the area to please the avid golfer. Vacation rentals are available in Nowata, Oolagah, Claremore and Tulsa. Many newer developments in the area offer condos and all types of real estate. And there are many one-of-a-kind lodgings such as Bed-and Breakfasts along Old Route 66 just a short distance from Oolagah Lake
With Tulsa only a few minutes away, visitors can take their pick of specialty restaurants and nightlife offerings after spending the day at Oolagah Lake. Tulsa is well-supplied with museums, learning opportunities and the Arts. Some of the more well-known are Gilcrease Museum , Tulsa Air and Space Museum & Planetarium, Tulsa Zoo & Living Museum and Tulsa Children's Museum.
When looking for a unique vacation spot, don't overlook the northeast corner of Oklahoma. Oolagah Lake is waiting for you. Bring the sailboat, the fishing rods and the kids. You may find yourself returning year after year.
Custom Oologah Lake house decor
Read our full review of these personalized lake house signs.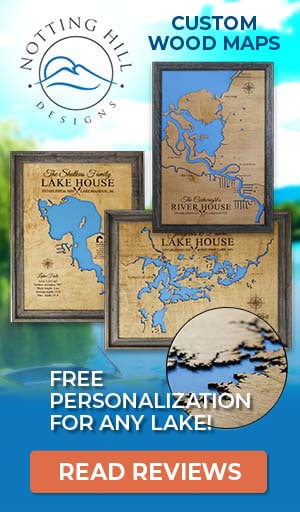 Things to do at Oologah Lake
Vacation Rentals
Fishing
Boating
Sailing
Golf
Camping
Picnicking
Hiking
Horseback Riding
Hunting
Wildlife Viewing
Birding
Museum
Antiquing
Fish species found at Oologah Lake
Bass
Blue Catfish
Catfish
Channel Catfish
Crappie
Flathead Catfish
Largemouth Bass
Perch
Striped Bass
Walleye
White Bass
White Crappie
---
Best hotels and vacation rentals at Oologah Lake
The Oologah Lake map shown above is a simple and stress-free way to search for trip accommodations. But if you want to take a deeper dive to find the ideal waterfront home, cabin, condo, hotel or resort, visit our favorite lodging partners by clicking the buttons below.
Note: These are affiliate links so we may earn a small commission if you book through them. While there is no extra cost to you, it helps provide resources to keep our site running (thank you)! You can read our full disclosure policy here.
---
Oologah Lake photo gallery
New photos coming soon!
Oologah Lake statistics & helpful links
We strive to keep the information on LakeLubbers as accurate as possible. However, if you've found something in this article that needs updating, we'd certainly love to hear from you! Please fill out our Content Correction form.
Advertise your Oologah Lake vacation rental
LakeLubbers will soon offer homeowners and property managers the opportunity to to showcase their vacation rentals to the thousands of lake lovers searching our site daily for accommodations. If you'd like additional details, please contact our advertising team here.
Looking for the Oologah Lake forum?
LakeLubbers previously offered visitors the ability to create accounts and participate in lake forums. When we overhauled the site's content management system in 2021 we had to disable those features. We're evaluating options and welcome your comments and feedback here.
We also encourage you to join our lake-lovin' community on Facebook and Instagram!
Spread the word! Share our Oologah Lake article with your fellow Lake Lubbers!