Newt Graham Lock and Dam, Oklahoma, USA
Also known as:  Newt Graham Lock and Dam 18, Newt Graham Lake, Newt Graham Reservoir, Newt Graham Pool
Welcome to the ultimate guide for history, statistics, local fun facts and the best things to do at Newt Graham Lock and Dam.
If you're considering Newt Graham Lock and Dam vacation rentals, we've made it super easy to explore accommodations and nearby hotels using the interactive map below. Simply click on a listing to compare similar properties, best rates and availability for your dates. Or keep scrolling to read our Newt Graham Lock and Dam guide!
Newt Graham Lock and Dam visitor and community guide
Barely 25 miles east of Tulsa, in Oklahoma's Green Country Region, the Newt Graham Lock and Dam holds delight for the resident and visitor alike. The lock and dam are named for a major Tulsa supporter of the Arkansas River Navigation project. In order to facilitate water transportation to the Port of Catoosa, it was necessary to have a way to raise barges from the level of the Mississippi 420 feet below to the elevation of the Verdigris River. This was done via a series of seventeen locks and dams. The Newt Graham Lock and Dam raises waterway traffic from 511 feet up to the 531 foot level of the river. Wisely, the Army Corps of Engineers dedicated the new navigation pool and surrounding areas not only for navigation but to enhance wildlife habitat and improve recreational opportunities in the area. Newt Graham Reservoir sees many visitors each year who come to take advantage of these opportunities.
Named for a prominent Tulsa businessman of the 1920s, Newt Graham Lock and Dam property contains five public areas set aside for recreational activities. Most have improved campsites and picnic areas with grills. Several also contain public boat launch facilities. A Visitor's Center provides maps and information on the area. Those with young children should be advised that there are no areas dedicated to swimming at the lake, but other activities will keep most children occupied. All types of watercraft are permitted, however all users must be cognizant of the navigation channel and give waterway traffic a wide birth. Information at the Visitors center will provide both general guidelines and regulations.
Because part of the navigational improvements included straightening the river channel, the old river course north of Newt Graham Lock and Dam provides a quiet, slow-moving body of water ideal for teaching young children to fish. This old channel is a favorite among experienced fishermen, who pursue channel and flathead catfish, crappie, large-mouth and striped bass, various sunfish, carp, buffalo, walleye and bream among the deadfalls along the old banks. The newly-straightened navigational channel provides for deeper water and different fishing techniques.
The wooded buffer zone along the Newt Graham reservoir provides cover for a wide variety of native birds. Many native animals take advantage of the buffer for needed cover in this generally agricultural area. Whitetail deer, dove, quail, squirrel, rabbit, turkey, woodchucks, opossum, coyote, fox, raccoon, an occasional armadillo and several species of migratory waterfowl frequent the area. The many local gravel roads and designated trails offer plenty of pathways for hiking and bicycling. The serious hiker will find a section of the Jean-Pierre Chouteau Trail begins near the visitor center and may be hiked to the Port of Catoosa, a distance of 20 miles. In season, hunters arrive to try their luck hunting the allowable game species ÃfffÃf,Ã,¢ÃffÃ,¢,Ãf,Ã,¬" by license only.
There are always local real estate opportunities available around Newt Graham Lock and Dam. There are few vacation rentals to be found in the close vicinity, but there are plenty of choices offered in surrounding towns. For those wishing to locate lodgings with swimming nearby for the kids, Wagoner may be a good option.
Wagoner, around 25 miles southeast of Newt Graham Lock and Dam, is a small town with a big heart. Wagoner grew up at the at the junction of the Missouri, Kansas & Texas Railroad (Katy line), with the branch of the Missouri Pacific originally called the Kansas & Arkansas Valley Road. In addition to the usual small town restaurant, movie and shopping offerings, Wagoner has recently opened a new pool area that is truly a mini-water park. There are water slides and activities for kids in an area that is under four feet deep, with diving boards in the deepest areas for adults. A separate kiddie pool offers Tommy the Turtle and his gentle stream of water and a 'raindrop umbrella' among other activities. The pool is open to residents and visitors alike for a nominal fee. Only four miles southeast of Wagoner, Fort Gibson Lake sports Sequoyah Bay State Park with a swimming beach among other amenities. Wagoner also opens the Wagoner Historical Museum to visitors. A few blocks away the Oklahoma Historic Fashions Museum showcases fashions of bygone days.
About the same distance northeast of Newt Graham Lake is the small town of Pryor. Actually named Pryor Creek, the Post Office shortened the name to Pryor over the years. Pryor is one of the oldest white settlements in Oklahoma, with a school and printing press established in the area around 1820. The town grew as a stop on the Katy Line ÃfffÃf,Ã,¢ÃffÃ,¢,Ãf,Ã,¬" now the Union Pacific ÃfffÃf,Ã,¢ÃffÃ,¢,Ãf,Ã,¬" and still one of the main north-south freight rail lines to Texas. Children enjoy seeing the hundreds of trucks passing down US-69 enroute back and forth to the Mexican border; it's the shortest route from the Midwest manufacturing areas to Laredo. Pryor hosts several annual activities popular with visitors including the Annual American Cowboy Traders Days, where vendors trade hats, chaps, guns, saddles, boots, Native American memorabilia. Oklahoma's most scenic one day bicycle tour is DAM J.A.M. featuring fall fun rides of 30, 55, 71, or 101 miles. Catch the Fever Music Festivals has summer concerts occurring throughout the summer at their location just outside of town.
Fifteen miles due west of Newt Graham Lock and Dam is Broken Arrow, a suburb southeast of Tulsa. There is a historical museum and the Broken Arrow Community Playhouse for entertainment on rainy days. Of course, Tulsa is nearby for more sophisticated nightlife and dining. Vacation rentals in the area can afford easy access both to the lake and to the city's exciting atmosphere. While in the Tulsa area, one should visit the Port of Catoosa, the terminus of the entire Arkansas ÃfffÃf,Ã,¢ÃffÃ,¢,Ãf,Ã,¬" Verdigris River waterway. Other small towns in the area include Coweta, Inola, Oneta, New Tulsa and Chouteau. All have local restaurants and needed services for the visitor. Children enjoy a new twist on the 'License Plate Game' in this area if you have them search for tribal license plates on the passing cars. Many tribal groups issue their own license plates to tribal members.
So, locate vacation rentals to suit your lifestyle, pack up the boat and the fishing gear and head for Newt Graham Lock and Dam. You'll be praising this lovely area of Oklahoma for years to come.
Custom Newt Graham Lock and Dam house decor
Read our full review of these personalized lake house signs.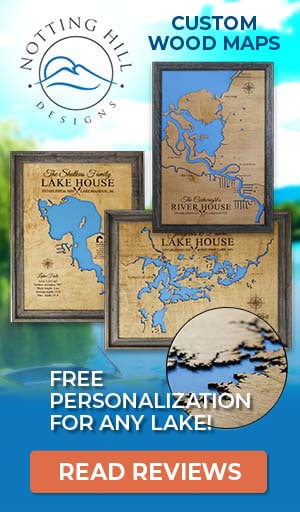 Things to do at Newt Graham Lock and Dam
Fishing
Boating
Swimming
Beach
Camping
Picnicking
Hiking
Biking
Hunting
Wildlife Viewing
Birding
State Park
Museum
Shopping
Fish species found at Newt Graham Lock and Dam
Bass
Carp
Catfish
Crappie
Flathead Catfish
Perch
Striped Bass
Sunfish
Walleye
---
Best hotels and vacation rentals at Newt Graham Lock and Dam
The Newt Graham Lock and Dam map shown above is a simple and stress-free way to search for trip accommodations. But if you want to take a deeper dive to find the ideal waterfront home, cabin, condo, hotel or resort, visit our favorite lodging partners by clicking the buttons below.
Note: These are affiliate links so we may earn a small commission if you book through them. While there is no extra cost to you, it helps provide resources to keep our site running (thank you)! You can read our full disclosure policy here.
---
Newt Graham Lock and Dam photo gallery
New photos coming soon!
Newt Graham Lock and Dam statistics & helpful links
We strive to keep the information on LakeLubbers as accurate as possible. However, if you've found something in this article that needs updating, we'd certainly love to hear from you! Please fill out our Content Correction form.
Advertise your Newt Graham Lock and Dam vacation rental
LakeLubbers will soon offer homeowners and property managers the opportunity to to showcase their vacation rentals to the thousands of lake lovers searching our site daily for accommodations. If you'd like additional details, please contact our advertising team here.
Looking for the Newt Graham Lock and Dam forum?
LakeLubbers previously offered visitors the ability to create accounts and participate in lake forums. When we overhauled the site's content management system in 2021 we had to disable those features. We're evaluating options and welcome your comments and feedback here.
We also encourage you to join our lake-lovin' community on Facebook and Instagram!
Spread the word! Share our Newt Graham Lock and Dam article with your fellow Lake Lubbers!