Namekagon Lake, Wisconsin, USA
Lake Locations:
USA - Midwest - Wisconsin - Lake Superior Northwoods Region -
Also known as:  Lake Namekagon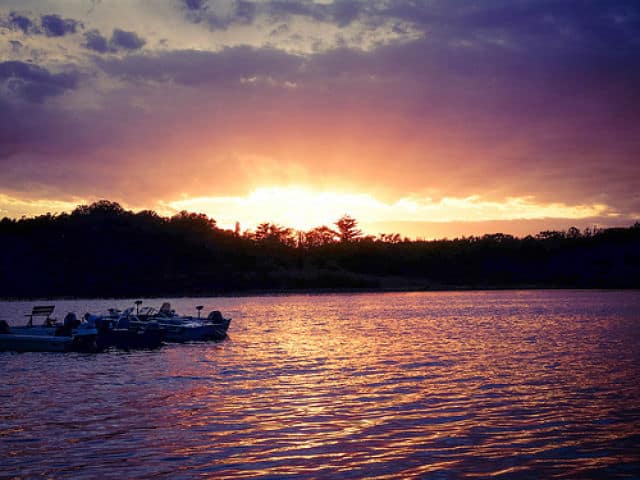 Surrounded on all sides by the beautiful Chequamegon-Nicolet National Forest, Lake Namekagon is a great Wisconsin Northwoods getaway in Bayfield County. The Chequamegon-Nicolet National Forest is over a million acres of Wisconsin's beautiful Northwoods, and the forest is a restoration success. By the late 1800's the Great North Woods were practically gone. They had been logged into nonexistence by the timber barons. The forests were replanted by the Civilian Conservation Corps and protected as a national forest. As a result they will be enjoyed for generations. Originally two separate national forests, the Chequamegon Forest and the Nicolet Forest have been managed together since 1993. Lake Namekagon is on the Chequamegon side, pronounced "Sha Wom Again" and Ojibwa for long strip of land. The forest has miles of trails for hiking, biking, cross country skiing, and snowmobiles. There is also good hunting for white-tailed deer, black bear, ruffled grouse and water fowl.
Lake Namekagon is at the headwaters of the Namekagon River, portions of which are part of the St. Croix National Scenic Riverway. The Riverway contains 252 miles of the Namekagon and St. Croix Rivers that are protected for recreation. It is a great way to explore the area by kayak or canoe. There is a dam owned by the Town of Namekagon on the west side of Lake Namekagon. Completed in 1926, the Namekagon Dam helps regulate water levels on the lake. With about 3,000 acres of water, there is plenty of room to explore by boat, kayak or canoe. Sailing and water skiing are also popular, and there are boat rentals and several public boat launches. Quiet boats can explore Lake Namekagon's many bays and islands, including Paines Island where local pairs of eagles nest in the spring.
Lake Namekagon is managed by the Department of Natural Resources as a Class A1 trophy muskellunge lake. Muskies are the largest predatory fish in Wisconsin. Anglers regularly pull 40-pound fish from the waters, and any muskie angler is sure to find the lake worth the challenge. There are also healthy populations of walleye, northern pike, bluegill, crappie, and largemouth and smallmouth bass. In the winter there is ice fishing. Lake Namekagon is a good all-around fishing lake and an exceptional muskie lake.
Winter is time for the American Birkebeiner Cross Country Ski Race. The "Birkie" is the largest and one of the longest cross-country ski events in North America. Held in the National Forest, the multi-day race draws visitors from all over. Another national event is the Chequamegon Fat Tire Bike Race held every year in September. This off-road biking event through the Northwoods attracts thousands of contestants and spectators. There are restaurants and resorts around the lake. In addition, Lake Namekagon is near Cable in southern Bayfield County. Visitors can find any amenities they might want there, including golf and shopping and complete range of accommodations.
Whether it is exploring the Wisconsin Northwoods, pulling fish from the lake, or simply listening to the loons call across the water, Lake Namekagon has something to please everyone. This beautiful lake is sure to become a repeat destination for anglers and anyone who loves the outdoors.
Things to do at Namekagon Lake
Vacation Rentals
Fishing
Ice Fishing
Boating
Sailing
Canoeing
Kayaking
Water Skiing
Golf
Hiking
Biking
Cross-Country Skiing
Snowmobiling
Hunting
Wildlife Viewing
Birding
National Forest
Shopping
Fish species found at Namekagon Lake
Bass
Black Bass
Bluegill
Crappie
Largemouth Bass
Muskellunge
Northern Pike
Perch
Pike
Smallmouth Bass
Sunfish
Walleye
---
Namekagon Lake Photo Gallery
Namekagon Lake Statistics & Helpful Links
Spread the word! Share our Namekagon Lake article with your fellow Lake Lubbers!