Mormon Lake, Arizona, USA
Lake Locations:
USA - Southwest - Arizona - Northern -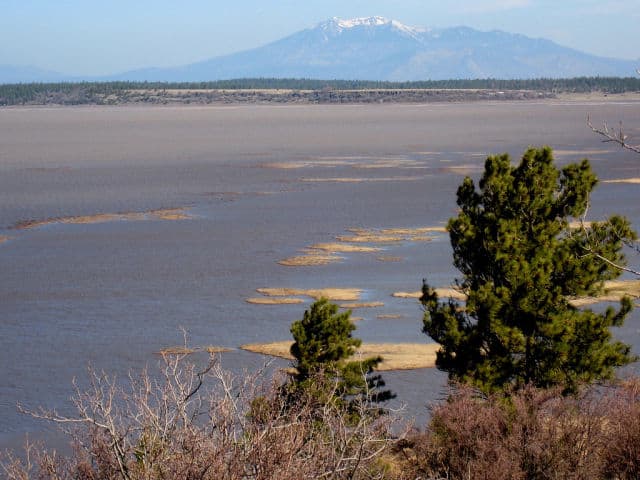 Mormon Lake is a natural lake and part of Arizona's Coconino National Forest, which spreads 1,821,495 acres across Northern Arizona pines, plateaus, and canyons. It is in the Forest's Plateau Country that the lake lies at 7,000 feet elevation, filling and receding inconsistently. Particularly during droughts, the lake can recede to a bare minimum, drying up as if it were just a puddle of water.
Far from its puddle state, when Mormon Lake is full, at 7,680 acres, fed by rain and snow that melts off the surrounding mountains, it is the largest natural lake in Arizona. Its shallow depth, averaging only 10 feet, is really what accounts for its fluctuations. And because it is so inconstant, it has to be stocked now and then with fish, as a dry season may leave it empty. When full, anglers can find bullhead catfish, northern pike, and trout for some pleasant fishing. Boating and windsurfing are other ways to enjoy the water. When you've had your fill of the water or the lake is dry, don't despair: Mormon Lake promises plenty of other adventures to be had.
Two campgrounds serve the lake with tables for picnicking, toilets, cooking grills and drinking water. Hiking trails nearby offer scenic and wildlife viewing. Hike your way through the surrounding Ponderosa Pines and climb up to lookout points that will give you a full view of the lake. Mountain bike or ride a horse through the Arizona wild. For winter recreation, ski trails meander along Mormon Lake's border and travel onto the slopes of an extinct volcano, Mormon Mountain. Snowmobile trails also mark the area and are used by dogsledders, cross-country skiers and snowmobilers alike.
Bald eagles and ospreys may be sighted, as they live and hunt in the area. You might also stumble upon herds of elk and pronghorn that wander the forests and prairies. Hunters, take heart: hunting for deer, elk, antelope and turkey is permitted within the boundaries of the Coconino National Forest, as long as hunters adhere to strict rules for firearm usage.
If you choose to wander from Mormon Lake, you have over a million acres in the National Forest to play in. Cliffs, peaks and deep gorges will leave you stunned and breathless. And then there is the great Grand Canyon. Flagstaff, a truly colorful city, is just a few miles northwest of Mormon Lake. Experience a collection of vibrant art, museum exhibits, performance, dining, and shopping.
Vacation rentals and real estate near the placid scenery of Mormon Lake offer many options for a summer vacation or year-round living. Wake up in the mornings to a view of pine and mountain outside your window. Spend your days deciding whether to fish for trout, hunt for elk or take a long hike. Or just curl up on the front porch with a good book and the pleasing songs of birds.
Things to do at Mormon Lake
Vacation Rentals
Fishing
Boating
Camping
Campground
Picnicking
Hiking
Cross-Country Skiing
Snowmobiling
Horseback Riding
Hunting
Wildlife Viewing
Birding
National Forest
Museum
Shopping
Fish species found at Mormon Lake
Bullhead Catfish
Catfish
Northern Pike
Pike
Trout
---
Mormon Lake Photo Gallery
Mormon Lake Statistics & Helpful Links
Spread the word! Share our Mormon Lake article with your fellow Lake Lubbers!