Merrill Creek Reservoir, New Jersey, USA
Lake Locations:
USA - Mid-Atlantic - New Jersey - Skylands -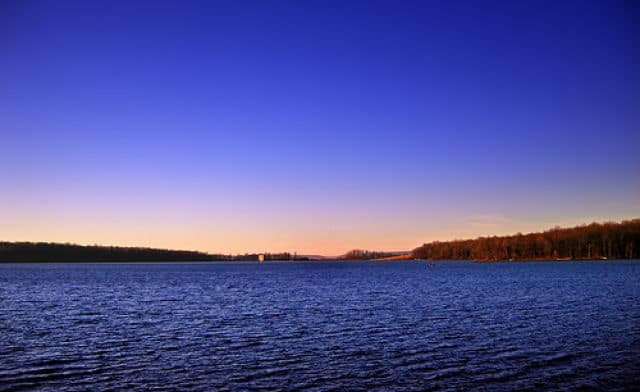 Merrill Creek Reservoir, located in Warren County, New Jersey, is a 650-acre man-made lake completed in 1988. The reservoir project took 13 years of planning and building and an investment of $217 million by a consortium of seven utility companies to reach completion. It was the first engineering project of its kind in the world; the purpose of the reservoir is to replace water taken from the Delaware River for energy production by local power plants. Water is drawn from the Delaware River by underground pipeline to the reservoir in the springtime, when the river is full, and drawn from the reservoir to the river in summer, when energy consumption (and therefore water usage by utility companies) is at its highest. The reservoir and the 290 acre environmental preserve surrounding it are open from dawn to dusk to the public at no charge, and have become a popular destination for boating, fishing, hiking, and nature observation.
Merrill Creek Reservoir's location at the top of Scotts Mountain affords stunning views of the surrounding area. Including the environmental preserve, there are 2,000 acres of undeveloped land surrounding the reservoir, providing a secluded and peaceful setting. The only building in sight is the Visitor's Center, where visitors can view wildlife exhibits and learn about the history of the reservoir and its surroundings. The Visitor's Center also offers a bird feeding station, a wildlife viewing area, and a butterfly garden. Although swimming and camping are not permitted at the reservoir, nature lovers will find many other activities to enjoy here.
Hikers especially enjoy Merrill Creek Reservoir because of its miles of clean, well-marked trail. There are six trails in all, ranging from a .4 mile trail that offers an easy walk to a 5.5 mile trail that circles the lake and includes some rocky sections. The trails are marked by color, and a map is available at the Visitor's Center for hikers. Biking and horseback riding are not allowed on the trails. The nature trails offer a glimpse of the variety of wildlife that lives at the reservoir, including black bear, white-tailed deer, fox, and muskrat. Birdwatchers will especially enjoy the resident bald eagles that have nested at the lake for the past ten years. Kingfishers, herons, woodpeckers, and horned owls are just a few of the other species of birds that call the reservoir home.
Fishing is another popular activity at the reservoir. Anglers come in search of lake trout, rainbow trout, and brown trout, as well as smallmouth bass and largemouth bass. Fish that are stocked at the reservoir are fin-clipped for tracking purposes, and the health of the reservoir's fish population is carefully preserved. Anglers participate in the ongoing environmental study at Merrill Creek Reservoir by checking in with the staff upon arrival and departure and recording the type of bait they used and what fish were caught. Fishing is allowed at the reservoir by boat or from the shoreline, and only electric motor boats are allowed in the lake.
In addition to fishing boats, canoes, and kayaks are often spotted at Merrill Creek Reservoir. The shoreline offers plenty of coves and inlets for paddlers to explore. Wildlife can often be spotted near the water's edge or just off shore at this secluded lake. Paddlers recommend putting to shore and exploring some of the many marked trails for a change of pace. The reservoir's mountain-top location and frequent winds also make it ideal for sailing. Boaters are asked to sign in at the boat ramp, and fishing boats, sailboats, row boats, and canoes are required to be at least 12 feet in length. Kayaks must be at least 9 feet long.
Merrill Creek Reservoir may be off the beaten path, but it is well worth the effort to make the trip. Whether you want to learn more about nature or just enjoy its beauty, this peaceful lake offers a relaxing getaway with plenty of room to explore.
Things to do at Merrill Creek Reservoir
Fishing
Boating
Sailing
Swimming
Canoeing
Kayaking
Camping
Hiking
Biking
Horseback Riding
Wildlife Viewing
Birding
Fish species found at Merrill Creek Reservoir
Bass
Black Bass
Brown Trout
Lake Trout
Largemouth Bass
Rainbow Trout
Smallmouth Bass
Trout
---
Merrill Creek Reservoir Photo Gallery
Merrill Creek Reservoir Statistics & Helpful Links
Spread the word! Share our Merrill Creek Reservoir article with your fellow Lake Lubbers!