Melvern Lake, Kansas, USA
Lake Locations:
USA - Midwest - Kansas - Southeast -
Also known as:  Melvern Resevoir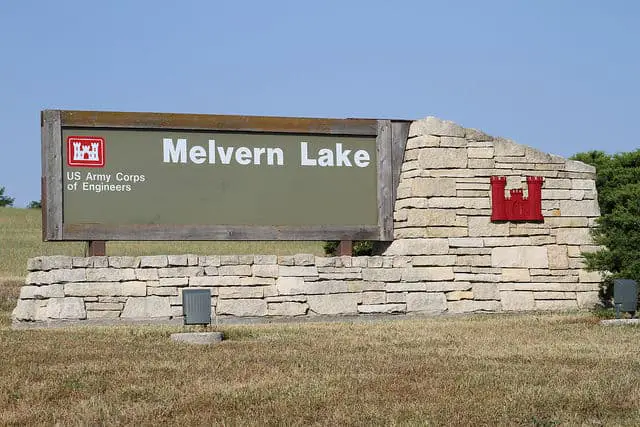 Melvern Lake is the perfect spot in dry southeast Kansas to enjoy a week at the lake. Built in 1972 as a flood control reservoir, Melvern Lake now offers a wealth of outdoor fun to all comers. Since the US Army Corps of Engineers (USACE) first opened the lake to the public in 1975, six campgrounds, a marina, several boat ramps and three swimming beaches offer all of the lakefront fun anyone could want. Five of the campgrounds are operated by the USACE. The sixth has become Eisenhower State Park. A variety of trails for hiking, horseback riding and cycling provide plenty of opportunity to enjoy the fresh air.
Located about 30 miles east of Emporia, Melvern Lake is within easy driving distance of both Topeka-40 miles-and Kansas City-85 miles. This makes the lake very popular with weekend visitors who enjoy the beaches and fishing piers for a small day-use fee. Increasingly, the lake and its environs have become popular places to bring a mountain bike and a camera, as the wetlands created along the lower Marais Des Cygnes River offer great habitat for waterfowl and water-loving mammals. Adjacent to the Eisenhower State Park on the north shore, the Melvern Wildlife Area provides additional protected habitat and is never open to hunting, as opposed to much of the surrounding public land. USACE has done an excellent job of providing comfort and enjoyment to all users, including visiting wildlife.
The reservoir covers 6,930 acres at normal water levels. The irregular 100 miles of shoreline surround multiple coves and arms with a variety of depths and habitat. There is plenty of room for water skiing, tubing, power boating, canoeing, pontooning and kayaking while still leaving quiet water for sailboats and anglers. A concession marina is located near Coeur d' Alene Park on the south shore near the dam. Here, boaters will find boat gas, repairs, dock space, including seasonal rental slips, deli sandwiches and drinks, bait and the usual camp supplies. Other boat ramps in other parks are suitable for smaller boats. Campers can bring their own boats to launch at boat ramps near their campsites and fish to their heart's content.
A variety of fish are found in Melvern Lake's waters: channel catfish, flathead catfish, bluegill, crappie, blue catfish, largemouth bass, smallmouth bass, sauger, striped bass, spotted bass, walleye and sunfish are all available for the catching. Creel limits are posted so as to keep a balanced aquatic ecosystem. Anglers are warned to carefully clean their boats when leaving Melvern Lake as zebra mussels are known to have invaded the reservoir. The marina even has an indoor, heated fishing dock available to aid the less active anglers in enjoying their favorite sport year-round. A Kansas fishing license is required.
All six of the campgrounds have campsites with a wide variety of amenities. Some offer more electrified sites than others, and there are usually tent pads available. Most of the campgrounds have shower buildings, RV dumps and fish cleaning stations, along with picnic facilities and playgrounds. Sundance campground has only non-electric sites. Outlet Park, below the dam, is popular with day users. A 90-acre, catch-and-release fishing lake does not allow gas motors, and a 27-acre swimming-only lake is one of the best places to swim. A variety of ball fields and three miles of hiking/bicycling trails are located here. Eisenhower State Park has an interpretive nature trail, and the 22-mile horseback trail along the south shore begins at the park. During the summer, Eisenhower Park offers educational and entertainment programs along with a Junior Naturalist Program. Of note to cyclists, the Five-Star Bike Trail, also known as 'Ike's Trail' wanders five miles from the park through trees, ravines and prairie.
The nearby city of Emporia offers a variety of lodgings choices, including several hotels, a few small motels and a bed & breakfast. An 18-hole municipal golf course is located south of the city, and the Jones Aquatic Center offers water slides and a small water park. From fast food to home cooking, Emporia holds a number of restaurants, bakeries and pizza shops. The city even supports a small zoo. Other vacation rentals are available in the area.
Not much farther from Melvern Lake, Topeka holds a number of interesting activities. The Kansas Expo Center offers a variety of special events throughout the year, including such things as wrestling tournaments, concerts, farm shows and hockey games. The Holley Museum of Military History offers several interesting exhibits for military history buffs, as does the Museum of the Kansas National Guard and the Combat Air Museum. The Great Overland Station showcases an elegant, restored station of the famed Atchison, Topeka and Santa Fe Railway with plenty of history and hands-on activities for children. Mulvane Art Museum on the campus of Washburn University has a good selection of art exhibits. The Topeka Performing Arts Center hosts a wide variety of shows, plays and concerts. It even hosts school plays, all in a beautiful setting.
Those wishing to visit Melvern Lake need to select their favored type of lodgings and plan to enjoy a great time outdoors. Bring the mountain bike, the hiking boots and, of course, the swimsuits. Fishermen will want to make sure they have the appropriate fishing license. If they forget anything, the marina or the camp store likely sells it right at the lake. Come prepared to enjoy the woods, the water and the serenity of this sprawling reservoir. It will soon become a favorite for long summer weekends or a longer out-of-doors vacation.
Things to do at Melvern Lake
Vacation Rentals
Fishing
Boating
Sailing
Swimming
Beach
Canoeing
Kayaking
Water Skiing
Tubing
Golf
Camping
Campground
Picnicking
Hiking
Biking
Horseback Riding
Hunting
Wildlife Viewing
State Park
Museum
Playground
Fish species found at Melvern Lake
Bass
Black Bass
Blue Catfish
Bluegill
Catfish
Channel Catfish
Crappie
Flathead Catfish
Largemouth Bass
Perch
Sauger
Smallmouth Bass
Spotted Bass
Striped Bass
Sunfish
Walleye
---
Melvern Lake Photo Gallery
Melvern Lake Statistics & Helpful Links
At LakeLubbers.com, we strive to keep our information as accurate and up-to-date as possible, but if you've found something in this article that needs updating, we'd certainly love to hear from you!
Please let us know about it on our Content Correction form.
Spread the word! Share our Melvern Lake article with your fellow Lake Lubbers!