Manitowish Chain of Lakes, Wisconsin, USA
Lake Locations:
USA - Midwest - Wisconsin - Lake Superior Northwoods Region -
Also known as:  Manitowish Chain O Lakes, Manitowish Chain, Manitowish Lakes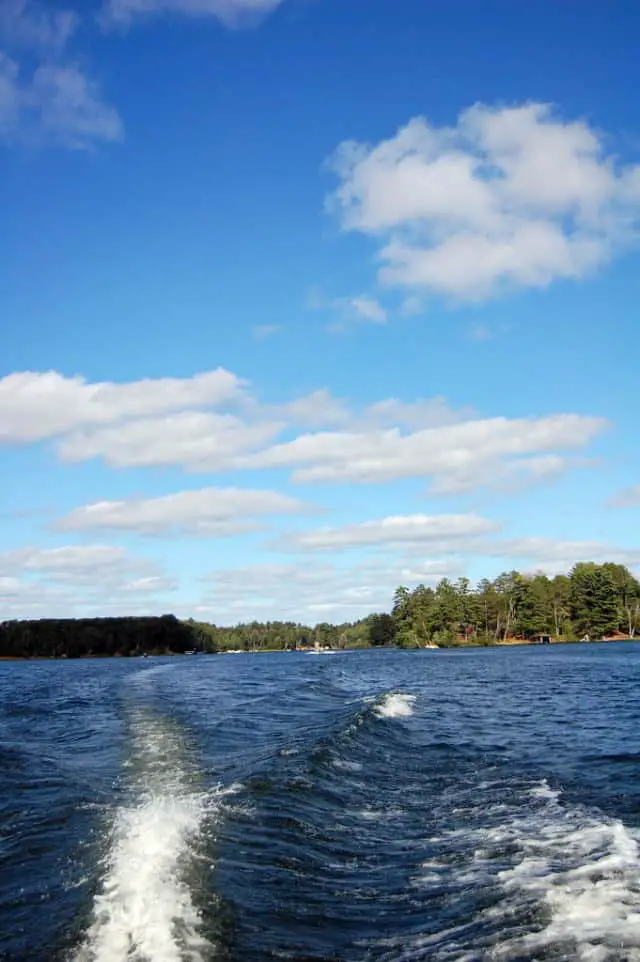 Located in the heart of scenic Vilas County, the Manitowish Chain of Lakes is truly a northern Wisconsin vacation paradise. The chain consists of ten sparkling lakes known for great fishing along with breathtaking beauty and quiet seclusion for swimming, canoeing, camping, and bird watching. With a wide variety of accommodations, restaurants, and outdoor activities, the Manitowish Waters area is the perfect spot for a relaxing vacation or weekend getaway, any time of the year.
Surrounded by tall pines and beautiful, rolling countryside, the Manitowish Chain of Lakes is one of the most popular lake chains in Wisconsin's Northwoods region. The ten pristine lakes which make up the chain include – Island Lake (1,023 acres), Rest Lake (809 acres), Clear Lake (555 acres), Manitowish Lake (496 acres), Wild Rice Lake (379 acres), Alder Lake (274 acres), Spider Lake (272 acres), Little Star Lake (245 acres), Stone Lake (139 acres), and Fawn Lake (74 acres). Visitors to the lakes can also enjoy the Manitowish River which connects the ten pristine bodies of water. The Manitowish River begins at High Lake in the city of Boulder Junction, flows through the chain from Rest Lake to Alder Lake, and then on to the Turtle-Flambeau Flowage in Iron County. A dam on Rest Lake marks the beginning of the chain. With numerous access points, boat landings, and many canoe-in (overnight) campsites, paddlers can design the perfect camping vacation. Great opportunities for wildlife viewing, especially eagles, abound.
The Manitowish Chain of Lakes offers a combined 58.5 miles of stunning shoreline and a total of 4,074 acres of beautiful water for just about every recreational pursuit you can imagine. All of the lakes are known for great fishing with an abundance of musky, smallmouth bass, largemouth bass, walleye, northern pike, crappie, perch, and bluegill. Little Star Lake is the deepest lake in the chain with a maximum depth of 67 feet. Little Star lake is also home to Little Bohemia Lodge where John Dillinger had his famous shootout. The majority of the Manitowish lakes offer public access to the water which can vary from a modern concrete boat launch to a gravel slope in the lake. Stone Lake and Fawn Lake are only accessible from Clear Lake. Boating, swimming, snorkeling, and waterskiing are all popular pastimes on the lakes.
Accommodations on the Manitowish Chain O Lakes are numerous. Many resorts and lodges line the shores of the lakes. Vacation rentals can also be found in the cities of Manitowish Waters and Boulder Junction. A number of area resorts and lodges cater to anglers and offer excellent fishing packages complete with boats, fishing gear, and guides. Real estate for sale or rent is also plentiful in the area. Vilas County is also home to over 1,300 lakes, making lakefront property rather easy to find.
For those who prefer land beneath their feet, the dense forests surrounding the Manitowish Chain O Lakes offer many opportunities for hiking, biking, horseback riding, birding, snowshoeing, and cross country skiing. Northwoods golfing is fantastic in the spring, summer and fall. Visitors can choose from a variety of courses within a short drive of the lakes. A highlight of the fall season are cranberry harvests. Manitowish Waters is home to many cranberry bogs which allow visitors to tour the colorful marshes. In the winter, outdoor enthusiasts visiting the lakes have access to miles of trails for skiing and snowmobiling. Ice fishing and ice skating are popular lake activities.
Almost completely surrounded by the Northern Highland-American Legion State Forest, the Manitowish Chain of Lakes is a haven for wildlife and solitude. Nearly 40 miles of remote and challenging bike and hiking trails and many more miles of old forest roads are open to the outdoor enthusiast. Wildlife in the area ranges from timid deer to soaring bald eagles. Over two million people visit the forest annually to experience the peace and tranquility of the woods and enjoy hunting, fishing, camping, wildlife watching, nature study, boating, canoeing, and countless other outdoor activities. Over 900 lakes can be found within the 225,000-acre forest.
Just east of the Manitowish Chain O Lakes, anglers will find the official Musky Capital of the world. Boulder Junction has long been noted for its excellent musky fishing with more than 50 Class A musky lakes and an additional 190+ recreational lakes within a few miles of town. Boulder Junction offers all kinds of accommodations, restaurants, and shops and is well known for its well-groomed snowmobile trails and cross country skiing trails. Bicyclists will appreciate the Boulder Junction area's extensive trail system as well. Many of Boulder Junction's trails are paved and open to touring bicyclists, along with a network of quiet back country roads with spectacular woodland scenery.
The community of Manitowish Waters offers Manitowish Chain O Lakes visitors opportunity for shopping, dining, and sightseeing. Lodges, inns, bed and breakfasts, and additional lodging can be found in town.
Less than a day's drive from Chicago, Milwaukee, or Minneapolis, the Manitowish Chain of Lakes offers anglers and outdoor enthusiasts unlimited opportunity for recreation. Fish for record size musky, golf some of the most scenic golf courses in northern Wisconsin, mountain bike for miles, ski some of the state's finest cross country ski trails, or sit back and relax and catch a glimpse of a majestic bald eagle. Each season offers a unique opportunity to experience the natural splendor that awaits your vacation to the lakes.
Things to do at Manitowish Chain of Lakes
Vacation Rentals
Fishing
Ice Fishing
Boating
Swimming
Canoeing
Water Skiing
Snorkeling
Golf
Camping
Hiking
Ice Skating
Biking
Cross-Country Skiing
Snowmobiling
Horseback Riding
Hunting
Wildlife Viewing
Birding
State Forest
Shopping
Fish species found at Manitowish Chain of Lakes
Bass
Black Bass
Bluegill
Crappie
Largemouth Bass
Northern Pike
Perch
Pike
Smallmouth Bass
Sunfish
Walleye
---
Manitowish Chain of Lakes Photo Gallery
Manitowish Chain of Lakes Statistics & Helpful Links
Spread the word! Share our Manitowish Chain of Lakes article with your fellow Lake Lubbers!