Manasquan Reservoir, New Jersey, USA
Lake Locations:
USA - Mid-Atlantic - New Jersey - Shore -
Also known as:  Manasquan County Reservoir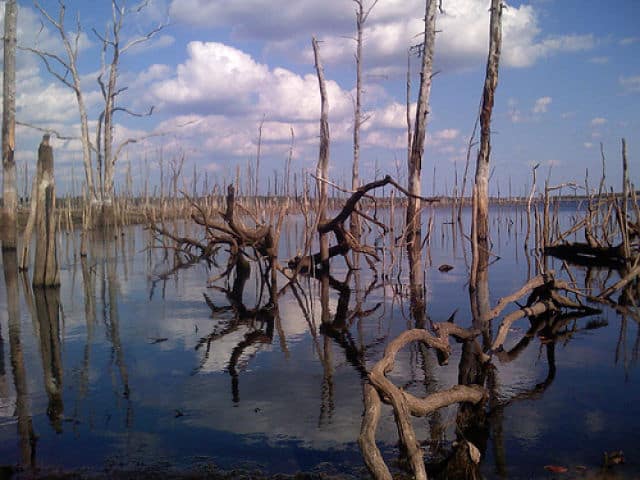 Manasquan Reservoir is located in Monmouth County, New Jersey. Artifacts found near the reservoir indicate that its land was once occupied by the Lenape Indians, and Manasquan is from the Lenape for "stream of the Island of Squaws." The Manasquan Reservoir was completed in 1990 with the construction of its 4,840 foot long dam across Timber Swamp Brook. Water is pumped five miles from the Manasquan River to maintain the reservoir's capacity of more than four billion gallons. The 720 acre lake provides drinking water for central New Jersey and is operated by the New Jersey Water Supply Authority. The reservoir is also a favorite destination for fishing, boating, and nature watching.
Manasquan County Reservoir was designed with anglers in mind. When the lake was being constructed, stumps were left at the bottom of the reservoir and trees were preserved at the water's edge to provide fish with an ideal habitat. Gravel was spread at the north end of the reservoir to provide a spawning area for bass and sunfish. Upon completion of the reservoir, it was stocked with largemouth bass and smallmouth bass by the New Jersey Division of Fish and Wildlife. The Division later also stocked the lake with tiger muskie. The reservoir receives a rating of "excellent" from the Division for its population of bass, crappie, and sunfish. Anglers also have good luck with pickerel, channel catfish, and muskie. Many anglers choose to fish from shore, especially along the five mile trail that circles the reservoir. Electric motor boats are also allowed on the reservoir.
Sailboats, canoes, kayaks, and rowboats are all welcome at Manasquan Reservoir. Because gasoline powered boats are not allowed, boating on Manasquan Reservoir naturally lends itself to a slower pace than you might find at a larger lake. The water is calm and peaceful, and boaters can spend a lazy afternoon drifting along the quiet lake. A public boat ramp is available and the Visitor's Center also has rowboats and kayaks for rent. On weekend afternoons the Visitor's Center offers boat tours of the reservoir. Visitors can learn about the reservoir's history and the wildlife that call it home. Don't forget your binoculars for a close-up view of the osprey, blue herons, bald eagles, and other birds that inhabit the shores of the lake.
Manasquan Reservoir Park is a great place for hiking and nature watching. The park's five mile, multi-use trail is a perfect place to hike, bike, or ride horseback. The trail is relatively flat and offers scenic views of the reservoir, making it a popular family destination. Visitors can hike through woodland, as well as over foot bridges spanning wetland areas. There are numerous opportunities for photography, and nature lovers have even reported taking pictures of bald eagles along the trail. The Manasquan Reservoir Environmental Center offers many weekend family-oriented activities including nature movies and scavenger hunts. Interactive exhibits teach visitors about the wildlife that surrounds them in the park, as well as the importance of water and preservation of wetlands. Group nature walks can also be scheduled year-round.
Whether you enjoy fishing, boating, or hiking, Manasquan Reservoir fits the bill. This scenic lake is the perfect place to get back to nature and get away from it all.
Things to do at Manasquan Reservoir
Fishing
Boating
Sailing
Canoeing
Kayaking
Hiking
Horseback Riding
Wildlife Viewing
Birding
Fish species found at Manasquan Reservoir
Bass
Black Bass
Catfish
Channel Catfish
Crappie
Largemouth Bass
Muskellunge
Pickerel
Pike
Smallmouth Bass
Sunfish
Tiger Muskellunge
---
Manasquan Reservoir Photo Gallery
Manasquan Reservoir Statistics & Helpful Links
Spread the word! Share our Manasquan Reservoir article with your fellow Lake Lubbers!