Lough Salt, Ireland
Lake Locations:
Ireland - North West -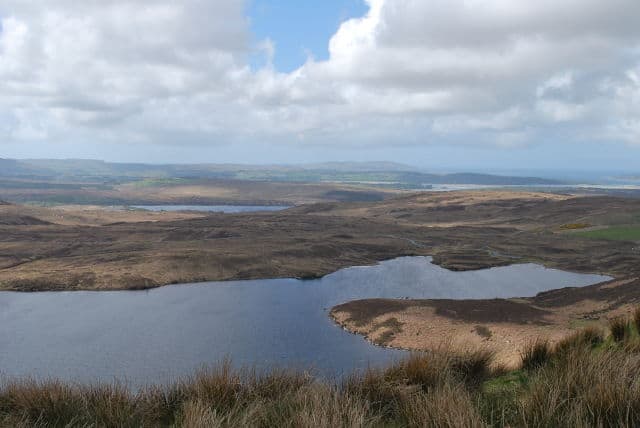 Lough Salt is a small mountain tarn at the foot of Lough Salt Mountain, in Donegal. Situated at an altude of over 800 feet, the lough itself measures over a mile long and over 3/4 of a mile across at its widest. The mountain itself rises almost vertically 700ft from the lough, forming an impressive backdrop, which helps give Lough Salt it's name. In Gaelic, "Lough agus Alt" (or "lake and Cliff" in English), refers to the steeps slopes of the mountain overlooking the lake.
Along with Lough Altan and most other lakes in Donegal, Lough Salt was formed by glaciation during one of the arious Ice Ages, probably around 40,000 years ago. Despite extensive evidence for this origin, various sources suggest that it is actually the crater of an extinct volcano, but this theory is so far unproven.
The lough is used by Donegal County Council as a water supply for the the town of Letterkenny.
Regardless of origin, what makes Lough Salt execptional is its unusual depth. Despite its small size, around 150 acres, a great deal of the lough is over 50-60 meters (165-200 feet) deep, and there is some uncertainty regarding what its true maximum depth actually is. While a survey of water resources in the early 1980's put the depth in excess of 60 meters or around 200 feet (this was the maximum depth of the depth sounding equipment used), it was apparent that the lake was much deeper than this.
Tradition has it that the lake is as deep as the mountain is high (690 feet). While some old guide books give 236 feet as the depth, more recent figures quoted for the maximum depth of either 204 feet or 240 feet, with 245 feet often being quoted. However, recent surveys by private individuals have indicated a maximum depth of 272 feet (83 metres), using portable fishfinders and sounders. Should those figures be verified, then Lough Salt would be the deepest lake in Ireland, beating Muckross Lake's figure of 250ft. Lough Salt certainly is one of the deepest lakes in Ireland anyway -even using the lower figures!
---
Lough Salt Statistics & Helpful Links
Spread the word! Share our Lough Salt article with your fellow Lake Lubbers!