Lough Ennell, Ireland
Lake Locations:
Ireland - East Coast & Midlands -
Also known as:  Lough Ennel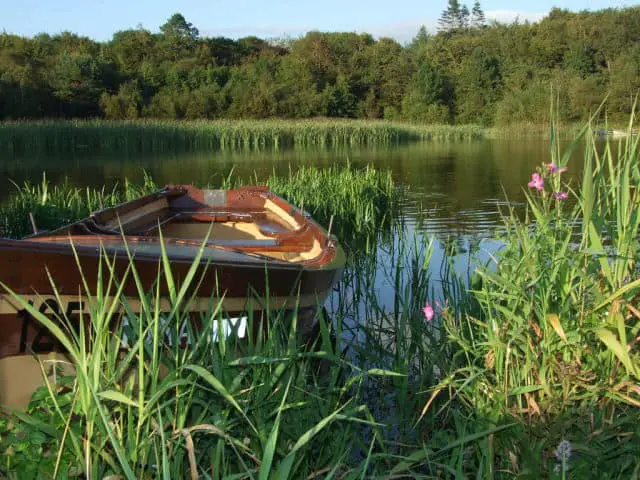 Lough Ennell is nestled into Ireland's countryside, near the town of Mullingar, and features a steep, stony and picturesque shoreline. The beauty of the lough, or lake, is harmonized by its significance in providing a natural habitat for diverse flora and fauna. Some of the plants found along the shoreline are rare and all are enjoyed by nature lovers. Naturalists are not the only ones who will enjoy Lough Ennell, though: campers, boaters, anglers and golfers will find lakeside activities that easily captivate their interest.
Lough Ennell is known as Loch Ainninn in Irish, which comes from the name of a son of the legendary Kings of the Fir Bolg. Over the years, the name of Loch Ainninn was shorten to Lough Inill and finally to its current version, Lough Ennell. Through archaeological studies in the late 1980s and early 1990s, evidences of settlements and habitations called crannogs where found on Lough Ennell's islands. These island crannogs date back to early 12th century; over the years many of the islands have become part of the mainland due to changes in lake levels.
The tranquility and beauty of Lough Ennell prompted residential development, mainly large, lakeside mansions along the lough's shoreline. Belvedere House is the most famous of these mansions and was built for Robert Rochfort in 1740. Rochfort later became the first Earl of Belvedere. The house was designed by renowned architect Richard Castle, who also designed many houses throughout Ireland in the Palladian architectural style. Belvedere is best known for its ruin follies, or gothic-style structures, in the gardens. The Jealous Wall is the largest of these follies and was built to block the view of Tudenhom Park, which was even more impressive than Belvedere House; proving that fraternal rivalry is not unique to modern times, Tudenhom Park was the home of George Rochfort, Robert Rochfort brother.
When the Rochforts where the Lords of Belvedere, they wanted to have Lough Ennell's name changed to Lake Belvedere. However this did not come about and Tudenhom Park now lies in ruins, while Belvedere House retains its glory. Visitors to the old home are treated to spectacular views of Lough Ennell as they walk through majestic gardens and the beautiful mansion.
Visitors to Lough Ennell have a choice of vacation rental accommodations — choose a boutique hotel or pitch a tent at a nearby RV park. After securing lodgings, explore the numerous lakeside and on-water activities that await.
Lough Ennell is a very popular fly fishing lake due to its shallow waters — the lough holds the record for the largest brown trout caught in Ireland, which weighed in at a whopping 26 pounds. Other fish species found in Lough Ennell's waters include lamprey, perch, pike, three-spined stickleback, and ten-spined stickleback. Popular activities also include golfing, horseback riding and nature watching. While boating on Lough Ennell, keen observers and seasoned bird watchers may spot cormorants, mute swans and tufted ducks gliding on the water or flying overhead. Although jet skis are not permitted, speed boats are welcome on Lough Ennell.
Lough Ennell will enchant tourists as they explore the scenic beauty around them. Ramble through the woods, view majestic ruins, or just relax by the shore and enjoy time with the family. Lough Ennell is not only an excellent fishing lake; it is also an extraordinary vacation getaway.
Things to do at Lough Ennell
Vacation Rentals
Fishing
Boating
Jet Skiing
Golf
Camping
Horseback Riding
Ruins
Fish species found at Lough Ennell
Brown Trout
Lamprey
Perch
Pike
Stickleback
Trout
---
Lough Ennell Photo Gallery
Lough Ennell Statistics & Helpful Links
At LakeLubbers.com, we strive to keep our information as accurate and up-to-date as possible, but if you've found something in this article that needs updating, we'd certainly love to hear from you!
Please let us know about it on our Content Correction form.
Spread the word! Share our Lough Ennell article with your fellow Lake Lubbers!