Lough Derg, Ireland
Lake Locations: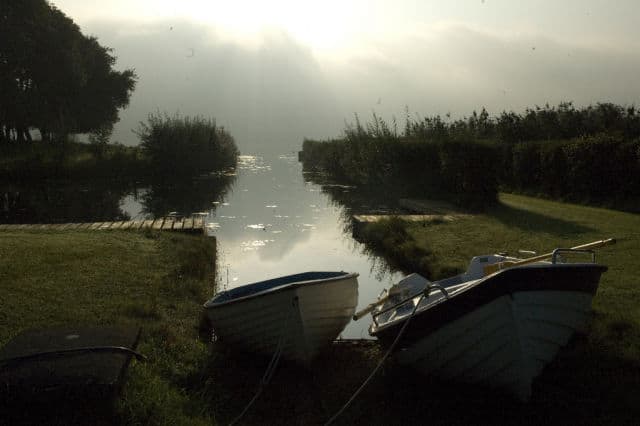 One of Ireland's most pristine national treasures is Lough Derg, a 29,000-acre lake nestled within western Ireland's Shannon Region. Its title comes from the word "Loc Dergdherc", meaning the "lake of the red eye." The name was derived from an old Irish legend about a king, a lake monster and a hero. It is the last and largest of three lakes along the River Shannon; the other two lakes are Lough Ree and Lough Allen, both to the north.
Lough Derg is a freshwater lake situated within three counties: County Clare to the south, North Tipperary to the east and Galway to the north and west. It should not be confused with a lake by the same name in County Donegal.
The lowest body of water on the Shannon lake system, Lough Derg features an average depth of 25 feet, a maximum depth of 118 feet, and a shoreline length of 111 miles. Water levels are regulated by the ESB (Electricity Supply Board) via sluices at Parteen Weir. Measuring in at 23 miles long, it is the third largest lake in Republic of Ireland.
By observing the irregular texture of Lough Derg's floor, scientists speculate that the lake is the result of ancient ice erosion. In the 1800s, locals took advantage of its more than 23 miles of navigable length and turned it into a hotspot for trading and commerce. An electric power plant at Ardnacrusha was implemented at Lough Derg in 1927.
Today, Lough Derg is known as "Ireland's Pleasure Lake" because of its vast recreational opportunities. Sailing, swimming, boating and angling are its main pastimes, along with windsurfing, and yachting. Various luxury and pleasure cruises offer journeys in utmost comfort and style.
Perhaps the most phenomenal activity on Lough Derg is canoeing or kayaking out to its Holy Island, a monastic settlement dating back to the 7th century. Here you can browse the remnants of five churches, monastic cells, and a cemetery dating from antiquity to the 1100s. Just over a mile from Mountshannon, its ancient name is "Inis Cealtra," or "Island of the Graveyard." Let your imagination run wild as you explore its 80-foot round tower, collection of bullaun stones and sacred well on this 50-acre island. (Bullaun stones refer to depressions in stones that fill with rainwater, pebbles or other stones; they are believed to have magical or curative powers.)
Fishing is another popular pastime at Lough Derg, where brown trout average between one and two pounds; pike and course fish also inhabit the lake. While the season opens in March, Mayfly season is the best time to come – when trout spawn on the Little Brosna/Camcor Rivers. Fishing companies offer excursions including boat, gillies, bait and tackle, plus hotel, transportation and meals.
Active types will love hiking the waterway paths around Lough Derg. Portumna Forest Park and Lough Derg Way Hillwalks each take about 2.5 hours. The Dromaan to Williamstown Walk is perfect for a full day hike, covering an incredible 13 miles of stunning terrain. East Clare Way Limited also offers five circular trails that are popular with outdoor lovers.
Equine enthusiasts can't get enough of horseback riding Lough Derg's forest trails, mountain paths and coastlines. The Galway Clare Burren Trail takes six days to complete from start to finish, with a terminus at the legendary Cliffs of Moher, a Refuge for Fauna and Special Protection Area for Birds since the late 1980s.
Driving around the Lough Derg is one of the simplest ways to enjoy Ireland's lush countryside. Routes are perfect for exploring old watermills, taking in breathtaking views, and eating at some of the finest restaurants in Ireland. Following the road northward along the River Shannon, you'll pass a mound called Brian Boru's fort. After this, plop down for the perfect picnic at a nearby bay, where you can watch windsurfers and kayakers in action. Next pass through the town of Ogonelloe and on to Scarriff Bay's beautiful observation area. Continuing on through various towns – like Tumangraney, Mountshannon, and Portumna – you'll finally arrive at the ancient community of Nenagh.
Ample facilities are available all around Lough Derg, including several marinas with picnic areas, tennis courts, children's play areas, pubs, restaurants and shops. The University of Limerick owns an impressive activity center along the shore at Killaloe. Additionally the Lough Derg Science Group, a coalition of independent scientists established in 2003, has several aquatic research studies underway.
Numerous real estate properties, apartment rentals and Irish holiday cottages are dotted throughout the Lough Derg area; expect to find them tastefully decorated and with elegant decor. Many feature en-suite style rooms and beautiful lakeside vistas. Whether you come for an unforgettable family vacation, a romantic honeymoon, or a solo-getaway you're sure to find enormous peace and tranquility at Lough Derg.
Things to do at Lough Derg
Vacation Rentals
Fishing
Boating
Sailing
Swimming
Canoeing
Kayaking
Tennis
Picnicking
Hiking
Horseback Riding
Birding
Fish species found at Lough Derg
---
Lough Derg Statistics & Helpful Links
Spread the word! Share our Lough Derg article with your fellow Lake Lubbers!