Lough Cullin, Ireland
Lake Locations: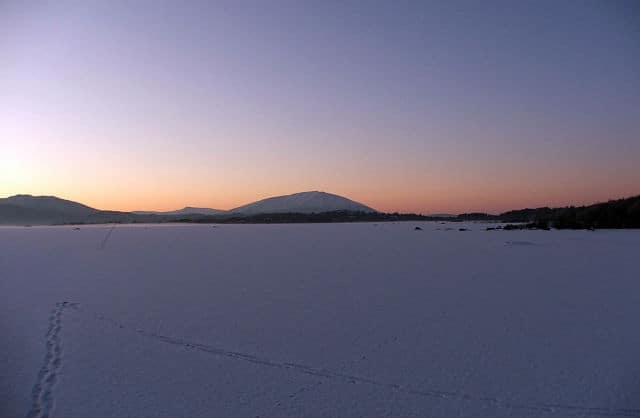 Lough Cullin is one of the little-known jewels of County Mayo in West Ireland. Tucked neatly between Nephin and Ox mountains, the 2500-acre shallow lough, or lake, figures prominently in Celtic mythology. The lough is named for one of Fionn MacCumhaill's two hounds named Cullin and Conn. Lough Conn is immediately to the north of Lough Cullin, connected by a short channel of the River Deel. The lake has been known as a famous fishery for many years and plays an important part in tourism in County Mayo. The waters of River Deel flow through larger Lough Conn into Lough Cullin. The Clydagh, Castlebar and Manulla Rivers all converge into the Turlough/Ballyvary area and flow into the southern end of Lough Cullin and the River Deel,which then flows out into the River Moy. The River Moy flows north to the Atlantic. Salmon swim upstream to Loughs Conn and Cullin, creating one of the best salmon fisheries in West Ireland. Water flows freely between the lough and the ocean, and the River Moy can actually reverse course in certain circumstances.
Lough Cullin is shallow with several tiny islands and many emergent rocks. The rocks under the water's surface make it somewhat dangerous to attempt motor boating unless one is familiar with the waters. The village of Pontoon on the northwest shore rents boats and also guides – usually the best bet for the inexperienced fisherman. In addition to the annual salmon runs, anglers come here regularly to fish for brown trout, roach, perch, pike, tench and eel. Fly fishing for trout is extremely popular in both Lough Cullin and Lough Conn; a local resort hotel actually gives classes in fly tying and fly fishing techniques. Although the larger Lough Conn has long been considered the better fishery, experts point out that all fish heading upstream to Lough Conn must pass through Lough Cullin, and the astute angler has just as good a chance at the big fish there. Brown trout in Lough Cullin haven't shown the size of trout in Lough Conn, but fisheries experts say the size is improving.
Although not suitable for watersports, Lough Cullin is an excellent location for a holiday. At least one resort hotel overlooking Lough Cullin offers a spa, cooking and art classes and fly-fishing vacations. The area is excellent for bird-watching, and is home to several threatened waterfowl species under protection here. Although there are few large towns in the immediate area, there is no shortage of local eating places, hotels, inns, pubs and campgrounds. Ballina, about 15 miles from Lough Cullin, has an excellent golf course. Nightlife and music are a specialty of Ballina, with a variety of late-night clubs and music, both traditional and contemporary. County Mayo is sparsely populated, having lost nearly all of its residents during the Potato Famine of the late 1800s. The scenery is lovely, with craggy mountains set against desolate moors. Hiking and walking trails abound, with many small villages interspersed between bogs and windswept moors. Visitors rushing to busy Galway and Londonderry often overlook it completely, making Lough Cullin an idyllic place for a quiet nature-focused holiday. Less than five miles from Lough Cullin, Foxford Woolen Mills provides artisan shops, restaurant, and a museum highlighting the long history of the mill. Some of the machinery still in use is over 100 years old.
Visitors soon realize the history of western Ireland at Lough Cullin: prehistoric dolmens and ruins of early churches are everywhere in County Mayo, as are museums and reminders of Ireland's tragic past. The dolmen – tombs – of ancient kings bring the past to life as do the ruins of ancient abbeys, legends of Celtic leaders, and the tales of tenants evicted by landlords desperate to reclaim their land for cattle and other crops before they, too, became penniless. County Mayo has a higher-than-average number of historical museums, all less than 50 miles from Lough Cullin. The National Museum of Ireland – Country Life is located just east of Castlebar. Displays of historic and authentic tools and materials used in daily rural life mesh with pictorial and narrative history of the area. Not far away, the Eviction Cottage features the story and the reconstructed cottage of the last family evicted at Belcarra.
Ocean fishing tours can be arranged at Westport on the Atlantic Coast. Westport is home to several 'Blue Flag' beaches, some of the best and safest in Ireland. A 15 minute ferry trip to Clare island, home of the famous Sea Queen Grainne Uaile (Grace O'Malley), offers tours of her rebuilt castle, a 12th century Abbey, lighthouse and beach. From nearby, visitors can climb traditional Croagh Patrick, the hill where Saint Patrick fasted for 40 days in the fifth century. A pilgrimage is held each year on the first Sunday in July when over 60,000 people climb to the summit. Traditionally, the climb is made barefoot. Westport is only 25 miles from Lough Cullin. Forty miles from the lake, Achill Island is the largest island off Ireland's coast and an exceptional place for hiking, nature observing and exploring.
The area near Lough Cullin offers a variety of holiday lodging choices, from resorts and hotels to fishing cottages, guest houses, holiday farmhouses and bed and breakfasts. From self-catering cottages to resorts with every amenity, there's the perfect vacation rental for you. Real estate can still be found in the area , often just a short walk from the lakefront. So, come for the perfect fly-fishing holiday. Lough Cullin and County Mayo will write its name on your heart.
Things to do at Lough Cullin
Vacation Rentals
Fishing
Boating
Beach
Golf
Camping
Campground
Hiking
Birding
Museum
Ruins
Fish species found at Lough Cullin
Brown Trout
Eel
Perch
Pike
Roach
Salmon
Tench
Trout
---
Lough Cullin Photo Gallery
Lough Cullin Statistics & Helpful Links
Spread the word! Share our Lough Cullin article with your fellow Lake Lubbers!