Lough Corrib, Ireland
Lake Locations: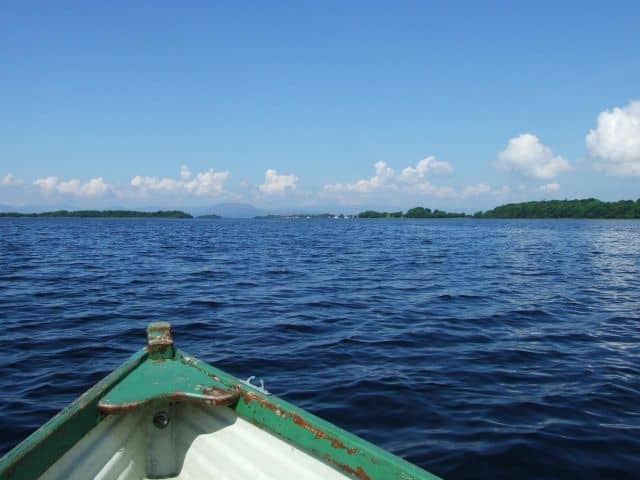 Lough Corrib is the largest lake in the Republic of Ireland, covering about 44,000 acres. Situated between Galway City and the County Mayo, Lough Corrib's lush landscape consists of green pastures on the eastern shores, rugged foothills off to the west and views of the Connemara Mountains to the north. The beauty of Lough Corrib is a beacon to weary travelers, urging them to stop and rest along the many miles of peaceful shoreline.
Lough Mask, located north of Lough Corrib, provides water to Corrib through underground caverns of limestone rock. Water from Lough Corrib flows into the River Corrib and onto the city of Galway and Galway Bay on the Atlantic Ocean. Lough Corrib is noted for having over 360 islands; one of the most famous islands is the wooded Inchagoill Island. Visitors to the island enjoy private beaches and wooded paths that lead them to St. Patrick's Church, a 5th century edifice, and the 12th century Saints Church. While strolling through the woods, visitors may also stumble upon an old cemetery and the remnants of a few cottages.
The waters of Lough Corrib are divided into two sections, known as Upper Corrib and Lower Corrib. Boaters will find many places to launch in Upper Corrib, while Lower Corrib has only a few public boat launches.
Lough Corrib is best known for excellent fly-fishing that attracts anglers from all over the world. Brown trout, salmon, perch, eel, pike, roach, bream hybrid and spined stickleback are the fish species that have found their home in the shallow waters of Lough Corrib. Anglers are encouraged to hire a fishing guide to learn where all the best fishing spots are located and to help steer them clear of underwater hazards. While fishing, anglers turn into wildlife watchers, spotting hawks soaring overhead and otters sunbathing on the shore. After a full day of fishing, anglers should look for vacation rentals and accommodations in the town of Oughterard, known as a fishing hot spot. While there, anglers can stock up on necessities such as tackle and gear, as well as visit local eateries and pubs where they can swap stories about their big catch of the day.
One of the many ways to enjoy Lough Corrib is by taking passage on one of the few cruise boats. Each cruise offers passengers scenic tours of the lake, islands and shore as they glide past ancient ruins, old churches, and castles. Lough Corrib is also one of the top five birding sites in Ireland, supporting more than 20,000 waterfowl in winter, including the colorful Pochard diving duck, Tufted Duck, Coot, Mute Swan, and many others. The lake's islands are also traditional breeding and nesting sites for gulls and terns. As you tour, relax and enjoy the magnificent views and watch for the lake's diverse wildlife.
Visitors to Lough Corrib may want to include a visit to Galway Bay in their itinerary. Located south of Lough Corrib and on the west coast of Ireland, Galway Bay is a great place to enjoy sunbathing on one of the many beaches and watching sailboats glide across the water. Visitors can take a cruise on the bay or even enjoy deep sea fishing.
The beauty and splendor of Lough Corrib will rejuvenate its visitors and entertain them with plenty of lakeside and on-water activities. Family gatherings, romantic getaways and fullfilling sporting trips are all possible on the banks of Lough Corrib.
Things to do at Lough Corrib
Vacation Rentals
Fishing
Boating
Sailing
Swimming
Beach
Wildlife Viewing
Birding
Ruins
Fish species found at Lough Corrib
Brown Trout
Eel
Perch
Pike
Roach
Salmon
Stickleback
Trout
---
Lough Corrib Photo Gallery
Lough Corrib Statistics & Helpful Links
Spread the word! Share our Lough Corrib article with your fellow Lake Lubbers!