Long Pond, Georgia, USA
Lake Locations:
USA - South - Georgia - Plantation Trace -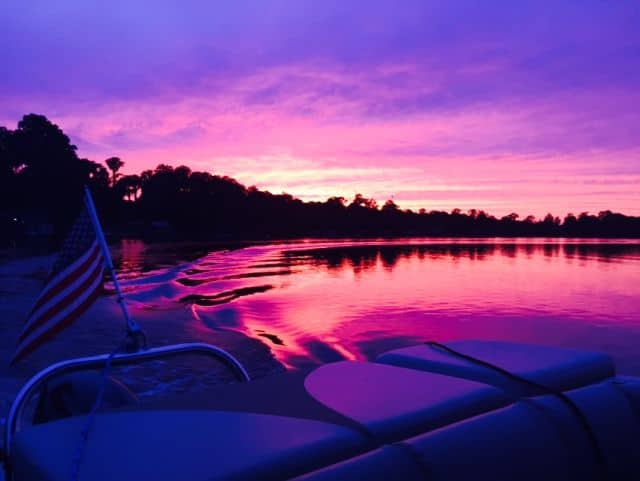 Long Pond is one of over 20 lakes nestled in the city of Lake Park in southern Georgia. Lake Park was incorporated in 1890 and was named for the many beautiful lakes in the region. At 600 acres, Long Pond is one of the larger lakes and offers visitors and residents plenty of year-round outdoor recreation.
Long Pond, like most of the lakes in Lake Park, is a sinkhole lake giving the lake a circular shoreline. Long Pond is actually three sinkholes linked together. A sinkhole is a naturally occurring depression in the land, formed most commonly in areas of limestone bedrock. Limestone is composed of the highly reactive mineral calcite, which readily dissolves in the presence of slightly acidic ground water. In areas of humid climate, rain water percolates downward through the soil into openings in the limestone bedrock, gradually dissolving the rock. Round holes in the subsurface eventually form, ranging from microscopic to cavern size. Many ponds and lakes in southern Georgia and Florida are a result of sinkhole formation.
Just 14 miles south of the city of Valdosta and only five miles north of the Florida border, Lake Park is a scenic town surrounded by shimmering lakes, sparkling ponds, and more than its fair share of golf courses. In addition to Long Pond, nearby popular Ocean Pond is also a great place for the entire family to picnic, boat and swim. Between the two ponds, visitors can enjoy sandy beaches, swimming, sailing, fishing, canoeing, water skiing, kayaking, and snorkeling.
Fishing is one of the most popular water-related activities in the area and anglers will find a number of species of sport fish in Long Pond and the surrounding bodies of water. The bottom terrain of Long Pond is varied ranging from shallow flats to deep pools, creating an exceptional habitat for fish. Crappie are the most prolific fish in the lakes followed by largemouth bass, smallmouth bass, spotted bass, striper, bluegill, longear and redear sunfish, and flathead catfish. Along with fishing, Long Pond is popular for boating, sailing, swimming, waterskiing, and jet skiing. Although its shoreline is mostly developed with private residences, there is public access to the lake.
Accommodations around Long Pond range from campgrounds and cabins to bed-and-breakfasts and private vacation rentals. There are also several residential developments around the lake with various real estate for sale and rent. Additional lodging can be found in the town of Valdosta.
Recreation in Lake Park is not limited to Long Pond. The area is well known for its outlet stores, delicious ethnic restaurants, antique shops and golf courses. The South Lowndes Recreational Complex features baseball, softball, football and soccer fields. A leisurely walk around one of the most beautiful areas of Georgia is a great way to appreciate the stately pines, towering oaks, Spanish moss covered cypress trees, and, of course, the crystal clear lakes. A perfect blend of sunshine and rain keeps flowers blooming year round.
Just a short drive from Long Pond is the city of Valdosta, the county seat of Lowndes County. Downtown Valdosta is listed on the National Register of Historic Places. Unique shops, small businesses, and restaurants populate the town center and are a draw for visitors. Wild Adventures Water and Theme Park is located on the edge of the city and offers fun and adventure for all ages. Visitors to Long Pond will also enjoy the many museums, historic driving tours, and shopping centers. For outdoor adventure, the Grand Bay Wildlife Management Area is ten miles north of Valdosta. Grand Bay totals 1,350 acres and is part of a 13,000-acre wetlands complex of bays and forested swamp, second in size only to the Okefenokee Swamp in Georgia. Grand Bay is open year-round for outdoor recreation including fishing, canoeing, hiking, camping, and deer and small game hunting.
With inviting waters that can accommodate swimming, boating and fishing, Long Pond is a great place to enjoy a relaxing day in southern Georgia. Sample some fine southern cuisine, shop for that unique souvenir of your travels, or cast your line and wait for that big one to bite. At Long Pond in beautiful Lake Park, you can do it all.
Things to do at Long Pond GA
Vacation Rentals
Fishing
Boating
Sailing
Swimming
Beach
Canoeing
Kayaking
Jet Skiing
Water Skiing
Snorkeling
Golf
Camping
Campground
Picnicking
Cabin Rentals
Hiking
Hunting
Wildlife Viewing
Museum
Antiquing
Shopping
Fish species found at Long Pond GA
Bass
Black Bass
Bluegill
Catfish
Crappie
Flathead Catfish
Largemouth Bass
Redear Sunfish (Shellcracker)
Smallmouth Bass
Spotted Bass
Sunfish
---
Long Pond GA Photo Gallery
Long Pond GA Statistics & Helpful Links
Spread the word! Share our Long Pond GA article with your fellow Lake Lubbers!