Long Lake, Wisconsin, USA
Lake Locations:
USA - Midwest - Wisconsin - Lake Superior Northwoods Region -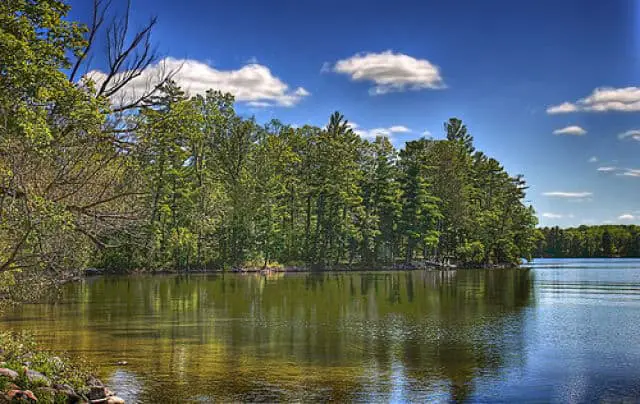 There are 59 lakes in Wisconsin named Long Lake, but only one has the state designation of "Walleye Capital of Wisconsin." Long Lake near Sarona in southeast Washburn County offers fantastic Northwoods fishing. With the surrounding Northwoods and all of its trails and wildlife, Long Lake is an outdoor vacation destination sure to delight.
Long Lake is the largest lake in Washburn County which has over 900 lakes and more than 35,000 surface acres of water. The deep, clear, spring fed lake was originally three smaller glacial lakes. In 1883 Long Lake Dam was built to raise the water levels eight feet joining the three lakes into one. Fur trading, timber and summer resorts built the Northwoods, and the loggers who helped settle the Northwoods used Long Lake to move timber. Today Long Lake Dam is owned and operated by the Washburn County Highway Department which draws down the lake slightly in winter to store the spring run off.
The water that flows from Long Lake and over Long Lake Dam forms the headwaters of the Brill River which eventually flows into the Red Cedar and Chippewa Rivers. The Wisconsin Department of Natural Resources (DNR) has designated Long Lake an ORW, short for Outstanding Resource Waters. ORW's get the highest protection allowed by law. No degradation of the water quality is allowed, and water entering the lake must meet or exceed the quality of the background water. Long Lake's ORW designation is good news for boaters and anglers, and there are over 3,000 acres of water for boating, swimming and fishing. In addition to its incredible walleye fishing, Long Lake also has abundant populations of northern pike, largemouth and smallmouth bass, bluegill and crappie. The lake has good year round fishing, and every February there is an ice fishing contest on the lake.
There are plenty of amenities around Long Lake including boat rentals, restaurants, and even a golf course overlooking the water. Accommodations range from camping and cabins to B&B's and resorts. The area still maintains its beautiful wilderness, and Washburn County's motto is "Northwoods in Every Direction." There are over 141,000 acres of public land set aside for timber, wildlife and recreation with lots of wildlife and room to explore. There are plenty of trails for horseback riding and cross country skiing as well as trails for ATV's and snowmobiles. Bird watching at Long Lake is also very good, and Hunt Hill Audubon Sanctuary is a great place to see the birds. The Audubon Society is also instrumental in protecting the water quality of Long Lake.
Long Lake is surrounded by lake homes, restaurants and any amenities a visitor could want, but there are still miles of undeveloped shoreline to enjoy. The surrounding Northwoods, wildlife and recreation opportunities combine with the abundant fishing and beautiful water to make Long Lake a great Northwoods getaway. There may be other lakes named the same, but there is no other lake like the "Walleye Capital of Wisconsin," Long Lake in Washburn County.
Things to do at Long Lake WI
Vacation Rentals
Fishing
Ice Fishing
Boating
Swimming
Golf
Camping
Cabin Rentals
Hiking
Cross-Country Skiing
Snowmobiling
Horseback Riding
Hunting
Wildlife Viewing
Birding
Fish species found at Long Lake WI
Bass
Black Bass
Bluegill
Crappie
Largemouth Bass
Northern Pike
Perch
Pike
Smallmouth Bass
Sunfish
Walleye
---
Long Lake WI Photo Gallery
Long Lake WI Statistics & Helpful Links
Spread the word! Share our Long Lake WI article with your fellow Lake Lubbers!