Lonar Crater Lake, Maharashtra, India
Welcome to the ultimate guide for history, statistics, local fun facts and the best things to do at Lonar Crater Lake.
If you're considering Lonar Crater Lake vacation rentals, we've made it super easy to explore accommodations and nearby hotels using the interactive map below. Simply click on a listing to compare similar properties, best rates and availability for your dates. Or keep scrolling to read our Lonar Crater Lake guide!
Lonar Crater Lake visitor and community guide
Lonar Crater Lake is one of those mysteries of ancient India that is little-known among the country's burgeoning tourism crowd. The saline crater lake is highly unusual from a scientific standpoint, being the only discovered crater lake in basaltic rock (a type of volcanic rock) in the world. Although astronomers, geologists, archaeologists and ecologists have begun to study the lake's unique properties more recently, ancient religious cultures of India have graced its shoreline with at least 15 temples to various deities over thousands of years. Estimates of the age of the crater range from a recent 52,000 years to a possible 570,000 years. Most scientists estimate the crater was created by a meteor strike during the Pleistocene age. Nearby small Amber Lake, also called Little Lonar, is thought to have been created during the same event. Space exploration agencies such as NASA hope that by studying the crater's structure and aging process, they will come to a better understanding of meteor craters on other planets. However, the average traveler is more interested in observing the wildlife and cultural features of this most unusual place.
Lonar Crater Lake's surface is about 275 acres. A series of steps have been constructed to climb down 450 feet below the crater rim to lake level. The lake has a few small inlets but also appears to fill with groundwater. One of those streams is captured at a group of temples called the Dhara before being allowed to tumble down to the lake in a series of narrow waterfalls. The water at the Dhara is considered holy and is sought by the faithful for bathing and drinking for its medicinal properties. The inflowing stream is fresh water, but the lake is quite salty. Several different kinds of salts were harvested from the lake until 1903. The unusual lake has two distinctly separate water zones, the outer which maintains a neutral pH value of 7, while the inner portion of the lake is a very alkaline pH 11. The two zones do not mix, and both maintain their own set of flora and fauna, giving visiting scientists a wealth of things to study. There are no fish in the lake due to the water chemistry.
Above and below the rim of the Lonar Crater, it is easy to imagine traveling between two different worlds. Above, the surroundings are dry and rocky with only a bit of brush emerging from the ground. Below the rim, vegetation and trees cover the inside crater walls and frame the many temples near the shore. A narrow strip of soil about 300 feet wide provides small agricultural plots for a few local farmers. A narrow pathway circles the lake between temples and temple ruins. The horizon is the ring of low hills forming the crater's rim. The lake is colored green due to algae proliferating in the water. Numerous birds, waterfowl, peacocks and monkeys call the lakeshore home. Resident and migratory birds such as brahminy ducks, black-winged stilts, shovellers, grebes, shelducks, herons, teals, rollers, red-wattled lapwings, parakeet hoopoes, larks, baya weavers, magpies, tailorbirds, swallows and robins are seen here. The lake is also home to thousands of peafowls, chinkara and gazelles. Monitor lizards and various snakes also inhabit the shoreline. The lake is becoming more popular among birdwatchers and ecology tourists.
Some of the temples are still in use, but others are ruins of great architectural interest. In the town of Lonar itself, the Daitya Sudan Temple is a Vishnu temple dated to the Chalukya Dynasty which ruled Central and Southern India between the 6th and 12th centuries. The deity of this temple is made of an ore with a high metal content that resembles stone. The area inside the sanctum is dark, and carvings can be viewed on the ceiling with the use of a flashlight. The exterior walls are also covered with carved figures. Never finished, the temple was planned to rise to a pyramid shape. During local festivals such as Kamalja Devi Navratri festival, large numbers of pilgrims enter the crater. Small shops and food-stalls are established near the crater or along its rim. Kamalja Devi Temple is located beside the lake and features many carved images. A favorite activity of visitors here is to bring compasses and watch the interesting and erratic behavior of the directional indicators, which swing wildly due to magnetic influences apparently left by the ancient impacting meteor. Although water levels rise and fall according to local rainy and dry seasons, Kamalja Devi Temple always remains on dry ground.
Other ruined temples along Lonar Crater Lake have not been so lucky as the Kamalja Devi, as many are regularly flooded and some are partially submerged in the lake. Scientists believe the lake levels are currently rising due to use of Lonar Crater Lake as a disposal site for waste water and increased development in the area. There are concerns that growing pollution is changing the water quality. For several years the Indian government has made cleaning up the area around Lonar Crater Lake and reducing the unauthorized excavations and disturbance a priority, but the money to take action has not been forthcoming. Currently, groups from around the world are attempting to develop an action plan to reduce damage to this unique lake, and it is hoped concrete action can soon be taken.
Although Lonar Crater Lake is not on the best-known tourism routes, some tour groups schedule a visit here. The better-known archeological sites of Ajanta Caves and Ellora Caves, both World Heritage sites, are less than five hours away. There are some lodgings available in the town of Lonar above the crater rim, but reports vary as to their quality. If visitors wish to stay at Lonar, a knowledgeable tour guide is likely the best source of information. Several small cafes are available, some with internet access, and food stalls are plentiful. A larger choice of hotels and inns is available at Mehkar about 10 miles to the north. There is local bus service to Lonar, which is about 350 miles from Mumbai, 100 miles from Aurangabad and 85 miles from Buldhana. Your next visit to India won't be complete until you see this highly unusual and culturally significant lake.
Custom Lonar Crater Lake house decor
Read our full review of these personalized lake house signs.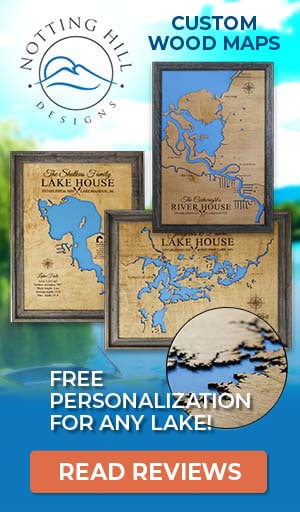 Things to do at Lonar Crater Lake
Vacation Rentals
Waterfall
Wildlife Viewing
Birding
Ruins
---
Best hotels and vacation rentals at Lonar Crater Lake
The Lonar Crater Lake map shown above is a simple and stress-free way to search for trip accommodations. But if you want to take a deeper dive to find the ideal waterfront home, cabin, condo, hotel or resort, visit our favorite lodging partners by clicking the buttons below.
Note: These are affiliate links so we may earn a small commission if you book through them. While there is no extra cost to you, it helps provide resources to keep our site running (thank you)! You can read our full disclosure policy here.
---
Lonar Crater Lake photo gallery
New photos coming soon!
Lonar Crater Lake statistics & helpful links
We strive to keep the information on LakeLubbers as accurate as possible. However, if you've found something in this article that needs updating, we'd certainly love to hear from you! Please fill out our Content Correction form.
Advertise your Lonar Crater Lake vacation rental
LakeLubbers will soon offer homeowners and property managers the opportunity to to showcase their vacation rentals to the thousands of lake lovers searching our site daily for accommodations. If you'd like additional details, please contact our advertising team here.
Looking for the Lonar Crater Lake forum?
LakeLubbers previously offered visitors the ability to create accounts and participate in lake forums. When we overhauled the site's content management system in 2021 we had to disable those features. We're evaluating options and welcome your comments and feedback here.
We also encourage you to join our lake-lovin' community on Facebook and Instagram!
Spread the word! Share our Lonar Crater Lake article with your fellow Lake Lubbers!