Little Manitou Lake, Saskatchewan, Canada
Welcome to the ultimate guide for history, statistics, local fun facts and the best things to do at Little Manitou Lake.
If you're considering Little Manitou Lake vacation rentals, we've made it super easy to explore accommodations and nearby hotels using the interactive map below. Simply click on a listing to compare similar properties, best rates and availability for your dates. Or keep scrolling to read our Little Manitou Lake guide!
Little Manitou Lake visitor and community guide
One of the most striking wonders of the Saskatchewan prairie, Little Manitou has been amazing its human visitors since well before European settlers arrived in the area. Once a freshwater lake formed in a depression gouged out by glaciers and fed by underground springs, the lake has no outlet, causing the water to become increasingly more mineral-laden. It is believed the tipping point was likely reached over 10,000 years ago, as minerals left behind by evaporation caused the lake's freshwater status to be lost. Now one of only five lakes in the world where the waters hold more mineral salts than it can absorb, the semi-dissolved minerals sink to the lowest layers during extended periods of calm water. Little Manitou Lake's deepest portions hold large amounts of sodium, magnesium and potassium salts. The salts content of about 180 grams per liter makes Little Manitou Lake about half as dense as the Dead Sea and far denser than sea water.
The name of the lake is derived from the spirit Manitou, the belief among local First Nations tribes that the mineral waters had great healing properties. That belief held true for early European settlers as well. Little Manitou Lake developed a reputation for restoring good health by early in the 20th century, leading to the building of a popular resort on the south shore. The medicinal baths were popular, and the lake itself proved highly entertaining to visitors because the salt content makes it impossible to sink. The resort beaches were an additional reason to come to Little Manitou Lake for swimming, sun bathing, canoeing, rowing and sailing.
As more visitors arrived, larger and more elaborate facilities were constructed to house and entertain them. By the 1920s, train cars filled with guests were arriving at the resorts to stay for the weekend or longer. By the 1950s, resorts such as those provided at Manitou Beach had lost their popularity, and the towns of Manitou Beach and Watrous saw the need to 'reinvent' themselves. Their careful planning paid off, as can be seen from the growing popularity of Little Manitou Lake.
Little Manitou Lake now offers three sandy swimming beaches for water-based fun. All types of boating are allowed, but there does not appear to be a marina on the lake. A boat launch ramp is available at Manitou Beach; sailboats, personal watercraft, waterskiing, tubing and wind surfing can all be enjoyed. The lake is not heavily used for power boating; canoeing and kayaking appear to be the most popular modes of water travel. The shoreline of the 14-mile long, narrow lake is steeply sloped. There are few residences on the lake itself, so paddlers have the sensation of being far removed from civilization. There is no fishing, because the high salt content of the water supports little other than brine shrimp. Other lakes nearby are fish-able however, so no visitor need go home with an empty creel if they wish to fish.
The towns of Watrous and Manitou Beach offer a lodge and indoor spa resort on the beach. This facility replaces the old resort that burned down many years ago and allows for far more modern conveniences such as multiple spa pools filled with mineral water from the lake available year round. Town leaders did their best to preserve the best of the old resort amenities and add more for the enjoyment of visitors. One of the most poplar buildings is Danceland. Built in 1928, Danceland has entertained Big Band-era bands, pop stars such as Elvis, major country-western stars, and has hosted modern dancers on its 'floating' dance floor. The dance floor rests on coils of horsehair, allowing for more resiliency and is likely the last of its kind. With the increasing popularity of ballroom dancing, Danceland is now hosting increasing numbers of young people who want to learn to dance 'like the stars'. The juried dance festival in April brings talent from all over Saskatchewan.
Another touch of the past is the drive-in theater still in operation during the summer months. The drive-in has an unusual feature in that it also has a 28-seat indoor theater. Early in the last century, a provincial park encompassed nearly 300 acres along the southern shore. When 'resort-hopping' lost favor after the Second World War, the park was split between a regional park and the current Camp Easter Seal, with the camp getting the Depression-era government works program-built buildings. The camp is only open to groups who provide services to the disabled, but the historic buildings can be photographed and appreciated for their stone architecture. All Saints Anglican Church in Watrous has a unique stained-glass window constructed in the mid-19th century for the Church of St. John the Baptist in England and given to an early pastor of the church. The window is an excellent example of English neo-medieval stained glass and uses glass-dying techniques that have since been lost.
Manitou and District Park offer over 200 campsites just blocks from the beach. Some campsites are available for seasonal lease. Playgrounds, picnic shelters, day use areas, campsites with electricity and water, primitive campsites, firewood for sale, rest rooms, showers, grills and two reserve-able 50-person camp kitchens are available to registered guests. Hikers can enjoy a walking path to another park for nature and solitude along a shaded brook. Wellington Park is a favorite for picnics and holds many Saskatoon berries for the picking in season. Local wildlife includes water birds, whitetail deer, and mule deer. In addition, the Last Mountain Lake National Wildlife Area is only 35 minutes drive away.
The combined communities of Manitou Beach and Watrous have made sure no visitor is ever bored. Numerous festivals and events throughout the year, many focused on the arts, bring participants and observers to the small prairie lakefront. The Spirit of Manitou Artist Studio Trail is an ongoing effort, a tour of the many artists' studios that exist in the neighborhood. The Watrous Fun Run Car Show each summer showcases classic cars, trucks, motorcycles, hot rods, and a few specialty cars and antique tractors to please every vehicle fan. Agility dog competitions, food booths, clowns and children's activities round out the fun-filled day. In winter, an ice-skating rink, curling teams and cross-country skiing appeal to those wishing more active sports.
The small towns around Little Manitou Lake are well-supplied with a choice of lodgings. Those not wishing to camp or stay at the lodge and spa will find a few large hotels, several small motels and some local Bed & Breakfasts eager to make their stay a pleasant one. The towns offer more than a dozen restaurants, cafes and fast-food locations. And a few local residents offer private rental of apartments and cabins. Real estate is available in the area, although it may not be on the lakeshore itself. Many properties are above the lake on the bluff. Only two hours from Saskatoon and three from Regina, Little Manitou Lake is very accessible for a weekend or an entire vacation. So pack the swimsuits and gather up the kids. Little Manitou Lake awaits your enjoyment.
Custom Little Manitou Lake house decor
Read our full review of these personalized lake house signs.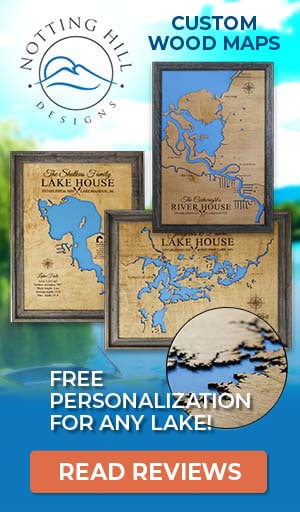 Things to do at Little Manitou Lake
Vacation Rentals
Boating
Sailing
Swimming
Beach
Canoeing
Kayaking
Water Skiing
Wind Surfing
Tubing
Camping
Picnicking
Cabin Rentals
Hiking
Ice Skating
Cross-Country Skiing
Wildlife Viewing
Birding
Provincial Park
Playground
Drive-in Theater
Antiquing
---
Best hotels and vacation rentals at Little Manitou Lake
The Little Manitou Lake map shown above is a simple and stress-free way to search for trip accommodations. But if you want to take a deeper dive to find the ideal waterfront home, cabin, condo, hotel or resort, visit our favorite lodging partners by clicking the buttons below.
Note: These are affiliate links so we may earn a small commission if you book through them. While there is no extra cost to you, it helps provide resources to keep our site running (thank you)! You can read our full disclosure policy here.
---
Little Manitou Lake photo gallery
New photos coming soon!
Little Manitou Lake statistics & helpful links
We strive to keep the information on LakeLubbers as accurate as possible. However, if you've found something in this article that needs updating, we'd certainly love to hear from you! Please fill out our Content Correction form.
Advertise your Little Manitou Lake vacation rental
LakeLubbers will soon offer homeowners and property managers the opportunity to to showcase their vacation rentals to the thousands of lake lovers searching our site daily for accommodations. If you'd like additional details, please contact our advertising team here.
Looking for the Little Manitou Lake forum?
LakeLubbers previously offered visitors the ability to create accounts and participate in lake forums. When we overhauled the site's content management system in 2021 we had to disable those features. We're evaluating options and welcome your comments and feedback here.
We also encourage you to join our lake-lovin' community on Facebook and Instagram!
Spread the word! Share our Little Manitou Lake article with your fellow Lake Lubbers!