Little Limestone Lake, Manitoba, Canada
Lake Locations: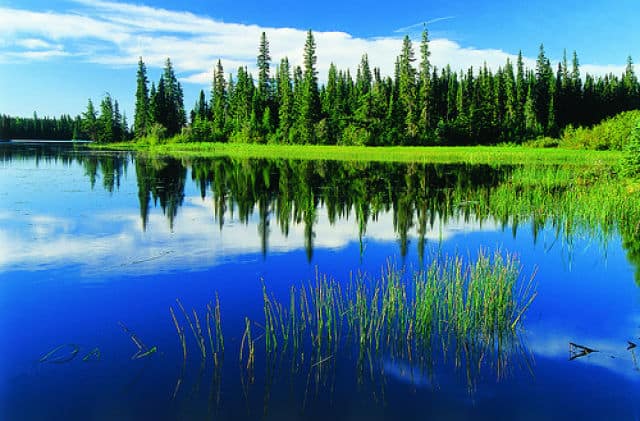 One of Manitoba's newest provincial parks is the home of Little Limestone Lake. The approximately 10,000-acre lake is unusual in that it is considered to be the largest 'marl' lake in the world, meaning that it contains limestone comprised of the mineral calcite. It is a natural lake formed by water dissolving the underlying limestone rock over millennia. The water is crystal clear when cold. But when the water warms and the calcite begins to precipitate out of the water, the water takes on a milky turquoise-blue hue.
Efforts to protect the unique lake from development took several years. The Province of Manitoba finally reached an agreement in June of 2011 with the Mosakahiken Cree Nation and the holder of several mining claims around the lake. The agreement calls for Manitoba Conservation to maintain the lake and surrounding shoreline as a 'non-operational' park with no development. Under Backcountry Land Use rules, the lake will be open for hiking, primitive camping and other non-invasive uses. The Mosakahiken community will continue to use their designated reserve area on the east shoreline for hunting, trapping and fishing and will continue to exercise their Aboriginal and treaty rights in the park. Because of the unique nature of the lake and surrounding area, it has been named a IUCN (International Union for Conservation of Nature) protected area.
Little Limestone Lake has no major inflowing or outflowing streams. Most of the water comes from ground water percolating through the porous limestone rock. The karst limestone rock in this area of the Manitoba Lowlands has eroded to form many caves and depressions which provide excellent winter habitat for bats and snakes. The wooded shoreline supports mixed wood forests with trembling aspen, black spruce, jack pine, tamarack, swamp birch, alder, and willow. This diverse land cover offers shelter to bear, wolf, moose, lynx, muskrat, beaver, spruce grouse and numerous songbirds. The lake's shoreline and surface offer a haven to ring-billed gull, double-crested cormorant, common tern and various ducks and geese. Although the lake bottom has almost no weed cover, walleye, whitefish, perch and pike are relatively abundant. A managed bi-annual commercial fishery for walleye and whitefish exists on the lake and harvests about 20,000 pounds of fish a year. Several islands break the wide expanse of water, and all are a part of the new provincial park.
There are no boat ramps available to the public on Little Limestone Lake at present. Boating and fishing regulations will be developed as a park management plan is finalized. Most fishermen bring canoes from Grand Rapids, 40 miles to the south. The Provincial Parks system should be contacted for information about what types of bait are permitted. Protecting the unusual lake environment is of paramount concern. Now that scuba divers in the region have become aware of the lake, many are planning to dive to explore the bottom structure for underwater caves. Karst lakes around the world have offered up artifacts of archeological interest, and some are hoping to find such evidence of prehistory here. No scientific studies of the lake have been done except for the most preliminary water testing, so there is much to be learned from Little Limestone Lake.
Located about 230 miles north of Winnipeg, the lake is some distance from most services. Few permanent inhabitants will be found in the area around Little Limestone Lake. The northern tip of Lake Winnipeg is about ten miles to the east, and William Lake extends within a mile or so of the west shoreline. Many small lakes dot the region around the new park, but none are included in the new protected area. Development on the lakes in the area is very sparse.
This isn't the kind of lake one stumbles on accidentally. Visitors must make a concerted effort to get here. The nearest town, Grand Rapids, was once a booming center of water transportation on the main canoe route toward the west. In 1741 Fort Bourbon was built at Grand Rapids, and the village was the site of fur trading activity and eventually a steamship destination. Once water transportation was replaced by railways, Grand Rapids lost its prominence in Manitoba development and is now a sleepy small town which hosts a hydroelectric dam and several outfitters and campground resorts. The village is likely the best starting point for a day trip to Little Limestone Lake.
Much of the area is undeveloped and mostly utilized by mining and logging companies. Various First Nations tribes own much of the area. The occasional piece of real estate is sometimes found for sale in the vicinity of Little Limestone Lake. Most private properties are used as seasonal vacation cottages or hunting and fishing camps. Little Limestone Lake will remain pristine and unspoiled for future generations as long as it remains in protected status. If you have a yen to experience Canada's wild places, a visit to Little Limestone Lake is a must.
*No statistics as to size or depth are available. The 10,000-acre surface is an estimate based on park size.
Things to do at Little Limestone Lake
Vacation Rentals
Fishing
Boating
Canoeing
Scuba Diving
Camping
Campground
Hiking
Hunting
Wildlife Viewing
Provincial Park
Fish species found at Little Limestone Lake
Perch
Pike
Walleye
Whitefish
---
Little Limestone Lake Photo Gallery
Little Limestone Lake Statistics & Helpful Links
Spread the word! Share our Little Limestone Lake article with your fellow Lake Lubbers!