Lavon Lake, Texas, USA
Lake Locations:
USA - Southwest - Texas - Prairies and Lakes -
Also known as:  Lake Lavon, Lavon Reservoir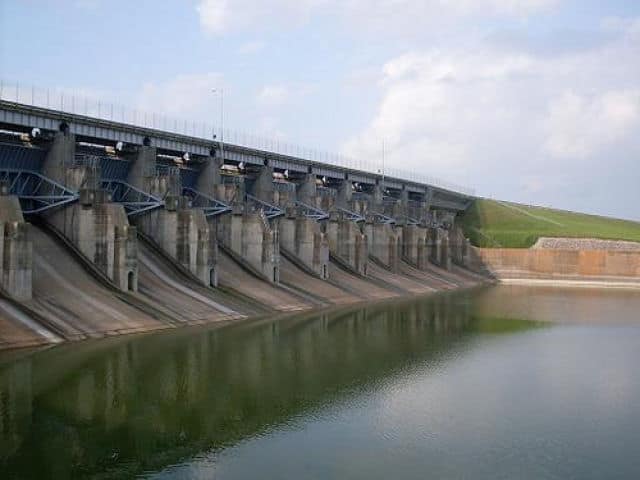 Lavon Lake holds a special spot in the affections of residents northeast of Dallas. The reservoir, located on the East Fork of the Trinity River in the Prairies and Lakes region, does double-duty by providing flood control and water supply to several towns in the area. What stands out to most local residents and visitors is the wealth of recreational opportunities offered by the relatively new lake. The Lavon Dam, constructed by the United States Army Corps of Engineers (USACE), was completed in 1953; public access and recreational facilities were planned from the start. Publicly-accessible parks, boat launch ramps, picnic grounds and campgrounds provide plenty of space along the 121-mile shoreline for public enjoyment. The dam was enlarged to increase water capacity in 1974, and the lake now offers 21,400 acres of water-based fun.
Long and narrow, Lake Lavon holds several arms and numerous coves and bays that provide plenty of protected shoreline, making the lake ideal for power boating, sailing, wind surfing, kite surfing, water skiing and fishing. Two concessions operate full-service marinas along the lakeshore, with winter slip rentals, dry dock facilities, repairs, fuel, restaurants and courtesy docks. Only 22 miles from the Dallas-Fort Worth Metroplex, Lake Lavon is 'home port' for many city sailors. One private yacht club operates at the lake and holds regular regattas and sailboat races. Canoes and kayaks can be seen paddling the secluded bays and irregular shore. Smaller boats and fishing craft can take advantage of the many boat ramps and courtesy docks at several of the parks spaced around the shoreline. Some locations, such as boat ramps at parks with swimming beaches, charge a small fee while others are free. Many regular visitors and fishermen take advantage of a seasonal pass-for around $30-that covers all of the USACE-operated parks and other Corps lake parks in the area. Some of the boat ramps are closed in winter, but others operate year-round, except when water levels drop too far to make them usable.
Lake Lavon, officially named Lavon Lake, is a popular spot with fishermen. The lake supports channel catfish, sand bass, largemouth bass, blue catfish, white bass, flathead catfish, crappie and a variety of sunfish. Texas Parks and Wildlife regularly stocks Florida-strain largemouth bass and striped bass. Although there is little weed cover lying under the reservoir's waters, the northern arms and river inlet areas hold a lot of standing timber that provides excellent fishing opportunities for crappie in particular. Handicap-accessible Caddo Park also offers three fishing ponds. Pebble Beach Park, Ticky Creek Park, Avalon Park, Mallard Park and East Fork Park all have swim beaches available, but none have lifeguards on duty. Small campgrounds are available at Clear Lake Park, East Fork Park, Lakeland Park, Lavonia Park and Little Ridge Park, with group camping facilities at Brockdale Park. Collins Park is operated by the marina at that location and provides camping sites also. Several additional parks provide picnic grounds with grills and boat ramps. The USACE office near the dam can provide information on most facilities located at the reservoir.
The Lavon Lake shoreline is in public hands, with USACE working with Texas Parks and Wildlife to maintain several wildlife areas along the lake. A 75-mile primitive hiking and cycling trail between Princeton and Farmersville runs along the lake and can be accessed from Sister Grove Park. The trail is open for day-use only, so camping is not permitted. Several areas are designated for hunting during various seasons, with small mammals, waterfowl and feral hogs pursued. As the area is managed for white tail deer sustainability, deer hunting is not allowed until population levels increase. All State hunting and fishing licenses and regulations apply to USACE lands in the area, with occasional special restrictions based on specific management needs. Hunters should always check current regulations before beginning the hunt.
Although there are some housing developments located near Lake Lavon, none are right at the water's edge, so the shoreline remains undeveloped. Many homes have water views, but private docks are not allowed. From the water, the area looks wild and unspoiled, with wildlife sightings common. Much of the area is farm or ranch land, although the few small towns near the lake have begun to offer amenities geared toward lake visitors. Some of the businesses in the area also rent boats and sports equipment for use at the lake. First-time visitors can find fishing guides locally to help scout the unfamiliar waters. And a few local resorts rent cabins near the lake, although not on the lakefront. The City of Wylie is near the dam and offers some lodgings in the form of chain hotels and motels. Campers will find any supplies not available at the marinas in Wylie, along with the usual banking and fast-food services.
Those looking for a wider variety of shopping and entertainment choices can head to the City of Rockwall, less than ten miles to the south. Lake Ray Hubbard is just south of Lake Lavon and offers wineries, lodging choices, golf courses and parks. Rockwall offers eclectic shopping, nightlife and entertainment. Just a short three-mile jaunt across the I-30 Causeway, the City of Dallas offers big-city charms only 22 miles from Lake Lavon. The Dallas-Fort Worth Metroplex is well-known as home to large amusement parks, theaters, museums, arts venues and upscale shopping at its large world-renowned malls. A vacation at Lavon Lake can include both quiet lakeside camping and big-city excitement. Dallas has all sorts of lodging opportunities to suit every possible need and may be the perfect compromise vacation for families that include 'power' shoppers and water sports fans. So pick out your spot, decide on your sport or entertainment, and head toward Dallas and Lake Lavon for the vacation bound to please the entire family.
Things to do at Lavon Lake
Vacation Rentals
Fishing
Boating
Sailing
Swimming
Beach
Canoeing
Kayaking
Water Skiing
Kite Surfing
Wind Surfing
Golf
Camping
Campground
Picnicking
Cabin Rentals
Hiking
Biking
Hunting
Wildlife Viewing
Museum
Amusement Park
Shopping
Fish species found at Lavon Lake
Bass
Black Bass
Blue Catfish
Catfish
Channel Catfish
Crappie
Flathead Catfish
Largemouth Bass
Striped Bass
Sunfish
White Bass
---
Lavon Lake Statistics & Helpful Links
Spread the word! Share our Lavon Lake article with your fellow Lake Lubbers!