Lake Zegrze, Masovia, Poland
Lake Locations:
Poland - Central Poland - Masovia -
Also known as:  Lake Zegrzynski, Zegrzynski Reservoir, Zalew Zegrzynskie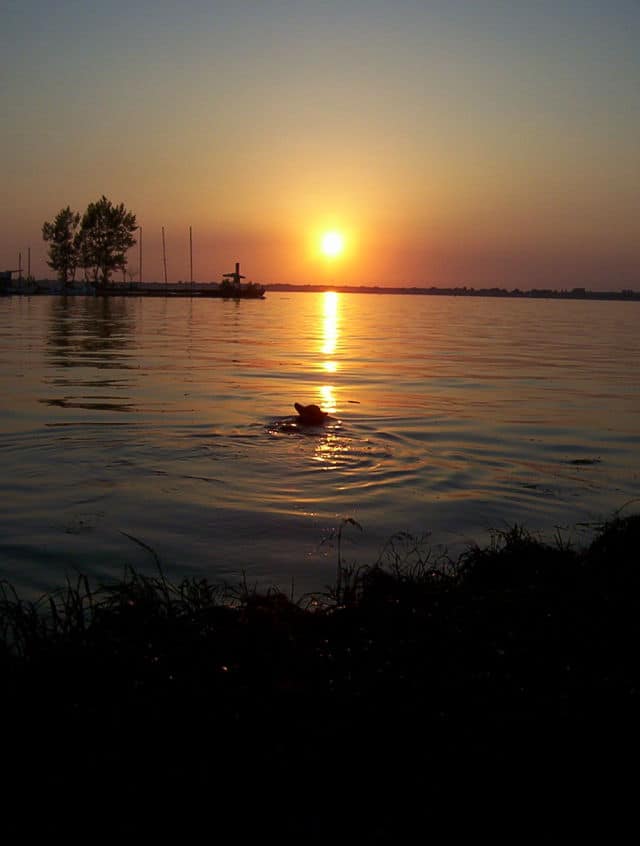 Lake Zegrze, or more precisely Zalew Zegrzynski, is one of the largest artificial reservoirs in the Masovian Province of central Poland. The reservoir was formed by a dam constructed in 1963 along the Bug-Narew River. Lake Zegrze collects water from the Bug River, Narew River, and Rzadza River; water flows out of the lake into the Bug-Narew River and the Zeranski Canal. The purpose of the dam is to maintain water levels and provide water for the Warsaw vicinity. The lake is located just north of Warsaw, the capital of Poland, and is a popular getaway for those in search of a relaxing break. All types of water sports are permitted on the lake, the most prominent being sailing, and with a shoreline filled with beaches, marinas, and holiday homes, Lake Zegrze has plenty to offer.
Lake Zegrze is shallow with an average depth of 11 feet, with a maximum depth of 30 feet. Anglers catch an assortment of fish including white and silver bream, carp, roach, pikeperch, pike, perch, zander, and catfish. Catfish flourish in the lake, and some of the best catches have been at the mouths of the Narew, Bug, and Rzadza Rivers. Sailing, canoeing, windsurfing, and boating are just a few of the beloved sports on the lake. Windsurfing and sailing schools offer their knowledge and equipment at several ports along the shore. Rent a yacht and follow one of the water trails that lead to the popular Masurian Lake District. When the water freezes sailboats are replaced by iceboats and ice skaters. This lake is a year-round tourist attraction.
To the north of Lake Zegrze is the Narew River, an attraction that offers all sorts of activities. Its surroundings are sometimes called the "Polish Amazon," with the Narwianski National Park formed in 1996. With flat banks, numerous meanders, and alternate riverbeds, some 200 species of birds call this place home. Storks abound in the region, but you may also see glimpses of Polish horses, elk, and beaver. Another extraordinary park is the Bialowieski National Park. The park is the oldest in Poland and is the most valuable, natural area in the lowlands of Europe. The park offers hiking and biking trails and tours through the evergreens and broad-leaved trees. The forest is among the World Biosphere Reserves in Poland and is home to remarkable animal life including rare and interesting mammals. Dating back to 8,000 BC this park is a rich part of history and an important scientific and educational center with a museum.
The city of Warsaw is not far from Lake Zegrze and is a popular tourist attraction. The town is complete with quaint villages and picturesque manors as well as an ancient and primeval forest. Spend the day on a guided tour through the Old Town and see medieval structures, or visit the New Town and have a taste of authentic Polish cuisine. The Kampinoski National Forest is comprised of sand dunes and primeval pines, some over 200 years old. Only Warsaw can boast so many species living in the forest, close to such a large human population. Animals such as lynx, roe deer, wild boar, badger, and fox see the forest as a safe haven. The varieties of soil as well as variable water conditions are responsible for a wide diversity of plant life. The territory of the park has close ties with history as many battles were fought throughout the terrain.
You don't need to travel far to see an extraordinary city. Pultusk sits just north of Lake Zegrze and has a clean, natural environment with no industries polluting it. The town has numerous relics of the past, beautiful landscapes, interesting history, and plenty of shops and hotels. Pultusk has the longest marketplace in Europe at over 1300 feet long. Take your time shopping, or take in the views on an enchanting horse-drawn carriage ride.
Lake Zegrze has plenty of vacation rentals and real estate properties for sale. Take your friends and family on a trip to Lake Zegrze; you won't regret it.
Things to do at Lake Zegrze
Vacation Rentals
Fishing
Boating
Sailing
Swimming
Beach
Canoeing
Hiking
Ice Skating
Biking
Horseback Riding
Wildlife Viewing
Birding
National Park
National Forest
Museum
Shopping
Fish species found at Lake Zegrze
Carp
Catfish
Perch
Pike
Pike Perch
Roach
Zander
---
Lake Zegrze Photo Gallery
Lake Zegrze Statistics & Helpful Links
Spread the word! Share our Lake Zegrze article with your fellow Lake Lubbers!