Lake Wisconsin, Wisconsin, USA
Lake Locations:
USA - Midwest - Wisconsin - Southern Savanna Region -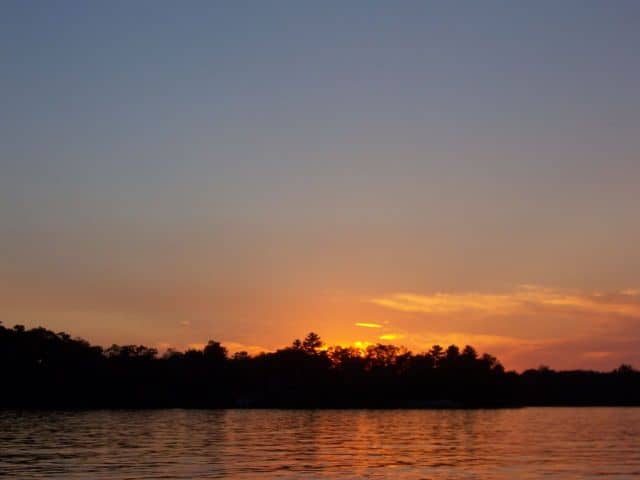 The bald eagle soars overhead its flight following the path of the Wisconsin River below. The river winds across the bottom of the state swelling gradually and filling with boats and people. The brightly colored boats don't matter to the eagle. He's looking for fish. For the people below, however, the widening of the river signals the start of Lake Wisconsin. With over 7,000 acres of water, Lake Wisconsin in the Southern Savanna Region has more than enough room to boat, fish, and explore.
Straddling both Columbia and Sauk Counties near Okee, Lake Wisconsin is an impoundment of the Wisconsin River. Often referred to as the "Hardest Working River in the Nation," the Wisconsin River and its many dams have been providing power for over a hundred years. In 1915 Wisconsin River Power Co. started construction on the Prairie du Sac Dam resulting in Lake Wisconsin. The dam which was completed in 1924 has been providing power for the surrounding area ever since. Today the dam and lake levels are controlled by the Wisconsin Power & Light Co which is a subsidiary of Alliant Energy.
Before there was a Lake Wisconsin or even the state of Wisconsin, the Merrimac Ferry took passengers across the Wisconsin River. After Lake Wisconsin filled, Columbia and Sauk Counties took over running the ferry, and it was renamed the Colsac. Today the Colsac III runs 24 hours a day, seven days a week for as long as the lake is not frozen providing free passage to visitors. For visitors preferring a more adventurous ride, Lake Wisconsin is a great place to power boat and water and jet ski. Quiet boaters can explore the lake and its almost 60 miles of shoreline by kayak and canoe as well. Several boat ramps both public and private provide access to the lake.
Lake Wisconsin boasts abundant populations of walleye, northern pike, muskie, and bluegill. Fishermen can also try their hand at catching a lake sturgeon. The sturgeon, a remnant of the cretaceous period, can live to be over 100 years old and can grow to over 100 pounds. Deer, cranes and other waterfowl also make their home at Lake Wisconsin, and it is a favorite place for wintering bald eagles.
Lake Wisconsin is only about 30 minutes from the Wisconsin Dells, "America's Waterpark," and Devil's Lake State Park. The most popular state park in Wisconsin, Devil's Lake State Park includes the 360-acre spring fed lake that gave the park its name along with almost 10,000 acres to explore. There is a campground and miles of trails for hiking and biking. The park includes a section of the Ice Age National Scenic Trail. The 1,200 mile long trail winds across the state of Wisconsin tracing the edge of the glacier that receded after the last ice age leaving many of Wisconsin's lakes in its wake.
An easy day trip from Lake Wisconsin, Circus World is a museum celebrating the past and present of the circus. The museum is home to the largest collection of restored circus wagons. Children will love putting on their own circus at KidsWorld Circus or meeting real circus animals. Ringlingville is an example of the Ringling Brothers wintering grounds and contains building from the early 1900's. Just outside of Baraboo, the entire site is a National Historic Landmark Site.
There are several towns near Lake Wisconsin with restaurants, shops, and various accommodations available. Any amenities a visitor could want are within a short drive, and Lake Wisconsin itself has lakefront vacation rentals and real estate for sale for anyone wishing to extend their stay. There is even a lakefront golf course. The lake is less than an hour from Madison.
"Worlds to Discover…Room to Explore," is the motto of Columbia County, a saying that certainly holds true for beautiful Lake Wisconsin. Fantastic Fishing, exceptional boating, and plentiful wildlife combine to make Lake Wisconsin a great place to explore. Add the rich history and museums along with all the amenities of Madison and there is sure to be something to please everyone.
Things to do at Lake Wisconsin
Vacation Rentals
Fishing
Boating
Canoeing
Kayaking
Jet Skiing
Golf
Camping
Campground
Hiking
Biking
Wildlife Viewing
Birding
State Park
Museum
Fish species found at Lake Wisconsin
Bluegill
Muskellunge
Northern Pike
Perch
Pike
Sturgeon
Sunfish
Walleye
---
Lake Wisconsin Photo Gallery
Lake Wisconsin Statistics & Helpful Links
Spread the word! Share our Lake Wisconsin article with your fellow Lake Lubbers!