Lake Wentworth, New Hampshire, USA
Welcome to the ultimate guide for history, statistics, local fun facts and the best things to do at Lake Wentworth.
If you're considering Lake Wentworth vacation rentals, we've made it super easy to explore accommodations and nearby hotels using the interactive map below. Simply click on a listing to compare similar properties, best rates and availability for your dates. Or keep scrolling to read our Lake Wentworth guide!
Lake Wentworth visitor and community guide
One of the prettiest lakes in New Hampshire's Lakes Region is Lake Wentworth. All too often overlooked as tourists flock to nearby Lake Winnipesaukee, 3100-acre Lake Wentworth is no minor pond; it is one of the reasons the Town of Wolfeboro has long held the title, "The Oldest Summer Resort in America." Named for the second (and last) Royal Governor of New Hampshire John Wentworth, the governor had a summer mansion and plantation here just before the Revolutionary War. The shoreline is primarily privately owned now, as are most of the 18 islands gracing the lake. Governor Wentworth's' mansion burned down in 1820, and the site is now a part of the Governor Wentworth Historic Site and the location of a major archeological dig. Summer resorts and 'camps' were being built along the shoreline by 1884, and Lake Wentworth saw its share of famous and historical figures spend summers here. Famous people still come to the Town of Wolfeboro to enjoy typical small-town lake resort living.
Swimming is a major activity at Lake Wentworth. Two public beaches assure access to the water: Albee Beach in the Town of Wolfeboro and the Wentworth State Park along the north shoreline. Albee Beach has a small picnic area and is the site of the community sailing project the town sponsors in conjunction with the New Hampshire Boat Museum. Wentworth State Park is a bit larger at 50 acres and offers a swim beach, picnic tables and grills, a boat launch, restrooms, hiking trails and fishing. The big lake is popular with boating enthusiasts, and nearly every type of craft is allowed on Lake Wentworth except for personal watercraft. The Smith River outlet stream connects Lake Wentworth to smaller Crescent Lake, where a dam controls water levels on both lakes. Although smaller boats can be launched either from the boat ramp at the state park or private properties, larger, trailered boats are usually launched at Mast Landing public dock and boat launch on Crescent Lake in the Town of Wolfeboro. These larger boats can then navigate the short Smith River up to Lake Wentworth. Sailing is one of the most popular boating activities, but many enjoy water skiing, tubing, pontooning, canoeing and kayaking.
As always, fishing is a major draw to Lake Wentworth. Anglers here catch largemouth bass, smallmouth bass, yellow perch, sunfish, white perch, pickerel, rainbow trout, whitefish and even burbot. Fishing around the islands is usually some of the most productive. In winter, the ice fishermen take command, with competition for the best spots to bore a hole to catch perch and pickerel. The large expanse of ice is also used for ice racing tournaments, with competitions centered around snowmobiles, ATVs and even trucks. Although the shoreline is populated with a large number of summer and year-round residences, Stamp Act Island is a nature preserve. The public can access the 100-acre preserve from a beach on the northeast side of the island for day use only. Public access is closed between May 15 and July 15 to allow for undisturbed bird nesting. The island contains a great blue heron rookery and is the site of scientific research and monitoring by advance arrangement with The Nature Conservancy and the Lake Wentworth Association.
A second area of natural delight is located near the north shore. Ryefield Marsh is a wetland that feeds into the north end of Lake Wentworth and is excellent for viewing deer, beavers, herons, moose and other species. A self-guided nature trail aids nature lovers in accessing the area. Another excellent way to view the natural ecology of the region is on the six-mile Cotton Valley Rail-Trail. The multi-use trail travels the same route that first brought summer resort visitors to Wolfeboro when the railroad arrived in 1872 and, crossing culverts and between lakes, includes Albee Beach. The trail begins in downtown Wolfeboro at the restored train depot on Railroad Street. A number of other small town woods parks and preserves are located in the area.
The Town of Wolfeboro has been polishing their tourism hosting skills for over 150 years and are well-prepared to offer services to visitors. Besides the usual restaurants and shops, Wolfeboro holds the Pop Whalen Ice Arena, host to most local hockey leagues and open for public skating. The town is also the location of the community-owned Abenaki Ski Area, one of the oldest and most affordable ski areas in the country. The Libby Museum holds natural history-themed exhibits and hosts children's programs. The Wright Museum of World War II is 'dedicated to celebrating Americans' sacrifices and achievements during WW II'. Supported entirely by private donations, this one is a favorite among the older visitors and those wishing to learn more about the war years in America.
A museum dear to the hearts of Lake Wentworth residents is the New Hampshire Boat Museum, featuring vintage mahogany and antique boats, including runabouts, race-boats, sailboats, guide-boats and canoes. You can even take an antique boat cruise on Lake Winnipesaukee. The Clark House Museum Complex is a project of the Wolfeboro Historical Society. Located in Clark Park on South Main Street, the complex features a 1778 farmhouse-turned tavern, firehouse, barn, and one-room schoolhouse. Summer programs and special events are offered. Wolfeboro also produces several annual festivals each year, including a winter carnival.
A few housekeeping cottages are available on Lake Wentworth, and an RV campground provides a landing space for those with a home-on-wheels. Wolfeboro is filled with quaint bed & breakfasts, inns and small motels. Several major hotel chains also are located in the immediate area. Lakeshore property owners often rent their private cottages to weekly or monthly visitors. And, there is usually real estate available, often with lake frontage. Wolfeboro and the surrounding area can provide for nearly any boating or fishing need a visitor might have. It's the perfect vacation spot and well appointed to claim the title, "Oldest Summer Resort in America".
Custom Lake Wentworth house decor
Read our full review of these personalized lake house signs.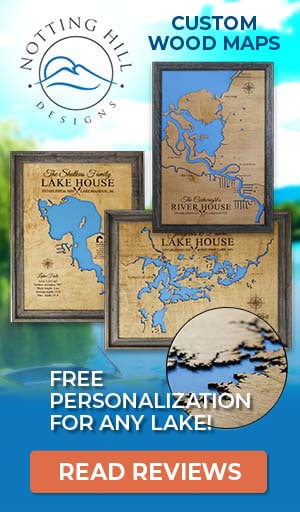 Things to do at Lake Wentworth
Vacation Rentals
Fishing
Boating
Sailing
Swimming
Beach
Canoeing
Kayaking
Water Skiing
Tubing
Camping
Campground
Picnicking
Hiking
Snowmobiling
Wildlife Viewing
State Park
Museum
Antiquing
Fish species found at Lake Wentworth
Bass
Black Bass
Burbot
Largemouth Bass
Perch
Pickerel
Pike
Rainbow Trout
Smallmouth Bass
Sunfish
Trout
White Perch
Whitefish
Yellow Perch
---
Best hotels and vacation rentals at Lake Wentworth
The Lake Wentworth map shown above is a simple and stress-free way to search for trip accommodations. But if you want to take a deeper dive to find the ideal waterfront home, cabin, condo, hotel or resort, visit our favorite lodging partners by clicking the buttons below.
Note: These are affiliate links so we may earn a small commission if you book through them. While there is no extra cost to you, it helps provide resources to keep our site running (thank you)! You can read our full disclosure policy here.
---
Lake Wentworth photo gallery
New photos coming soon!
Lake Wentworth statistics & helpful links
We strive to keep the information on LakeLubbers as accurate as possible. However, if you've found something in this article that needs updating, we'd certainly love to hear from you! Please fill out our Content Correction form.
Advertise your Lake Wentworth vacation rental
LakeLubbers will soon offer homeowners and property managers the opportunity to to showcase their vacation rentals to the thousands of lake lovers searching our site daily for accommodations. If you'd like additional details, please contact our advertising team here.
Looking for the Lake Wentworth forum?
LakeLubbers previously offered visitors the ability to create accounts and participate in lake forums. When we overhauled the site's content management system in 2021 we had to disable those features. We're evaluating options and welcome your comments and feedback here.
We also encourage you to join our lake-lovin' community on Facebook and Instagram!
Spread the word! Share our Lake Wentworth article with your fellow Lake Lubbers!