Lake Waxahachie, Texas, USA
Lake Locations:
USA - Southwest - Texas - Prairies and Lakes -
Also known as:  Waxahachie Lake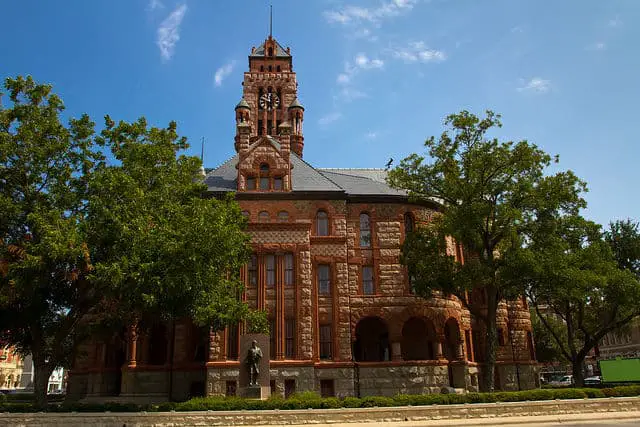 One of many reservoirs in the Texas Prairies and Lakes Region, Lake Waxahachie was constructed to provide a municipal water supply to the nearby City of Waxahachie. Small by reservoir standards, the 656-acre reservoir still manages to provide plenty of recreational opportunities to area residents and visitors. An all-sports lake, the reservoir is owned and managed by the City of Waxahachie, with numerous beautiful homes overlooking the inviting water. Residents often have boathouses built over the water and lovely views from the limestone cliffs along the shore.
The South Prong Dam impounds water from South Prong Creek, a tributary of the Trinity River. Soon after its construction in 1956, the City of Waxahachie developed three public access areas along the north shore. All three provide boat ramps, although some of them may not be serviceable during the frequent periods of low water levels. As is common in this part of Texas, prolonged dry spells can reduce creeks to a mere trickle-creeks that can become rushing torrents during sudden rainstorms. The third public boat ramp can handle low water level launches, but there is little else provided except parking at that location. Boat Dock Park near the dam and Spring Park provide restrooms, picnic tables and a swim area. Boat Dock Park also offers a children's playground. Located less than five miles from downtown Waxahachie, the parks are a convenient spot to enjoy cooling breezes while picnicking in the shade. Jetti Park has shore fishing and a boat ramp only. There is no marina on the lake.
All types of watercraft are permitted on Lake Waxahachie, including jet skis. It's the perfect lake for lazy pontooning, or exploring the many coves and arms that extend from the main watercourse by canoe or kayak. Some of the higher-end housing developments provide a pier and park area specifically for their members. Because the lake is only 30 miles from Dallas-Fort Worth, most of the homes are year-round residences and ideal for commuting. There is no camping along the 8-mile shoreline, but a US Army Corps of Engineers Campground is located a few miles away at Bardwell Lake. Few vacation rentals are found here, but the occasional private home may be rented on a short-term basis. There is no shortage of lodgings in nearby Waxahachie, with numerous hotels and bed & breakfasts throughout the area.
Fishing is good for a small residential reservoir. Some brush fish shelters are in place, and there are numerous weed beds along the shore that attract largemouth bass and crappie. Locals admit that the bass are not especially large, but that there are plenty of them and put up a good fight at the end of the line. Crappies also are often caught near the dam. In the past blue catfish and channel catfish were planted which appear to have taken hold and are now self-propagating. White bass are plentiful. A regular Texas fishing license is required, and Texas Parks and Wildlife occasionally place some special restrictions on which fish may be kept.
Real estate is more the drawing card to Lake Waxahachie than vacation lodgings. Home prices range from economical to high-end custom homes. With the City of Waxahachie five minutes to the north of the lake, one needn't return to the larger metroplex for most daily needs and services. Waxahachie is an historic town with several areas worth exploring. The picture-perfect historic downtown area has been the set for numerous Hollywood films. The city has a section of old 'shotgun'-style housing from the early 1900s, as well as the Gingerbread Trail, an annual tour of homes each June showcasing Queen Anne, Victorian, Gingerbread and Gothic Revival architectural styles.
A recreated Munster Mansion is a private residence but decorated to reflect the more famous focal points of the popular 1980's television series. Tours are available. In October, the Screams Halloween Theme Park is open for blood chilling thrills and frights. Open weekends April through Memorial Day, the Scarborough Renaissance Festival recreates a 16th century English village complete with over 200 shops, 20 entertainment stages, food, handicrafts and human-powered rides. Waxahachie also has theaters for the perfuming arts, an art museum, a water park and the ever popular, four mile Waxahachie Creek Hike and Bike Trail that wanders alongside its namesake creek through the middle of town. With all of these entertaining choices, many residents at Lake Waxahachie return home from Dallas or Fort Worth at the end of the week and seldom venture back into the big city until Monday morning.
There are plenty of good excuses to spend a vacation near Lake Waxahachie, even if you stay at a hotel in the city. The fishermen in the family can head on down to the lake for fishing, while the kids swim and enjoy exploring. Bring a picnic lunch or plan to stop and pick up your favorite take-out in Waxahachie to eat in the shade. You can be back for a deluxe dinner at one of the city's restaurants, followed by the theater or a local symphony performance. Once you see just how many things there are to do here in the area, you may be looking for real estate in the near future.
Things to do at Lake Waxahachie
Vacation Rentals
Fishing
Boating
Swimming
Canoeing
Kayaking
Jet Skiing
Camping
Campground
Picnicking
Hiking
Biking
Wildlife Viewing
Museum
Playground
Fish species found at Lake Waxahachie
Bass
Black Bass
Blue Catfish
Catfish
Channel Catfish
Crappie
Largemouth Bass
White Bass
---
Lake Waxahachie Photo Gallery
Lake Waxahachie Statistics & Helpful Links
Spread the word! Share our Lake Waxahachie article with your fellow Lake Lubbers!