Lake Travis, Texas, USA
Lake Locations:
USA - Southwest - Texas - Hill Country -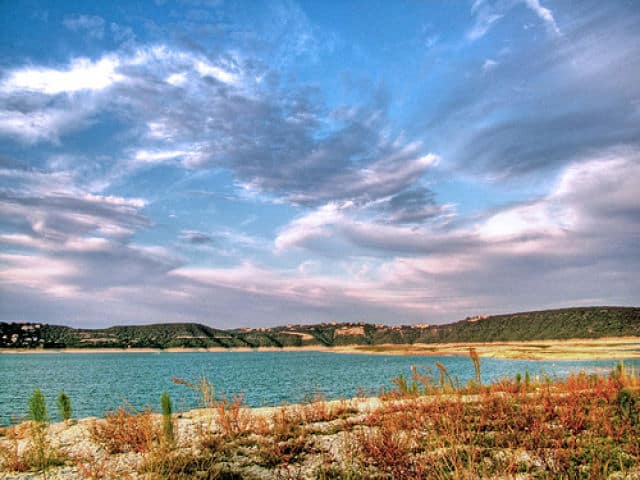 Lake Travis is a beautiful 18,930 acre reservoir in the Hill Country of central Texas, about 12 miles northwest of Austin. It is over 63 miles long with a width of 4.5 miles at its widest point. It was formed in 1942 by the construction of the Mansfield Dam by the Lower Colorado River Authority (LCRA) for purposes of flood control, municipal and industrial water supplies, irrigation, and hydroelectric power, and is fed by the Colorado River and other local creeks. It is now a premier recreational spot.
With water temperatures easily reaching into the mid-80s during the summer, Lake Travis naturally attracts water sport enthusiasts to enjoy activities ranging from multi class sailboat and windsurfing regattas to competition ski boat, cruisers, cigarette boats and mansion-like houseboats, canoeing, kayaking, and fishing. Boasting superbly clear waters, the lake is also a favorite for scuba divers interested in exploring lake depths and experiencing wonderful encounters with lake life. Divers also delight in the great depths within the lake, with the average depth being 62 feet and the maximum reaching 210 feet in certain areas.
With 270 miles of shoreline stretching around the lake, there is plenty of room for homes, as well as a great number of bars, restaurants, and marinas on its shores which can be reached by boat.
Because Lake Travis serves as the primary flood control reservoir of the Highland Lakes chain, the water level can vary 10 to 20 feet, depending on the amount of rainfall in the Colorado River Basin upstream. During normal summer months without rain, the lake usually drops around 6 feet a week from evaporation and use. Lake Travis is considered full at 681 feet above sea level. The lake's historic high level is 710.4 feet above sea level on December 25, 1991. Its historic low level is 614.2 feet on August 14 1951. Land use in the upper reservoir is primarily ranching, with residential properties common in the lower reservoir.
The basin of Lake Travis is steep-sided with relatively few shallow coves and shoal areas. With its deep clear water and many rock bluffs, it offers some very nice fishing activity. Largemouth bass, catfish, striped bass, sunfish and white bass are common fish species. Lake Travis offers excellent numbers of largemouth bass, especially the Guadalupe bass. In the spring and the fall it is not uncommon to catch upwards of 20-30 bass per day, The fishing is still fairly good on this lake during the heat of the summer because of the deep water, and during the warmer months it is not uncommon to find fish at over 40 feet deep.
While water recreation is the big draw at Lake Travis, the hills and prairies of the area offer limitless opportunities for relaxation and exploration. With nearly a dozen parks maintained by Travis County, and another half-dozen operated by the Lower Colorado River Authority (LCRA), there is never a lack of outdoor adventures. Pace Bend Park is one of the most popular parks in the Hill Country of Travis County. Featuring limestone cliffs, rocky coves, bike paths, and nature trails with over nine miles of scenic shoreline along Lake Travis, Pace Bend offers visitors a wide array of activities and recreational opportunities. Another popular park is Hippie Hollow, the only clothing-optional public park in Texas.
Few places offer the same combination of glorious scenery, urban activity and outdoor recreation possibilities. Lake Travis offers residents and visitors a magnificent natural environment, where the lake, woods, hills, and prairie come together in pristine harmony.
Things to do at Lake Travis
Vacation Rentals
Fishing
Boating
Sailing
Canoeing
Kayaking
Scuba Diving
Hiking
Fish species found at Lake Travis
Bass
Black Bass
Catfish
Largemouth Bass
Striped Bass
Sunfish
White Bass
---
Lake Travis Photo Gallery
Lake Travis Statistics & Helpful Links
Spread the word! Share our Lake Travis article with your fellow Lake Lubbers!