Lake Thingvallavatn, Southwest Iceland, Iceland
Lake Locations:
Also known as:  Lake Thingvalla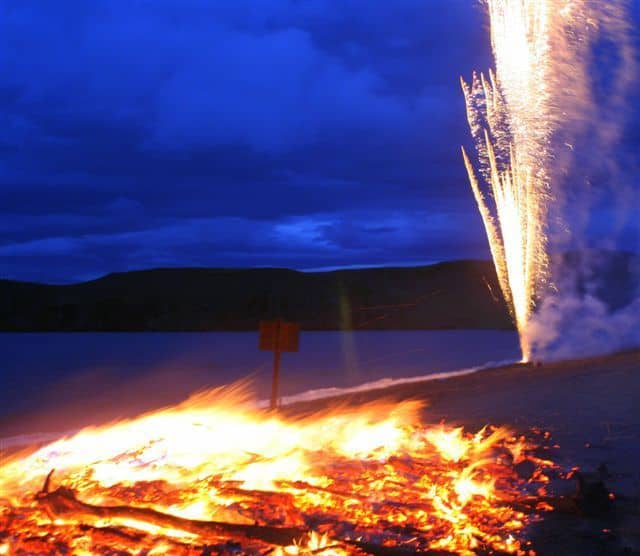 Lake Thingvallavatn (Icelandic), also known as Lake Thingvalla (English) is the largest natural lake in Iceland, boasting a surface area of 20,757 acres and a maximum depth of 374 feet. The northern tip of the lake is situated within the first of the country's four national parks: Thingvellir National Park. With majestic snowcapped mountains as its backdrop, Lake Thingvallavatn is visually stunning. It is mostly spring-fed and lined with trees, shrubs and flowers.
A veritable heaven for geologists, Lake Thingvallavatn's faults and fissures are subjects of endless fascination. The area is technically a part of two continents: Europe and America. Aside from the Great Rift Valley in East Africa, this is the only place in the world where the effects of the drifting tectonic plates can be observed; they move at least .8 inch annually. Because the two landmasses are constantly drifting apart, the earth here is always sinking. This has resulted in the formation of the huge rift valley that can be observed today.
Because Lake Thingvallavatn and its surroundings have such a rich history, UNESCO added Thingvellir National Park it to its World Heritage List in 2004. The site of the world's very first parliament back in 930 A.D., this area was also the first to officially adopt Christianity as a religion in 1000 A.D. Today, the Thingvellir National Park offers facilities that include an interpretive learning center with multimedia programs and educational exhibits. The preserve also features camping grounds and toilet facilities.
Maintained by Landsvirkjun Power, Lake Thingvallavatn's hydroelectric dam is located at the Sog River outflow point; at 11.8 miles in length, the Sog River is the largest glacial river in Iceland. Water flows through a tunnel and into a tank, then to a pair of turbines with 13.5 MW capacities each. This dam supplies electricity to nearby towns including Reykjavik.
Lake Thingvallavatn has a mean depth of 112 feet, and is famous for its salmon population. Brown trout, three spine stickleback and at least four species of char are also present. Fishing on the lake is permitted 24 hours a day from May 1-September 15, by fly, worm and lure baits only.
For lovers of the outdoors, there are plenty of things to do at Lake Thingvallavatn, including swimming, sailing, and ATV tours. Birdwatching for waterfowl is top notch at the lake, and patient wildlife lovers will find opportunities to spot rare northern divers, Gyrfalcons and barrow's goldeneyes. More commonly found species include mergansers, mallards and tufted ducks. During the winter, snowmobiling is another great pastime. Golf enthusiasts will appreciate South Iceland's 16 golf courses.
For scuba divers at Lake Thingvallavatn, the Silfra Rift is one of the top dive destinations on the planet. Freezing cold glacial waters create spectacular seascapes and unparalleled visibility of 330+ feet. Don't expect to see many fish, but do be prepared for some of the most colorful underwater scenery imaginable. The water is so immaculate and fresh that many consider it safe enough to drink. Silfra Lagoon and Silfra Cathedral are the two main dive sites here, along with nearby Geysir and Gullfoss.
Speckled with beautiful volcanic islands, Lake Thingvallavatn is perfect for canoeing and kayaking. Hiking trails abound, winding through deserted forests and abandoned farmsteads as if they were plucked right out of an oil painting. The trail to the Oxarafoss Waterfall is a particularly peaceful and worthwhile route.
Horseback riding is permitted along many of the paths around Lake Thingvallavatn, leading inland to Western Iceland and to isolated regions of Southern Iceland. The Skogarholar equine camp features tent accommodations and stables for horse campers. Horseback riding is not allowed on the same roads as cars.
Many holiday villa rentals and real estate properties are available around Lake Thingvallavatn. Some feature unobstructed lakeside views and hot tubs. Come visit Lake Thingvallavatn for your next vacation, and see for yourself why it is one of Iceland's hottest holiday destinations.
Things to do at Lake Thingvallavatn
Vacation Rentals
Fishing
Sailing
Swimming
Canoeing
Kayaking
Scuba Diving
Golf
Camping
Hiking
Snowmobiling
Horseback Riding
Waterfall
Wildlife Viewing
Birding
National Park
Fish species found at Lake Thingvallavatn
Brown Trout
Char
Salmon
Stickleback
Trout
---
Lake Thingvallavatn Photo Gallery
Lake Thingvallavatn Statistics & Helpful Links
Spread the word! Share our Lake Thingvallavatn article with your fellow Lake Lubbers!