Lake Sunapee, New Hampshire, USA
Lake Locations:
USA - New England - New Hampshire - Dartmouth-Lake Sunapee -
Also known as:  Sunapee Lake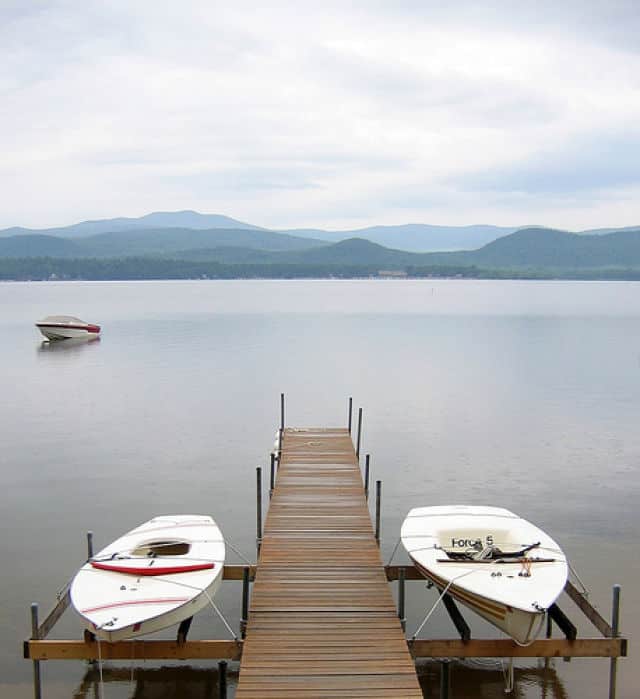 Lake Sunapee has been a popular vacation destination since the heyday of passenger railroads and steamships. The lake's clear waters and beautiful scenery hold many attractions, and for those who love outdoor activities, there are endless opportunities for enjoyment.
Lake Sunapee's 4,000-acre expanse stretches over a length of 10 miles, and is the sixth largest lake that is contained within the state of New Hampshire. Its waters are controlled by the Lake Sunapee Dam, which is owned by the Department of Environmental Services. Constructed in 1932, the dam regulates the water level for recreation. Lake waters are drawn down three feet in the fall; melting snow and spring rains re-fill the lake. Lake Sunapee also provides drinking water to lake residents.
One of the lake's special distinctions is that it contains three of the five lighthouses in New Hampshire: Herrick Cove Lighthouse, Burkehaven Lighthouse, and Loon Island Lighthouse. Two of these lighthouses, Burkehaven Lighthouse and Loon Island Lighthouse, are located at two of the lake's islands, Burkehaven Island and Loon Island. Lake Sunapee also contains six other islands: Great Island, Star Island, Little Island, Treasure Island, Minute Island, and Emerald Island. Little Island was once an entertainment spot for tourists – it was bought in the late 1800's (for one dollar!) by a man named N.S. Gardner, who had a bowling alley built on it.
There are many ways to enjoy Lake Sunapee's wonders. Nature lovers can glide along the water in a kayak, gazing deep down into its clear depths. If you want a guided tour of the lake, take a leisurely ride on the MV Mt. Sunapee II. Or take the MV Mt. Kearsarge, a replica of an antique steamship, and enjoy a delicious meal along with your tour.
Outdoor enthusiasts will find much to love about Lake Sunapee. Anglers can cast their lines and reel in salmon, smallmouth bass, lake trout, or pickerel. Those with a thirst for excitement can experience the thrill of windsurfing, water skiing, or sailing. If you feel like taking a refreshing dip into Lake Sunapee's waters, Sunapee State Beach is the perfect spot. The State Beach also has a boat launch, and many other conveniences including a bathhouse, store, and canoe and kayak rentals.
And the fun doesn't end there. The nearby Mount Sunapee holds numerous attractions as well. Take an aerial sky ride to the top and enjoy the breathtaking views. Choose one of the hiking trails to explore. And in the winter, of course, Mount Sunapee is a fantastic play area for skiers and snowboarders of all ages and levels.
There are many more attractions in the Lake Sunapee area – antique shops to browse, art galleries and museums to visit, and trails to walk. The John Hay National Wildlife Refuge is a wonderful place to explore the world of nature. Enjoy some of the area's rich history by taking a tour of "The Fells," the summer home and gardens of John Hay (who was the former secretary of Abraham Lincoln).
In addition to the regular activities around Lake Sunapee, many interesting and enjoyable events are also held in the area each year, including the League of New Hampshire Craftsmen's Fair and an antique boat parade on Lake Sunapee.
Whether you enjoy filling your days with an abundance of activities, or prefer to spend your time soaking in the tranquility of nature, Lake Sunapee can fulfill your desires!
Things to do at Lake Sunapee
Vacation Rentals
Fishing
Boating
Sailing
Swimming
Beach
Canoeing
Kayaking
Water Skiing
Hiking
Wildlife Viewing
National Wildlife Refuge
Museum
Antiquing
Fish species found at Lake Sunapee
Bass
Black Bass
Lake Trout
Pickerel
Pike
Salmon
Smallmouth Bass
Trout
---
Lake Sunapee Photo Gallery
Lake Sunapee Statistics & Helpful Links
Spread the word! Share our Lake Sunapee article with your fellow Lake Lubbers!