Lake Sakakawea, North Dakota, USA
Lake Locations:
USA - Midwest - North Dakota - Northwest -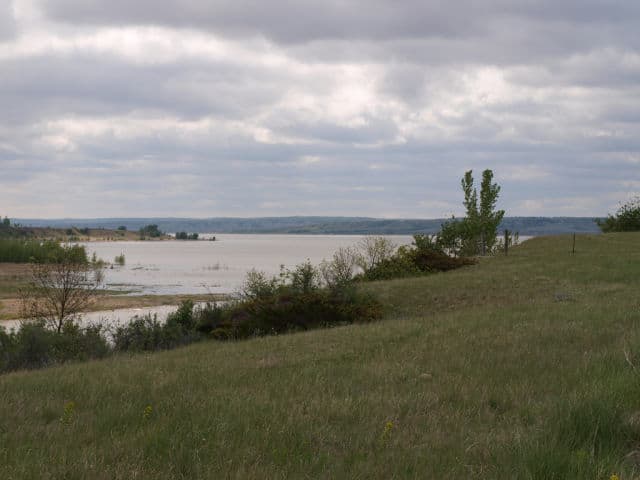 The second-largest reservoir by surface acreage in the United States (and third-largest in volume), Lake Sakakawea stretches 178 miles from Garrison Dam northwest to Williston, North Dakota, and has a surface area of about 382,000 acres. Lake Sakakawea averages between two and three miles in width and is six miles wide at its widest point. Located 75 miles north of Bismarck, North Dakota, the gently rolling prairie and the 1,300 miles of shoreline offer a wide verity of activities for visitors. Recreational activities include camping, boating, fishing, sailing, nature watching, hunting, and ice-fishing.
Lake Sakakawea was created by impounding the Missouri River. Authorized under the Flood Control Act of 1944, or the Pick-Sloan Plan, construction of Garrison Dam began in 1947. Upon completion in 1954, Garrison Dam stretches 2,050 feet wide at the base and tapers off to 60 feet wide at the top, and is now the fifth largest earthen dam in the world. In addition to hydropower production, Garrison Dam provides a variety of benefits to the public, such as fish and wildlife preservation, flood control, navigation, irrigation, and recreation. Visitors can take a tour at the power plant, where they can also see exhibits that display the construction and operation of the Garrison Dam.
Lake Sakakawea, rooted in early American history, was named after Sacajawea, a Shoshoni woman who was invaluable to the Lewis and Clark Expedition. Many of the original campsites of Lewis and Clark are now underwater due to the damming of the Missouri River. On the south shore of Lake Sakakawea, adjacent to Garrison Dam, visitors will find the Lake Sakakawea State Park. Originally developed by the US Army Corps of Engineers and called Garrison Lake State Park, North Dakota Parks and Recreation assumed management in 1965 and renamed the park to honor the famous guide of Lewis and Clark. Lake Sakakawea State Park offers a full-service marina and hosts special events such as Visitor Appreciation Day (where the entrance free is waived) and the Great Plains Salmon Derby. Every weekend throughout the summer there are amphitheater programs, children's Dakota Explorers activities, and nature hikes. The 1,293-acre park is an excellent place for nature watchers. Visitors may see some rare species of birds, including the piping plover, least tern, eastern bluebird, whooping crane, and the golden eagle. Other than birds, white-tailed deer, ring-necked pheasants, raccoons, jackrabbits, and coyotes may be seen. Check the Lake Sakakawea State Park web site for a bird and plant checklist.
Also nearby is Fort Stevenson State Park, located on the north shore of Lake Sakakawea. Fort Stevenson State Park takes its name from an old military fort that was located about two miles southwest of the present park site. Although the original site is now underwater, a replica of the fort's guardhouse has been constructed in the park and houses interpretive exhibits on the history of the fort and the Missouri River. Fort Stevenson State Park is known as the walleye capital of North Dakota, and hosts many great fishing opportunities and tournaments such as the Governor's Cup Walleye Fishing Derby and the Garrison Fall Walleye Classic. Although the park's marina, swim beach and concession are closed, visitors can still enjoy modern campgrounds, sleeping cabins, visitor center, prairie dog town, and boat launching facilities.
There are 35 recreation areas around Lake Sakakawea including Lake Sakakawea State Park and Fort Stevenson State Park. Year round fun can be found at Lake Sakakawea whether it is ice fishing in the winter or sail boating in the summer. Visitors can enjoy a relaxing time while taking in the beauty of the vastness of Lake Sakakawea.
Things to do at Lake Sakakawea
Vacation Rentals
Fishing
Ice Fishing
Boating
Sailing
Swimming
Beach
Camping
Campground
Cabin Rentals
Hiking
Hunting
Wildlife Viewing
Birding
State Park
Fish species found at Lake Sakakawea
---
Lake Sakakawea Photo Gallery
Lake Sakakawea Statistics & Helpful Links
Spread the word! Share our Lake Sakakawea article with your fellow Lake Lubbers!