Lake Rotoehu, North Island, New Zealand
Lake Locations:
New Zealand - North Island - Rotorua -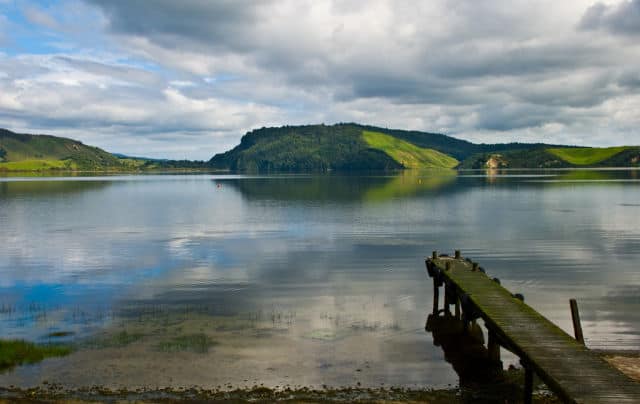 For the truly traditional New Zealand holiday, one must spend a week or two at Lake Rotoehu! Located in the Rotorua District of the Bay of Plenty Region, North Island, it is the middle lake in a chain of three lying northeast of Rotorua. Like its neighboring lakes Rotoiti and Rotoma, Rotoehu formed when lava blocked a series of valleys in the north of the Okataina caldera. Although Lake Rotoehu, like Rotoma, has no outlet stream, outflow occurs through a sinkhole in one of the northern arms. Inflow occurs via several small streams and suspected subterranean connections with Lake Rotoma. Unlike Lake Rotoma, Lake Rotoehu is quite shallow.
Lake Rotoehu's shoreline holds a number of the traditional baches that have been a New Zealand vacation mainstay for at least sixty years. The 'bach' as its called on the North Island is short for bachelor pad and originally meant a rude shelter without electricity or plumbing built from scrounged materials and furnished with hand-me-down furnishings. The nickname has evolved to mean vacation home and is now used to describe all types of holiday and year-round lakefront homes, some very luxurious. Because lakefront property has increasingly come under the protection of conservation groups and Maori tribal rights, the few baches that appear on the real estate market are soon snapped up. On Lake Rotoehu, existing dwellings are only found in two areas of the lake; Otautu Bay and Kennedy Bay, both on the eastern shore. The majority of the northern and western reaches of the lake are farmland so many of the bays are accessible only by boat. Current restoration efforts are fencing livestock away from the lakeshore and it is being replanted in native plants to restore wetland areas. It is hoped these efforts will improve water quality and remove algae blooms that have degraded water quality.
Lake Rotoehu has an excellent trout fishery, with rainbow trout of good size being take on a regular basis. The lake is a part of the Te Arawa Lakes Trust: the lake bottom has reverted to Maori tribal ownership and special fishing regulations apply. Regulations are available at any Dept of Conservation office. There are several areas along Highway 30 where small boats may be launched and a more formal boat launch at Kennedy Bay is commonly used for larger craft.
Lake Rotoehu is used for all types of water sports, from power boating, canoeing, kayaking, tubing, windsurfing and pontooning. Most people wishing to water ski, jet ski or sail larger boats head for Lake Rotoma about two miles away where there is a larger expanse of open water and no submerged vegetation. This keeps Lake Rotoehu unusually calm and serene – an excellent place to view birds and wildlife by canoe or kayak. The solitude makes a vacation here most relaxing and restful and is one reason vacation rentals here are in high demand. Visitors can enjoy a leisurely day paddling to the far reaches of the many arms of the lake with little interference from powered water craft. Although there is no formal settlement at Lake Rotoehu, the village of Rotoma is two miles east of the lake and has nearly every daily convenience the visitor would want.
Lake Rotoehu is ideally located halfway between Rotorua and Whakatane on the eastern Bay of Plenty. The lake is conveniently accessible to a great many of the historical and geothermal locations in the area. Lake Rotoehu has its own geothermal attraction in the form of Waitangi Soda Springs, located at the southeastern corner of the lake. Here, for a nominal fee, visitors may swim in hot mineral baths long held sacred by local Maori peoples.
Holiday visitors often use Lake Rotoehu as a base for visiting the attractions of the Rotorua District. The center of geothermal activity in the Bay of Plenty region, the Rotorua area is filled with historic mineral and sulfur baths, boiling mud pools, geysers and odd geological features. Rotorua Museum is a good resource for locating these sometimes hidden attractions. Hiking and mountain biking paths abound, horse rental for horseback riding is available and many extreme and unusual sports activities are found around Rotorua. Mokoia Island in Lake Rotorua is a wildlife sanctuary containing many endangered birds that can be viewed via charter tour. Visits to an authentic Maori village with traditionally prepared meal are available by reservation.
Thirty miles east of Lake Rotoehu, Whakatane on the Bay of Plenty is the gateway to beautiful beaches, charter sea fishing, sea kayaking, diving, whale-watching, swimming with dolphins and viewing an active volcano. After a day of sampling all of the attractions the village has to offer, the visitor can head back to Lake Rotoehu for a barbecue on the deck of their lodgings overlooking the water. Perhaps a leisurely paddle by canoe along the shore or a campfire on the beach as the sun sets would be the perfect way to end your perfect day.
So, check out vacation rentals at Lake Rotoehu. You may find the perfect 'bach' to be rented by the week or the season. There's no doubt you'll want to come back again and again.
Things to do at Lake Rotoehu
Fishing
Boating
Sailing
Swimming
Beach
Canoeing
Kayaking
Jet Skiing
Water Skiing
Tubing
Hiking
Biking
Horseback Riding
Wildlife Viewing
Birding
Museum
Fish species found at Lake Rotoehu
---
Lake Rotoehu Photo Gallery
Lake Rotoehu Statistics & Helpful Links
At LakeLubbers.com, we strive to keep our information as accurate and up-to-date as possible, but if you've found something in this article that needs updating, we'd certainly love to hear from you!
Please let us know about it on our Content Correction form.
Spread the word! Share our Lake Rotoehu article with your fellow Lake Lubbers!