Lake Rotoma, North Island, New Zealand
Lake Locations:
New Zealand - North Island - Rotorua -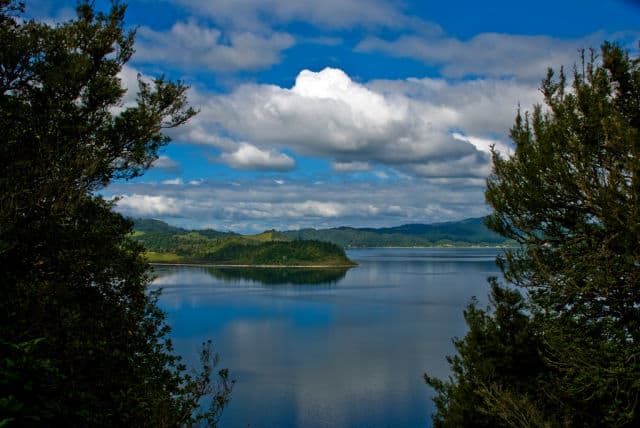 Lake Rotoma is a remarkable lake. The lake is the easternmost in a chain of three lakes northeast of Lake Rotorua. Here in the Rotorua Region of the Bay of Plenty on New Zealand's North Island, Lake Rotoma outshines its mates, Lake Rotoiti and Lake Rotoehu with its startling clarity. Indeed, Lake Rotoma is the cleanest and clearest lake in the entire Rotorua region. Located halfway between Rotorua and Whakatane on the coast, Lake Rotoma is a highly desirable location for a 'bach' (New Zealand slang for a vacation home) and the lake doesn't disappoint with many vacation rentals along the shore.
Lake Rotoma has existed for 9500 years in the Rotoma caldera after lava flows blocked its outlet. The area still feels the effects of a restless earth, with earthquakes changing lake levels within recent history. Settled over 700 years ago by the Maori, the lake is rich in Maori history and legend. A submerged island within the lake is attributed to a powerful priest/sorcerer who cast a spell sinking the island. Seismographic activity often affects lake levels and the island has reappeared temporarily at least once in the 1900s due to earthquake. The lake is fed by two small streams and several seasonal inlets along with springs emptying into the lake. There is no surface outlet but subterranean seepage moves small amounts of water to neighboring lakes. Plans are in process to construct a drainage to Lake Rotoehu to manage high water levels in especially wet years but has not yet been completed.
Although very deep, Lake Rotoma is well supplied with small bays and coves with sand beaches and shallow sand bottoms. The southern shoreline around the town of Rotoma is lined with private homes, campgrounds and resorts but the majority of the northern half of the lake is public lands in the form of Lake Rotoma Scenic Reserve. Several public boat launch ramps and jetties are available for the visitor with his own watercraft. Although power boating, water skiing and jet skiing are popular, visitors who enjoy sailing, windsurfing, canoeing and kayaking find plenty of space to engage in their sport. There are many secluded spots among the coves for a picnic or impromptu swim. Much of the shoreline is covered in planted pines along with native bush providing plenty of cover for wildlife and birds.
Lake Rotoma is an excellent trout fishery, with rainbow and hybrid tiger trout reaching 10 pounds on occasion. Local guides are available to help those unfamiliar with the lake find the best fishing, but many anglers have great success along the shoreline. The local general store at Rotoma Village will have the locations of boat launch sites and plenty of advice for those new to this lake. The area is well-supplied with walking and mountain biking trails and golf courses are nearby. One favorite attraction very close to Rotoma is Waitangi Soda Springs. These warm mineral springs, located near the southeast shore of Lake Rotoehu, are popular with visitors and are a sacred location to local Maori tribes. The springs have recently been updated to provide changing facilities and are carefully monitored to assure cleanliness.
Vacation rentals are plentiful along the shores of Lake Rotoma; many are private rentals, although limited commercial developments exist. Property owners, local Maori and District government keep a close eye on development, preferring to maintain the private lake appeal and to protect the pristine ecology of the lake. Consequently, any lodgings found along the shore still hold that lake community feel with parks, playgrounds and groceries within a short distance and beautiful vistas and sunsets across the water. Real estate is still available, usually existing homes and cottages. Much of the shoreline is accessible only by boat and lends a feeling of solitude to days spent on the lake.
Those wish a more active vacation can always head for Rotorua, 30 miles to the west. Here, nightlife, the arts and extreme sports vie for the visitor's attention. The surrounding area is rich in geological and Maori history. Any visitor should plan to take time to visit local points of interest such as Te Wairoa Buried Village, the wildlife reserve on Mokoia Island in Lake Rotorua and Whakarewarewa Thermal Village. All of these attractions are within an hours drive of Lake Rotoma.
Heading east, the visitor can spend the day in the quaint seaside village of Whakatane on the Eastern Bay of Plenty. Here, the visitor can spend the day at Ohope Beach, take a cruise or a flight to White Island to view an active volcano or dive among schools of fish and seabed steam vents. Not to be missed is a whale watching cruise or even a swim with dolphins.
Make Lake Rotoma your home base for a week or two of fun, fishing and frolic. Before you end your visit, you'll be looking for real estate to make a piece of Lake Rotoma your own forever.
Things to do at Lake Rotoma
Vacation Rentals
Fishing
Boating
Sailing
Swimming
Beach
Canoeing
Kayaking
Jet Skiing
Water Skiing
Golf
Camping
Campground
Picnicking
Hiking
Biking
Wildlife Viewing
Birding
Playground
Fish species found at Lake Rotoma
---
Lake Rotoma Photo Gallery
Lake Rotoma Statistics & Helpful Links
Spread the word! Share our Lake Rotoma article with your fellow Lake Lubbers!