Lake Redman & Lake Williams, Pennsylvania, USA
Also known as:  Redman Reservoir, Williams Reservoir
Welcome to the ultimate guide for history, statistics, local fun facts and the best things to do at Lake Redman & Lake Williams.
If you're considering Lake Redman & Lake Williams vacation rentals, we've made it super easy to explore accommodations and nearby hotels using the interactive map below. Simply click on a listing to compare similar properties, best rates and availability for your dates. Or keep scrolling to read our Lake Redman & Lake Williams guide!
Lake Redman & Lake Williams visitor and community guide
Two reservoirs in quick succession in Pennsylvania Dutch Country, Lake Redman and Lake Williams provide tons of fun and outdoor recreation to residents in the York, Pennsylvania area. The two reservoirs provide water supply to the City of York and are surrounded by parkland filled with trails, boat launches and picnic areas. Lake Williams, with 220 acres of surface area, was constructed in 1913 when a dam was built across the East Branch of Codorus Creek. The dam was rebuilt and enlarged in 1954 to supply more water. That soon proved not to be enough for the growing area, so a second dam was built above the first in 1967 to create 290-acre Lake Redman. The two reservoirs hold over 2.3 billion gallons of water. During dry periods, a pipe can bring additional water into the reservoirs from the Susquehanna River. The County of York leases the shoreline from the York Water Company to provide park lands and fishing.
A large park completely surrounds Lake Redman and Lake Williams. William H Kain County Park contains 1637 acres. Both lakes have boat launch ramps, although no gasoline motors are allowed. One of the two boat ramp areas on Lake Redman has a boat rental concession which rents row boats, canoes, kayaks, and paddle boats to encourage locals to enjoy the lake. Because of the dam between them, boats from Lake Redman cannot reach Lake Williams. Lake Redman is thus more utilized than Lake Williams because of the availability of the rental boats. This makes Lake Williams the more popular choice for many fishermen who enjoy the quieter lake ringed by forest. The Pennsylvania Fish Commission has designated both as big bass lakes and stocks them regularly. Crappy, sunfish, pike, striped bass, walleye, northern pike, channel catfish and muskie are also caught. Anglers must be licensed to fish in Pennsylvania and follow all of the standard rules. Thirty acres near the Lake Redman Dam are off-limits to boats and reserved as a bird sanctuary area. Boats are also restricted from an area where Codorus Creek enters Lake Redman.
The boat rental concession area on the southwest shore of Lake Redman is also home to picnic shelters, picnic tables with grills, playground, volleyball court, and restrooms. A corresponding activity area on Lake Williams holds picnic tables, restrooms and a boat launch. Over 12 miles of marked trails within the park are available for hiking, mountain biking and horseback riding. Park rangers sometime prohibit bikes and horses from accessing the trails in wet conditions to avoid damage. A 350-foot walking deck and a quarter mile gravel loop trail are ADA accessible and stroller friendly. The deck offers a great view of the backwaters of Lake Redman, providing excellent opportunities for birding enthusiasts. A variety of waterfowl can be viewed from the deck, especially during the spring and fall migrations. Nearby a radio-controlled aircraft landing strip is provided for members of a local radio control club.
Adjacent William H Kain County Park, a second park offers even more trails and activities. The Richard M Nixon County Park holds a 14,000-square-foot Nature Center and a number of special-focus trails such as the Geology Trail and the Upland Hardwood Trail. The Nature Center features a working honey bee hive, live snakes, bird observation window, diorama exhibits of environments from around the world and nature-related artwork. On Sundays from April to October, naturalists guide walks and present related programs. Trails from the William H Kain Park connect to those within Nixon Park, although horses and mountain bikes are not permitted. The nature-themed park is an idea stop for a day spent at Lake Redman and Lake Williams. The little Borough of Jacobus to the south of the lakes has occasional festivals and events that draw visitors from the parks into town. There are also a couple of hotels and a bed & breakfast near Jacobus for visitors wishing to make a weekend out of visiting Lake Redman and Lake Williams.
Only five miles north of the two lakes, the City of York is a historical treasure disguised as a modern city. York was the first 'capital' of the new United States. The Articles of Confederation were signed at the Courthouse in 1777 by the Second Continental Congress. Later replaced by the Constitution, the Articles of Confederation formally created the United States of America. York was an established city by the time the Continental Congress met. Numerous historical buildings have been preserved by the York County Heritage Trust and provide a hands-on history lesson to children. Besides the Colonial Courthouse, the Golden Plough Tavern, General Horatio Gates House, Barnett Bobb Log Home and others form an 18th century museum complex including York's oldest building.
York is proud of its history and makes a strong effort to preserve it. One location most visitors enjoy is the 100-year-old Central Market, a farmers' market with many vendors, performances and special events scheduled. A number of collections of historical interest are available, including the Agricultural & Industrial Museum of York County, Police Heritage Museum displaying 250 years of law enforcement history, and the Fire Museum of York County featuring 200 years of firefighting equipment. So if a planned visit to Lake Redman and Lake Williams should get rained out, there are other venues nearby to entertain the entire family.
There is no available real estate directly on either Lake Redman or Lake Williams. There are often homes for sale in the Jacobus area or the surrounding countryside. The reservoirs are just off Interstate 83, making them convenient to reach from either Baltimore or Harrisburg. This long-settled area of Pennsylvania holds many small inns, motels and guest cottages, often near historic battlefields from both the American Revolution and the Civil War. Only 30 miles from Gettysburg, the old Lincoln Highway out of York offers a variety of small lodgings that will fill any need. The entire area is perfect for a family vacation. Make the trip to historic York and make sure to stop and rent a kayak or canoe to enjoy the two lakes. You'll come to appreciate them as much as the local residents do.
*Statistics listed are for Lake Redman only. Statistics for Lake Williams are as follows: average depth-13 feet, maximum depth-36 feet, elevation approximately 454 feet, shoreline-4 miles, water residence-37 days.
Custom Lake Redman & Lake Williams house decor
Read our full review of these personalized lake house signs.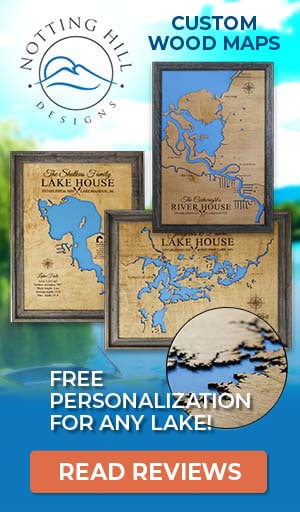 Things to do at Lake Redman & Lake Williams
Vacation Rentals
Fishing
Boating
Canoeing
Kayaking
Picnicking
Hiking
Biking
Horseback Riding
Birding
Museum
Playground
Fish species found at Lake Redman & Lake Williams
Bass
Catfish
Channel Catfish
Muskellunge
Northern Pike
Perch
Pike
Striped Bass
Sunfish
Walleye
---
Best hotels and vacation rentals at Lake Redman & Lake Williams
The Lake Redman & Lake Williams map shown above is a simple and stress-free way to search for trip accommodations. But if you want to take a deeper dive to find the ideal waterfront home, cabin, condo, hotel or resort, visit our favorite lodging partners by clicking the buttons below.
Note: These are affiliate links so we may earn a small commission if you book through them. While there is no extra cost to you, it helps provide resources to keep our site running (thank you)! You can read our full disclosure policy here.
---
Lake Redman & Lake Williams photo gallery
New photos coming soon!
Lake Redman & Lake Williams statistics & helpful links
We strive to keep the information on LakeLubbers as accurate as possible. However, if you've found something in this article that needs updating, we'd certainly love to hear from you! Please fill out our Content Correction form.
Advertise your Lake Redman & Lake Williams vacation rental
LakeLubbers will soon offer homeowners and property managers the opportunity to to showcase their vacation rentals to the thousands of lake lovers searching our site daily for accommodations. If you'd like additional details, please contact our advertising team here.
Looking for the Lake Redman & Lake Williams forum?
LakeLubbers previously offered visitors the ability to create accounts and participate in lake forums. When we overhauled the site's content management system in 2021 we had to disable those features. We're evaluating options and welcome your comments and feedback here.
We also encourage you to join our lake-lovin' community on Facebook and Instagram!
Spread the word! Share our Lake Redman & Lake Williams article with your fellow Lake Lubbers!