Lake Ray Hubbard, Texas, USA
Lake Locations:
USA - Southwest - Texas - Prairies and Lakes -
Also known as:  Ray Hubbard Lake, previously known as Forney Reservoir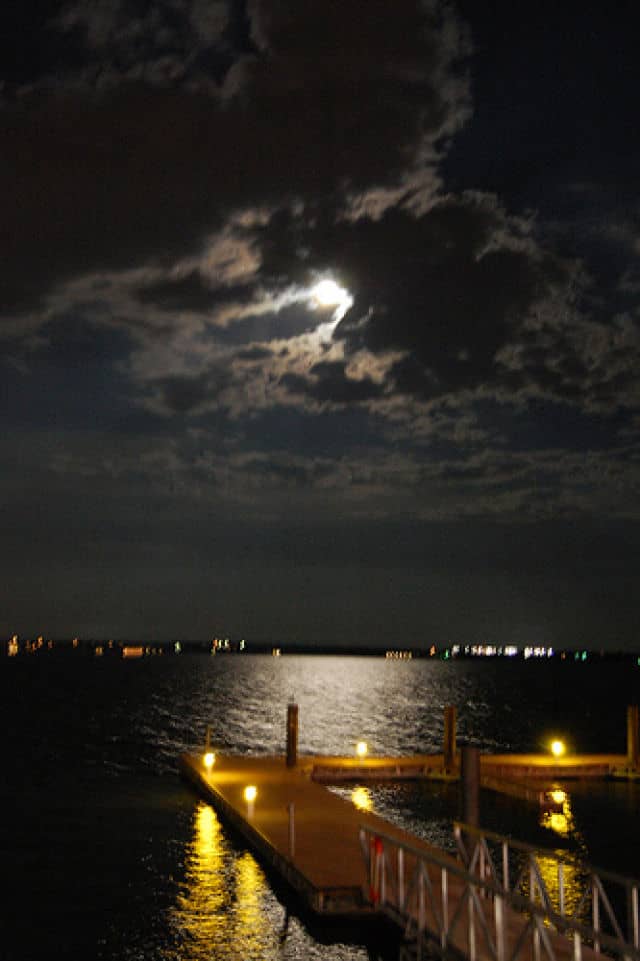 Everything is bigger in Texas, and Lake Ray Hubbard is no exception. Less than twenty minutes east of Dallas, the reservoir that serves "Big D" offers big spaces for fishing, boating, recreation, and entertainment. Formed by a dam on the East Fork of the Trinity River, the lake's 22,000 acres stretch into four counties at a depth of up to forty feet. Since 1972, Ray Hubbard Reservoir has provided the City of Dallas with a municipal water supply of 490,000 acre-feet.
Accessibility from Interstate 30 and State Highway 80 makes Lake Ray Hubbard an easy destination from the Dallas Metroplex. Surrounding parks and forests allow walkers and picnickers to find quiet places to enjoy the natural surroundings of the Prairies and Lakes region of Texas.
Thick woods rim Lake Ray Hubbard's 111 miles of shoreline, and the lake reflects the bright blue of the Texas sky. Look south from Interstate 30, and the water extends as far as the eye can see; look west and you see the famous Dallas skyline in the distance. The city of Dallas has jurisdiction over the Ray Hubbard Reservoir, but lake access is available in a number of surrounding cities and towns.
Mild winters and an average of over two hundred sunny days per year allow anglers to find good fishing year round. Hybrid Striped Bass and Catfish are top catches at Lake Ray Hubbard, along with Largemouth Bass, White Bass and Crappie. Bait shops are easy to find on and near the lake. Anglers can head out to open water or troll thick submerged vegetation, brush, and forested areas. Boats are not required to enjoy fishing at Lake Ray Hubbard, however. With a fishing pole over their shoulders, anglers of all ages can head down to the water and fish from shore or dock at one of the many city parks that surround the lake. The wooded parks are also a great place to grab lunch in a shady spot or grill up some burgers.
Recreational boaters and sailors can access the lake from a number of public docks and private marinas around the lake. Sailboats, fishing boats, and barges play on the on the water all year long, and the bright lights of the 105-foot Texas Queen paddleboat twinkle in the moonlight as diners cruise around the lake. Lake Ray Hubbard is home to Dallas Race Week, an annual charity regatta held in June.
Those looking for shoreside fun will find shopping, dining, and entertainment right at the water's edge. Culture lovers can find waterfront concerts, and movie buffs can catch a show at the cinema in Rockwall, just splashing distance from the shore. Shops and restaurants are numerous in the newly developed Harbor area, and dining from Tex-Mex to Sushi is just minutes away.
Lake lovers who want a permanent place on the lakeshore to take in the beautiful purple and gold Texas sunsets will find the best of both worlds with homes and getaways on secluded properties on all sides of the lake or in condos right in the hustle-bustle of the Harbor. The parks in towns surrounding the lake offer both paved and natural walking trails for residents and visitors.
Natural beauty and serious fun abound at Lake Ray Hubbard. Just far enough away to be a gem of quiet country spots, yet close to city living right in the heart of North Texas.
Things to do at Lake Ray Hubbard
Vacation Rentals
Fishing
Boating
Sailing
Hiking
City Park
Movie Theater
Shopping
Fish species found at Lake Ray Hubbard
Bass
Black Bass
Catfish
Crappie
Largemouth Bass
Striped Bass
White Bass
---
Lake Ray Hubbard Photo Gallery
Lake Ray Hubbard Statistics & Helpful Links
Spread the word! Share our Lake Ray Hubbard article with your fellow Lake Lubbers!