Lake Raponda, Vermont, USA
Lake Locations:
USA - New England - Vermont - Southern Vermont -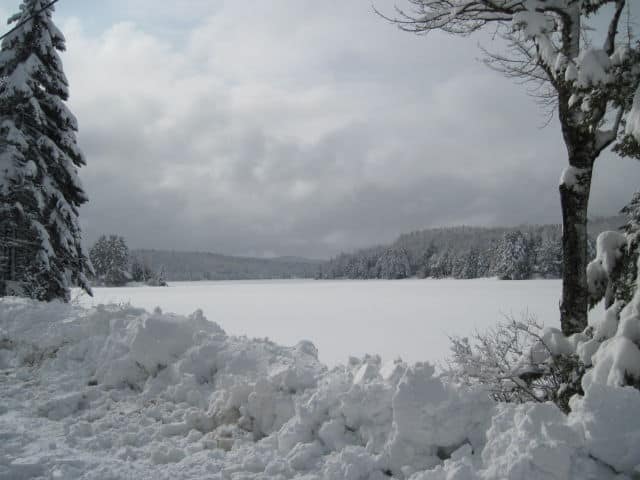 Occupying a prime spot in the recreational haven of the Southern Vermont Region, Lake Raponda has welcomed generations of visitors to its pleasant shores. The natural lake was entertaining resort-goers by 1890 with the opening of the first Lake Raponda Hotel. Not long after, the Raponda House Hotel ushered in the new century with a dance pavilion on the island off the peninsula where it stood. Over the years, Lake Raponda entertained such famous guests as F. Scott Fitzgerald, Rudyard Kipling, President Rutherford B. Hayes, and President Theodore Roosevelt. Long before air conditioning, the wealthy escaped the hot cities to the cool breezes blowing across Lake Raponda. A small dam was installed at some point, although history doesn't tell us when. Apparently, the dam simply stabilizes water levels.
The days of Vermont lake resorts are long gone. Lake Raponda instead has settled in with a more permanent type of lodging and population. Today, the shoreline is dotted with homes and cottages, many with their own private dock and swimming beach. A small beach and picnic area owned by the Town of Wilmington is reserved for town residents and local taxpayers. A public boat launch at the north end of the lake provides access for fishermen but holds no accommodations for swimming or larger boats. Lake Raponda thus remains quiet and serene – far quieter than when bands played the pavilion. The heavily-wooded lakefront hides the many homes and cottages along the shore. No personal watercraft are permitted, but the occasional resident water skier circles the lake. Most boating activity is limited to sailing, wakeboarding, pontooning, rowing, canoeing and kayaking. The 121-acre spring-fed lake is particularly quiet during the week, as many cottage owners are absent except for week-ends.
Lake Raponda's excellent water quality has produced an extremely good fishery. Rainbow trout, brown trout, yellow perch, chain pickerel, smallmouth bass, bullhead and pan-fish are all caught here. Lake Raponda is one of the locations stocked by Vermont Fish and Wildlife in their 'trophy trout' stocking program: 2-year-old rainbow and brown trout up to 18 inches long are stocked, giving fishermen a better opportunity to hook 'the big one', at least for a week or two each year. Stocking dates are publicized, and fishing pressure increases dramatically immediately following the completion of stocking. A Vermont Fishing License is a must.
Lake Raponda is still the perfect place to escape city heat. One of the reasons the lake and the Town of Wilmington are so popular for vacationing is the wide range of off-lake activities found in the area. The Lake Raponda Trail skirts the eastern shoreline for hiking and mountain biking. Those desirous of a 'big lake' atmosphere head for Harriman Reservoir less than ten miles to the west. The reservoir abuts Green Mountain National Forest and has several places for swimming, camping and nature hikes. The famous Marlboro Music Festival takes place in July or August just a few miles to the east. Molly Stark State Park offers camping, hiking trails and a picnic area. Mount Snow is only seven miles to the north and offers year-round family fun.
In addition to excellent downhill skiing , snowboarding and sledding in winter, the Mount Snow area has evolved a year-round schedule of activities that should please any visitor. Gondola rides provide a birds-eye view of the Green Mountain horizon and offer excellent opportunities for photographers. The annual Deerfield Valley Blueberry Festival in August coincides with Mount Snow's Bike Festival featuring world class riders and the Mount Snow Triathlon. Also in August, the Vermont Blues Festival at Mount Snow features top performers. The same month, the Deerfield Valley Farmers Day Fair provides a midway, competitions, exhibits and more. Nearby, and only five miles from Lake Raponda, Adams Farm still offers horse-drawn sleigh rides.
The town of Wilmington is a haven for antique hunters, with many antique shops and dealers offering a variety of specialty products from furniture to books to postcards. Local artists and craftsmen can be found both in town and on the country roads in the area. Many combine their craft with eclectic and charming inns and restaurants. Several locations offer sugar-house tours in the early spring during maple syrup season. Farmers markets are plentiful as the area still supports many small farms. Wilmington is large enough to provide the necessities such as grocery stores, health care, shopping and some arts venues, yet still retains much of the small-town look and feel.
Vacation rentals at Lake Raponda can usually be found if one is willing to reserve far enough in advance. Even private rentals not directly on the shore often have access to docks as the Lake Raponda Association owns around 50 acres of land in common for residents. Off the lake, there are a number of small inns and farm vacation opportunities. Campgrounds, both private and state-owned, are numerous in the area. Real estate also exists, both along the lakefront and in the surrounding area. There is a place for you and your family at Lake Raponda – waiting. When will you arrive?
Things to do at Lake Raponda
Vacation Rentals
Fishing
Boating
Sailing
Swimming
Beach
Canoeing
Kayaking
Water Skiing
Wakeboarding
Campground
Picnicking
Hiking
Biking
Downhill Skiing
Snowboarding
Horseback Riding
Hunting
Wildlife Viewing
Birding
State Park
National Forest
Antiquing
Shopping
Fish species found at Lake Raponda
Bass
Black Bass
Brown Trout
Chain Pickerel
Perch
Pickerel
Pike
Rainbow Trout
Smallmouth Bass
Trout
Yellow Perch
---
Lake Raponda Photo Gallery
Lake Raponda Statistics & Helpful Links
At LakeLubbers.com, we strive to keep our information as accurate and up-to-date as possible, but if you've found something in this article that needs updating, we'd certainly love to hear from you!
Please let us know about it on our Content Correction form.
Spread the word! Share our Lake Raponda article with your fellow Lake Lubbers!