Lake Oahe, North Dakota & South Dakota, USA
Lake Locations:
USA - Midwest - North Dakota - South Central - Southwest - South Dakota - Great Lakes Region -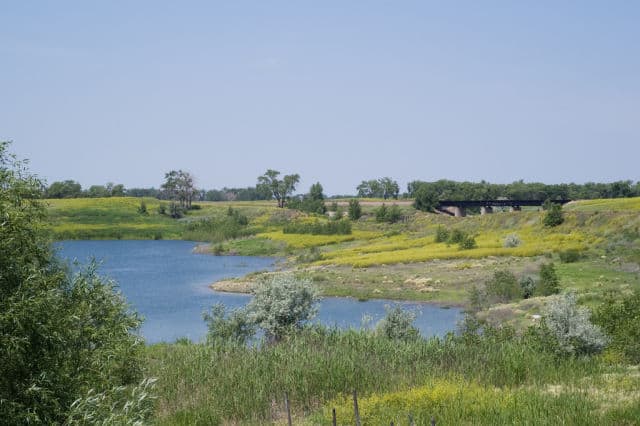 Lake Oahe, named after an Oahe Indian Mission, roughly translates "a foundation" or "a place to stand on." Spanning 231 miles from Pierre, South Dakota to Bismarck, North Dakota, and with a shoreline of 2,250 miles, it is no wonder Lake Oahe is the nation's largest constructed reservoir in surface acreage and fourth in volume. Located north of Pierre on South Dakota Highway 1804, Lake Oahe is rooted in Native American history. Originally designed for production of hydroelectric power, management of flood water, downstream navigation, irrigation, public water supply, and fish and wildlife preservation, Lake Oahe is now an outdoor lover's delight with 50 recreational areas.
As a project of the U.S. Army Corps of Engineers, Lake Oahe was created by impounding the Missouri River. Authorized by the Flood Control Act of 1944, construction began in 1948. On August 17, 1962 President John F. Kennedy officially dedicated the dam and lake. With a storage capacity of 23.5 million acre-feet, Lake Oahe is the 14th largest man-made reservoir by volume in the world. Oahe Dam measures 9,300 feet in length with a maximum height of 245 feet.
Other than recreational areas, Lake Oahe's 2,250 miles of shoreline is mostly undeveloped. Mixed grass prairie and trees growing down to the shore await visitors. Two large Native American Reservations reside on the western side of the lake, the Cheyenne River Sioux Reservation in South Dakota and the Standing Rock Sioux Reservation in both North and South Dakota. If you are interested in big game hunting, the Cheyenne River Sioux Reservation has 11,000 acres set aside as three wildlife reserves for elk and buffalo. The Game, Fish and Parks of the Cheyenne River Sioux offer hunts each year.
The 50 recreation areas located around the lake offer plenty of enjoyment for campers, anglers, hunters, boaters, swimmers, and photographers. The recreational areas include highly developed campgrounds and day use areas, moderately developed areas, and primitive areas. Special fishing and hunting activities are held each year for the disabled.
When you are not in the water, there are several significant historical sites nearby that you can visit. These sites include the Fort Manuel Trading Post where Sacajawea is said to be buried. Sacajawea was the Shoshone Indian woman who served as a guide for Lewis and Clark. Fort Manuel was rebuilt in 2004 in preparation for the Bicentennial of the Lewis and Clark Expedition. The original site of Fort Manuel and burial place of Sacajawea can be seen from a hilltop overlooking the Missouri River. Another famous burial site nearby is that of Lakota Sioux Chief, Sitting Bull. Other places of interest are the Native American missions and Fort Sully, an old military outpost.
The Lake Oahe Visitor Center provides excellent views of the expansive waters. The center provides information concerning the history, exploration, early navigation, settlement, and natural history of Lake Oahe and the Missouri River. Exhibits include the construction of the dam, the Lewis and Clark Expedition, the Powerhouse, and the fish of South Dakota. Tours of the dam and powerhouse begin at the Visitor Center (Memorial Day to Labor Day).
Popular fish in Lake Oahe include walleye, northern pike, catfish, Chinook salmon, white bass, and smallmouth bass. In 2002 though 2004 South Dakota Game, Fish and Parks extended old boat ramps and built new ones due to drought conditions.
Whether you feel like taking a dip in the lake or hunting some big game, there is something for everyone along the shorelines of Lake Oahe. Due to the size of the lake, you may want to make a couple of trips to see all that Lake Oahe has to offer.
Things to do at Lake Oahe
Vacation Rentals
Fishing
Boating
Swimming
Camping
Campground
Hunting
Wildlife Viewing
Fish species found at Lake Oahe
Bass
Black Bass
Catfish
Chinook Salmon
Northern Pike
Perch
Pike
Salmon
Smallmouth Bass
Walleye
White Bass
---
Lake Oahe Statistics & Helpful Links
Spread the word! Share our Lake Oahe article with your fellow Lake Lubbers!