Lake O' the Pines, Texas, USA
Also known as:  Ferrell's Bridge Reservoir-historic
Welcome to the ultimate guide for history, statistics, local fun facts and the best things to do at Lake O' the Pines.
If you're considering Lake O' the Pines vacation rentals, we've made it super easy to explore accommodations and nearby hotels using the interactive map below. Simply click on a listing to compare similar properties, best rates and availability for your dates. Or keep scrolling to read our Lake O' the Pines guide!
Lake O' the Pines visitor and community guide
For many people in the Texas Piney Woods region, 'let's go to the lake!' means Lake O' The Pines. This extraordinary reservoir was built primarily for flood control and water supply, but recreation quickly claimed a spot near the front of the line. Over 70 miles of shoreline, including several arms, coves and incoming streams took the place of what had been formerly an ill-defined Big Cypress Bayou. The US Army Corps of Engineers (USACE) planned from the beginning to incorporate several public parks, complete with boat ramps and campsites. Private interests quickly developed resorts and fishing camps above the high water mark. And local municipalities soon had plans for locally-operated parks and boat ramps. Indeed, going to the lake quickly became a favorite pastime for area residents and was soon discovered by vacationing visitors.
Since Ferrell's Bridge Dam was built in 1956, hundreds of thousands of people have arrived at the four USACE campgrounds in summer to enjoy a week or two of rest and relaxation. Thousands more have come to fish or spend a day swimming and picnicking at the Day Use areas. Retirees have sought out the seasonal RV camps near the lake to put down their winter roots in a more moderate climate. And boaters flock to the lake to enjoy the wide expanse of water for water skiing, tubing, sailing, windsurfing and pontooning.
Three concession marinas and several commercial facilities associated with the resort camps make boating especially easy. The marinas allow boat launching for a nominal fee, rent boats and pontoons, and sell bait, boat gas and snacks. Repairs are performed and supplies sold. Some also offer RV hook-ups and lakeside motel rooms. The Longview Yacht Club has had facilities on the lake since 1978 and holds regattas and races over the long summer season. Boating can be challenging during periods of low water due to drought, and some areas of the lake hold a large number of stumps. It is wise to check daily water levels and ask questions about specific areas at any of the marinas.
One needn't be a boating fan to enjoy Lake O' The Pines. Swimming beaches are available at Alley Creek, Brushy Creek, and Johnson Creek campgrounds, plus Shady Grove, Johnson Day Use and Lakeside Park. Annual passes can be purchased for access to all of the USACE-owned swimming beaches and boat ramps. Fishing is a big attraction at Lake O' The Pines, too. The lake holds channel catfish, largemouth bass, blue catfish, crappie, spotted bass, white bass, flathead catfish, sunfish and chain pickerel. Brushy Creek Park and Johnson's Creek Park have fishing platforms for shore fishing. Fish-attracting structures have been added in the main part of the lake and are clearly marked with buoys. Several bridges that were submerged when the reservoir was built continue to be hot-spots for crappies. The stump forests just below the surface are very often productive for anglers.
Plenty of campsites are available for nearly all types of campers. Alley Creek offers both RV and tent sites, with an RV dump, rest rooms and showers, electric and water hook-ups, picnic tables, fire rings and playground. Brushy Creek Park has all of the above plus a fishing platform. Buckhorn Creek Park is a bit less crowded but offers campsites, two boat docks, playground and restrooms. Johnson's Creek Park has everything the other parks hold plus picnic pavilions, volleyball court and amphitheater. Wise campers make reservations in advance to be sure of getting their favorite spots on busy holiday weekends. There is plenty of room for walking, and marked trails are to be constructed in the near future. Although the USACE holds an easement to 265 feet above sea level for flood containment purposes, visitors should not assume this is public land and must respect the private property of others.
Big Cypress Bayou stretches 140 miles to the northwest from the dam. Not all of this area can be considered lake and not all is navigable. Instead, as with most bayous, the water surface gives way to swampy bottomland forests, small meadows filled with wildflowers, and tiny streams. This is fine natural habitat for a variety of wildlife and birds. The long arms of the lake also are perfect for exploring by kayak or canoe. Bald eagles, herons, pelicans, waterfowl and marsh birds can all be seen by the quiet paddler with a sharp eye. This environment also serves to produce a great deal of drinkable water for the communities of Lone Star, Daingerfield, Ore City, Hughes Springs, Jefferson, Avinger and Longview. Parts of this area are open to hunting in season.
Lest one assume that life near Lake O' The Pines is always quiet and laid-back, one need only look at the huge number of festivals and events that occur annually in this area of the Piney Woods. One of the biggest is Mardi Gras Upriver in Jefferson. Also in Jefferson, the Annual Pilgrimage Historical Homes Tour of Civil War-era homes and churches and Civil War re-enactments draw many visitors. Nearby Marshall has the annual Fireant Festival each October. The festival is less about the annoying little pests and more about music. Marshall proudly calls itself 'The Birthplace of Boogie Woogie'. There are wildflower tours, concerts and celebrations for anything and everything in this corner of Texas.
Lake O' The Pines, the Fireant Festival, Mardi Gras Upriver and a million other things make this area of Texas a favorite among retirees and snowbirds. Luckily, the area is prepared for visitors, with lots of lodgings choices, from motels and hotels in the small cities and along the main highways to quaint inns, bed & breakfasts and private home rentals available both near Lake O' The Pines and at other nearby lakes. Real estate is often available in the area, including overlooking Lake O' The Pines. So bring the fishing rod, the sun screen and the paddles-there's plenty of fun awaiting you at Lake O' The Pines.
Custom Lake O' the Pines house decor
Read our full review of these personalized lake house signs.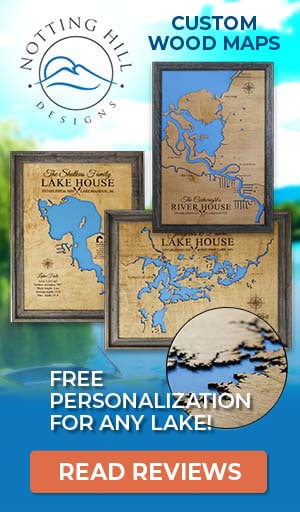 Things to do at Lake O' the Pines
Vacation Rentals
Fishing
Boating
Sailing
Swimming
Beach
Canoeing
Kayaking
Water Skiing
Tubing
Camping
Campground
Picnicking
Hiking
Hunting
Wildlife Viewing
Birding
Playground
Fish species found at Lake O' the Pines
Bass
Black Bass
Blue Catfish
Catfish
Chain Pickerel
Channel Catfish
Crappie
Flathead Catfish
Largemouth Bass
Pickerel
Pike
Spotted Bass
Sunfish
White Bass
---
Best hotels and vacation rentals at Lake O' the Pines
The Lake O' the Pines map shown above is a simple and stress-free way to search for trip accommodations. But if you want to take a deeper dive to find the ideal waterfront home, cabin, condo, hotel or resort, visit our favorite lodging partners by clicking the buttons below.
Note: These are affiliate links so we may earn a small commission if you book through them. While there is no extra cost to you, it helps provide resources to keep our site running (thank you)! You can read our full disclosure policy here.
---
Lake O' the Pines photo gallery
New photos coming soon!
Lake O' the Pines statistics & helpful links
We strive to keep the information on LakeLubbers as accurate as possible. However, if you've found something in this article that needs updating, we'd certainly love to hear from you! Please fill out our Content Correction form.
Advertise your Lake O' the Pines vacation rental
LakeLubbers will soon offer homeowners and property managers the opportunity to to showcase their vacation rentals to the thousands of lake lovers searching our site daily for accommodations. If you'd like additional details, please contact our advertising team here.
Looking for the Lake O' the Pines forum?
LakeLubbers previously offered visitors the ability to create accounts and participate in lake forums. When we overhauled the site's content management system in 2021 we had to disable those features. We're evaluating options and welcome your comments and feedback here.
We also encourage you to join our lake-lovin' community on Facebook and Instagram!
Spread the word! Share our Lake O' the Pines article with your fellow Lake Lubbers!