Lake Natron, Kenya & Tanzania
Welcome to the ultimate guide for history, statistics, local fun facts and the best things to do at Lake Natron.
If you're considering Lake Natron vacation rentals, we've made it super easy to explore accommodations and nearby hotels using the interactive map below. Simply click on a listing to compare similar properties, best rates and availability for your dates. Or keep scrolling to read our Lake Natron guide!
Lake Natron visitor and community guide
Lake Natron in northern Tanzania is a very special lake. Lying close to the Kenya border in the eastern branch of Africa's Rift Valley, Lake Natron is the world's largest breeding ground of the Lesser Flamingo. As the only breeding ground for this beautiful bird in East Africa, 2.5 million flamingos depend on Lake Natron for their continued survival. This large salt lake lies in an area that receives very little rainfall and relies on the intermittent flow of the Ewaso Ng'iro River flowing from Kenya and hot mineral springs to add water to the lake. Much water is lost through evaporation, leaving behind the salts and minerals that result in Lake Natron having a pH level near that of ammonia at times. The temperature of the water can range up to 120 degrees Fahrenheit.
This odd set of attributes makes Lake Natron an ideal breeding spot for the flamingos, who build their nests elevated above the hot mud flats. The hot, mineral-rich water is ideal for the growth of salt-loving microorganisms such as cyanobacteria, a form of blue-green algae. Red pigment in the cyanobacteria causes the red coloring of the water and tinges the salt crust of the lake pink. There are few intruders into this hostile environment, thus the flamingos can nest without disturbance, feasting on the algae.
Only a few types of fish can thrive in this mineral-rich environment. Two that do are uniquely acclimated to the hot spring inlets – both a form of alkaline tilapias. Because of the arid climate and lack of fresh water, there are no permanent settlements near the lake, just some herding and seasonal cultivation. Lake Natron has had human visitors for many thousands of years: beginning in 1998, human footprints judged to be 120,000 years old were discovered embedded in the tuft along the south shore of the lake. Various safaris and treks in the area take visitors to view the footprints, which are under study by anthropologists. Lake Natron is a scheduled stop on most Tanzania safaris and guided treks. Several camps near the shoreline act as stopping points for the safaris and as base camps from which the adventurous climb the slopes of nearby Ol Doinyo Lengai. This still-active volcano is unique among active volcanoes in that it produces natrocarbonatite lava, a unique occurrence of volcanic carbonatite. Further, the temperature of its lava as it emerges is only around 950 degrees Fahrenheit.
Designated as Lake Natron Basin Wetlands Of International Importance by RAMSAR, the international conservation community has attempted to work with the government of Tanzania to protect the delicate Lake Natron environment and its resident lesser flamingos. Currently, two threats to the ecology of Lake Natron are recognized. The first is a proposed hydroelectric dam to be built on the Kenya portion of the Ewaso Ng'iro River. It is feared that disruption of the water supply will change the alkalinity levels, thus endangering the food supply that supports the flamingo population. The second threat is the current plan by the government of Tanzania to allow a soda ash plant to be developed on the lakeshore. This plan includes providing housing for up to 1000 workers on-site and suspending a network of piping into the water to extract minerals for soda ash production. Ecologists are concerned that such an enterprise would alter salinity levels to the point where the flamingo nesting population would no longer be viable. Conservation groups are working internationally to try to alleviate damage to Lake Natron's sensitive environment for both of these activities.
Camps near the shores of Lake Natron host eco-safaris and bird-watching tours; the freshwater marshes surrounding Lake Natron attract a variety of birds such as weavers, bee-eaters, vultures, eagles, storks, egrets, corrie bustards, sparrow, doves, buzzards and hawks. Bird-watching expeditions are most popular during the wet season, while large mammal viewing is better during the dry season. The closest access point to most treks and safaris that include Lake Natron is the Kilimanjaro Airport. A number of safari companies can provide nearly any itinerary you wish to travel. Depending on the level of luxury a safari group chooses, accommodations range from luxurious 'camp' accommodations including permanent tent facilities on raised platforms and complete with private baths, custom-prepared meals and spa treatments to rough camping facilities with provided tents. Some treks are available for bicycling tours, auto touring and volcano climbing. Cultural tours focus on visits to Masai villages to acquaint the visitors with traditional Masai culture. Several nearby reserves offer a variety of experiences and sights most first-time visitors to Africa consider high on their 'bucket list'. Ngorongoro Conservation Area and Serengeti National Park are within 50 miles of Lake Natron's south and west shores, while Shompole Conservancy extends from just north of the shore into Kenya. The private Shompole Conservancy offers unique lodging facilities designed to make the most of a spectacular Rift Valley view.
If a trip to East Africa is on your list of dream destinations, Lake Natron should hold a prominent spot on the itinerary. Although there is no swimming, fishing or boating, Lake Natron is an experience no lakelubber should miss. Because there is little local lodging or real estate available, organized safaris and treks are the best way to see everything this unique natural wonder has to offer. Pack the camera, the binoculars and the sunscreen . . .you're in for a very special treat!
Custom Lake Natron house decor
Read our full review of these personalized lake house signs.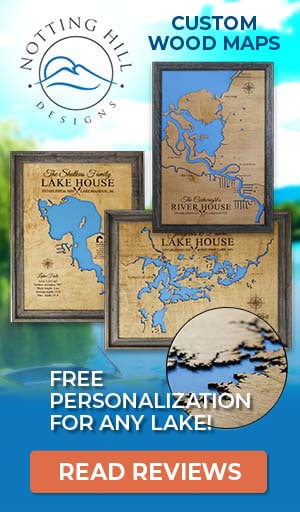 Things to do at Lake Natron
Camping
Biking
Birding
National Park
---
Best hotels and vacation rentals at Lake Natron
The Lake Natron map shown above is a simple and stress-free way to search for trip accommodations. But if you want to take a deeper dive to find the ideal waterfront home, cabin, condo, hotel or resort, visit our favorite lodging partners by clicking the buttons below.
Note: These are affiliate links so we may earn a small commission if you book through them. While there is no extra cost to you, it helps provide resources to keep our site running (thank you)! You can read our full disclosure policy here.
---
Lake Natron photo gallery
New photos coming soon!
Lake Natron statistics & helpful links
We strive to keep the information on LakeLubbers as accurate as possible. However, if you've found something in this article that needs updating, we'd certainly love to hear from you! Please fill out our Content Correction form.
Advertise your Lake Natron vacation rental
LakeLubbers will soon offer homeowners and property managers the opportunity to to showcase their vacation rentals to the thousands of lake lovers searching our site daily for accommodations. If you'd like additional details, please contact our advertising team here.
Looking for the Lake Natron forum?
LakeLubbers previously offered visitors the ability to create accounts and participate in lake forums. When we overhauled the site's content management system in 2021 we had to disable those features. We're evaluating options and welcome your comments and feedback here.
We also encourage you to join our lake-lovin' community on Facebook and Instagram!
Spread the word! Share our Lake Natron article with your fellow Lake Lubbers!