Lake Nakuru, Rift Valley, Kenya
Welcome to the ultimate guide for history, statistics, local fun facts and the best things to do at Lake Nakuru.
If you're considering Lake Nakuru vacation rentals, we've made it super easy to explore accommodations and nearby hotels using the interactive map below. Simply click on a listing to compare similar properties, best rates and availability for your dates. Or keep scrolling to read our Lake Nakuru guide!
Lake Nakuru visitor and community guide
Lake Nakuru is the most-visited lake in the country of Kenya. That might seem odd once people realize that this alkaline lake in Kenya's East Rift Valley isn't known for fishing, boating or swimming. What draws over 300,000 visitors a year to Lake Nakuru is flamingos, specifically the lesser flamingo, which collects in flocks numbering more than a million along the lakeshore. One of Africa's most stunning sights, the huge number of birds feeding along the lake margins turns the entire shoreline pink. It's no wonder that Budget Travel named Lake Nakuru one of the 10 most beautiful lakes in the world.
Lake Nakuru's beautiful birds have been a major attractant for many years. The lake's convenient location only a couple of hours' drive from Nairobi makes a day trip here an easy jaunt for the holiday traveler. Lake Nakuru National Park encompasses 73 square miles surrounding the lake and provides not only the continent's largest bird sanctuary but also a protected parkland for black rhinos, white rhinos and Rothschild giraffes. These species were translocated from Western Kenya as a protective measure and join waterbuck, lions, cheetah, leopards, huge pythons and other native African species. Joining the lesser flamingos near the water are a wide variety of other birds such as pelican, African fish eagle, verreaux's eagle, goliath heron and over 400 different kinds of birds.
The size of Lake Nakuru varies greatly from year to year and season to season: in dry years the lake may be as small as two square miles, while wet conditions may expand it to as much as 17 square miles. The name Nakuru in Maasai means 'Dust' or 'Dusty Place' and indeed the dry muddy flats in arid years can make it appear so. At one point 10,000 years ago, Lake Nakuru was large enough that it joined two other lakes in the area into one huge lake. Drier climate eventually lowered the water levels so that today there are three separate lakes-Nakuru, Elmenteita and Naivasha, with the other two about 40 miles to the south.
The lake is what is called a 'soda lake', made alkaline by falling ash from now-inactive Menengai volcano a few short miles from the lake. The unique chemistry of the shallow lake, combined with the droppings of millions of birds, produces a bumper crop of algae along the margins, which the birds consume in huge quantities. Kenya's third-largest city, Nakuru, lies at the north end of the lake. Nakuru is primarily an industrial and agricultural marketing city whose waste water has likely created stress upon the lake's natural eco-system. The water level in the lake has risen in recent years, possibly due to increased surface run-off. There have been concerns that certain fish appear to be dying, and many flamingos are deserting the lake for other nearby alkaline lakes. Locals say that this is not that unusual; the flamingos desert the lake for better algae-producing lakes nearby when water conditions change – and such water level changes are common at Lake Nakuru. Scientists are investigating the situation but don't yet believe there is cause for serious alarm.
Because of the ease in reaching the Lake Nakuru region, it is a popular day safari destination from Nairobi. Vacationers staying in Nairobi can easily add a day or two at Lake Nakuru to their holiday itinerary. Lake Nakuru National Park and the Rhino Sanctuary aren't the only local attractions to interest visitors. Many visitors to Nairobi take a day or two to visit attractions in the city itself, such as the National Museum which contains excellent exhibits of both prehistoric humans and more than 900 mounted animals and bird species. Nearby are the Snake Park, Nairobi National Park, an Ostrich Park and the 'Bomas' of Kenya: re-created traditional homesteads of the Kenyan people. Here visitors can experience the traditional dances, songs and handicrafts of the Kenyan people. A visit to the Menengai Crater just north of Lake Nakuru is an excellent side trip for those who wish to hike to the bottom of the huge crater, or simply enjoy the vista from the rim of one of the continent's largest volcano calderas.
There are numerous forms of lodgings at and around Nakuru, from excellent hotels with wi-fi to luxurious tented 'camps'. The camps are the epitome of the dreamed-of African vacation, with beds draped in mosquito netting, en-suite baths, private verandas and excellent meals prepared by the camp kitchen staff. Here, guided tours including 'night tours' can be arranged to view the many nocturnal inhabitants of the park. Hot air balloon trips are also a popular way to enjoy the view over both Lake Nakuru and the surrounding park. Although visitors can drive the roads in the park themselves, a guide is useful to lead visitors to the best areas for viewing such sights as the swinging, white-fringed colobus monkey that inhabit the acacia forests in the southern part of the park. The park doesn't hold many lions, but that makes the leopards more plentiful and easier to spot. Other park inhabitants, besides those listed above, are cape buffaloes, Thomson's gazelles, impalas, warthogs, olive baboons, black backed jackal, reedbucks, dik diks (dwarf antelopes), and elands among others. Nearly 550 species of plants are found in the park.
Lake Nakuru is both a destination and an excursion. For those with limited time in the country, it is well worth a day or two spent at Lake Nakuru. Visitors who are looking for a truly African destination will find there is plenty to occupy a week or more at Lake Nakuru. Plan for plenty of sun and excellent photographic opportunities. And make sure to bring your binoculars and a good bird identification book so you don't miss any of the glorious natural sights. You'll want to come back again and again to beautiful Lake Nakuru and Lake Nakuru National Park!
Custom Lake Nakuru house decor
Read our full review of these personalized lake house signs.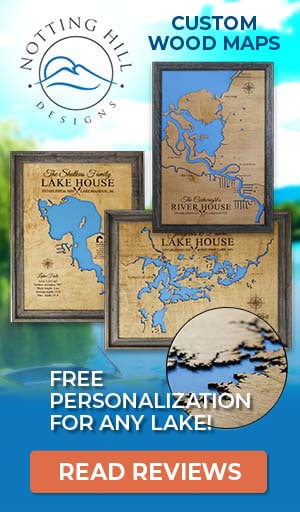 Things to do at Lake Nakuru
Vacation Rentals
Fishing
Boating
Swimming
Camping
Hiking
Birding
National Park
Museum
---
Best hotels and vacation rentals at Lake Nakuru
The Lake Nakuru map shown above is a simple and stress-free way to search for trip accommodations. But if you want to take a deeper dive to find the ideal waterfront home, cabin, condo, hotel or resort, visit our favorite lodging partners by clicking the buttons below.
Note: These are affiliate links so we may earn a small commission if you book through them. While there is no extra cost to you, it helps provide resources to keep our site running (thank you)! You can read our full disclosure policy here.
---
Lake Nakuru photo gallery
New photos coming soon!
Lake Nakuru statistics & helpful links
We strive to keep the information on LakeLubbers as accurate as possible. However, if you've found something in this article that needs updating, we'd certainly love to hear from you! Please fill out our Content Correction form.
Advertise your Lake Nakuru vacation rental
LakeLubbers will soon offer homeowners and property managers the opportunity to to showcase their vacation rentals to the thousands of lake lovers searching our site daily for accommodations. If you'd like additional details, please contact our advertising team here.
Looking for the Lake Nakuru forum?
LakeLubbers previously offered visitors the ability to create accounts and participate in lake forums. When we overhauled the site's content management system in 2021 we had to disable those features. We're evaluating options and welcome your comments and feedback here.
We also encourage you to join our lake-lovin' community on Facebook and Instagram!
Spread the word! Share our Lake Nakuru article with your fellow Lake Lubbers!