Lake Naivasha, Rift Valley, Kenya
Welcome to the ultimate guide for history, statistics, local fun facts and the best things to do at Lake Naivasha.
If you're considering Lake Naivasha vacation rentals, we've made it super easy to explore accommodations and nearby hotels using the interactive map below. Simply click on a listing to compare similar properties, best rates and availability for your dates. Or keep scrolling to read our Lake Naivasha guide!
Lake Naivasha visitor and community guide
Rare in Kenya's east Rift Valley, Lake Naivasha is the country's second largest freshwater lake. Long the traditional territory of the Maasai people, Lake Naivasha became popular in the colonial era as the playground of the English. Agreements with the native people gave colonial ranchers rights to most of the shoreline of the 32,000-acre lake, and the surface served as a landing field for the 'flying boats' operated by Imperial Airways for passenger and mail routes until the 1950s. The history of the lake goes far back into the past when it was part of a much larger lake with outlet waters rushing through the Njorowa Gorge. Now, the gorge lies high above the lake and serves as the entrance to popular Hells Gate National Park.
Water is gained from rainfall, underground seepage and incoming flow from the Malewa and Gilgil Rivers. Unusual for a freshwater lake, there is no out-flowing stream, although recent studies have shown some of its water travels underground as far as Lake Elementaita. Lake Naivasha is also the highest elevation lake in this part of Kenya at 6,180 feet. Only 60 miles north of Nairobi, the lake makes a convenient stop-over for visitors on their way to the 'soda lakes' farther north.
As a welcoming source of fresh water, Lake Navasha is noted for the variety of birds seen here. Flocks of flamingos often are seen, although their preferred food sources are farther north. A full 350 species of birds grace the Lake Naivasha bird list and proliferate in the lush shoreline vegetation and the papyrus swamps. One of the more interesting birds here is the black heron, which forms a tent above its head with its wings while feeding. Bird experts disagree why these heron perform this ritual; perhaps it is to reduce glare from the water to better see their prey or to provide an artificial shady spot to attract small fish and insects. Other birds seen here are red-billed firefinch, spectacled weaver, malachite kingfisher, grey-capped warbler, brimstone canary, long-tailed cormorant, fish eagles and many, many more.
Birds here have increased after early settlers introduced game fish such as black bass, tilapia, Nile perch, the North American red swamp crayfish, and various aquatic plants to the lake to promote sport fishing. Unfortunately, the introduced species quickly unbalanced the natural ecosystem; sport and commercial fishing has since declined. The lake also supports hippo families, while giraffe, buffalo, colobus monkeys, hartebeest, lion, leopard and cheetah can all be viewed at Crescent Island Wildlife Sanctuary on an island in the lake. The best way to see most of the native animals and birds is from the water. Luckily, boat tours are available for a fee.
Lake Naivasha's name comes from the Maasai word for 'rough water', and high waves can appear quickly when the wind kicks up. The lake is great for sailing, and some of the lodges along the lakeshore offer sailboats for rental. Canoeing and kayaking are also quite popular near the shoreline, but there is little public access to the lake. Several lodges and camping facilities offer private access, often to day visitors for a small charge. One shady and attractive camp facility advertises that they provide an electric fence which keep rhino from entering the tent area at night-no doubt to the relief of visitors.
Lodgings are varied, from rustic to elegant, with meals and restaurants to match. There are many European residents in the area, particularly at nearby Crater Lake where nightlife is available. Lake Naivasha makes a fine home base from which to explore the immediate surroundings. Hells Gate National Park offers one of the few walking facilities among African wildlife. Visitors enjoy rock climbing on the escarpment and horseback riding through the park's brush land. Nearby Mt. Longonot National Park encompasses the extinct volcano and surrounding ravines, savannahs, and forested crater. Great views of the Great Rift Valley can be seen from the lookout points on the mountain.
The once vast ranch holdings near Lake Naivasha have been converted primarily to floriculture farms. A full 70% of Kenya's famous rose crop is grown here, benefiting from the fresh waters of the lake. This business activity has caused the small market town of Naivasha to explode in population. The number of people living in the area of the lake is now about 300,000, and infrastructure has not kept up with the boom. Fresh water is difficult for many of the poorer residents to obtain and must be purchased. Sewage systems are limited and in disrepair. And the massive amounts of water drawn from the lake to water the rose crop has been detrimental to lake levels. Although geothermal facilities at the lake produce 15% of Kenya's electricity, many local people cannot access the power.
There have been strong international attempts to solve these problems and protect the lake, with some success. In 1999 the Lake Naivasha Riparian Association, made up primarily of the large flower growers, received the Ramsar Wetland Conservation Award for its conservation efforts regarding the Lake Naivasha Ramsar site. Determining exactly what constitutes over-use of the water resources is difficult because lake levels at Lake Naivasha naturally fluctuate. The massive lake dried up completely around 1900 for several years, with locals farming the former lakebed. Water levels depend to a great extent on the rainfall in the area, so blaming over-withdrawal for low water levels isn't a simple task, particularly in drought years. Luckily, the many commercial users have been willing to change their irrigation and water disposal practices to reduce damage as far as possible and to limit run-off of fertilizers and pesticides into the lake.
As African safari destinations go, Lake Naivasha isn't nearly as replete with the vast numbers of native animals as some of the less populous areas. But the lake can't be beat for bird-watching. Only an hour out of Nairobi by road, there is also an airstrip at Naivasha. Several of the lodges have their own landing strips and can arrange transportation for visitors. So, stop off at Lake Naivasha and enjoy a little freshwater peace and quiet. Make sure to take time to smell the roses!
*Statistics are estimates because lake size varies.
Custom Lake Naivasha house decor
Read our full review of these personalized lake house signs.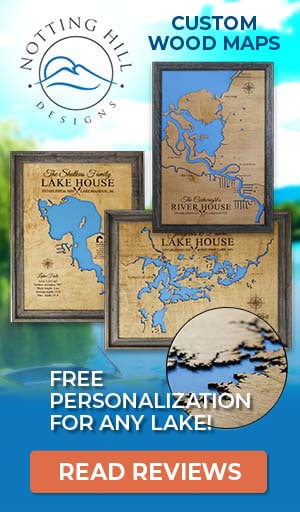 Things to do at Lake Naivasha
Vacation Rentals
Fishing
Boating
Sailing
Canoeing
Kayaking
Camping
Rock Climbing
Horseback Riding
Wildlife Viewing
Birding
National Park
Playground
Fish species found at Lake Naivasha
Bass
Black Bass
Perch
Tilapia
---
Best hotels and vacation rentals at Lake Naivasha
The Lake Naivasha map shown above is a simple and stress-free way to search for trip accommodations. But if you want to take a deeper dive to find the ideal waterfront home, cabin, condo, hotel or resort, visit our favorite lodging partners by clicking the buttons below.
Note: These are affiliate links so we may earn a small commission if you book through them. While there is no extra cost to you, it helps provide resources to keep our site running (thank you)! You can read our full disclosure policy here.
---
Lake Naivasha photo gallery
New photos coming soon!
Lake Naivasha statistics & helpful links
We strive to keep the information on LakeLubbers as accurate as possible. However, if you've found something in this article that needs updating, we'd certainly love to hear from you! Please fill out our Content Correction form.
Advertise your Lake Naivasha vacation rental
LakeLubbers will soon offer homeowners and property managers the opportunity to to showcase their vacation rentals to the thousands of lake lovers searching our site daily for accommodations. If you'd like additional details, please contact our advertising team here.
Looking for the Lake Naivasha forum?
LakeLubbers previously offered visitors the ability to create accounts and participate in lake forums. When we overhauled the site's content management system in 2021 we had to disable those features. We're evaluating options and welcome your comments and feedback here.
We also encourage you to join our lake-lovin' community on Facebook and Instagram!
Spread the word! Share our Lake Naivasha article with your fellow Lake Lubbers!