Lake Mohawk, New Jersey, USA
Lake Locations:
USA - Mid-Atlantic - New Jersey - Skylands -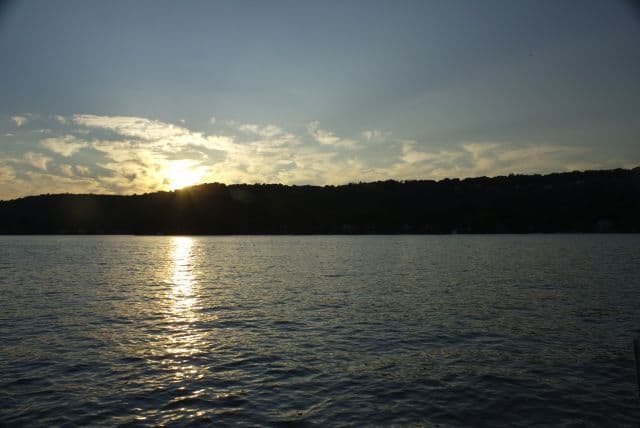 Nestled in the town of Sparta, Lake Mohawk will take visitors and residents back in time with Tudor style architecture dotted around the lake. Although a private lake community in the northwest region of New Jersey, there are restaurants and shopping open to the general public and with the view of the Lake Mohawk, shopping and dining becomes a real treat.
Developed in the late 1920's as a summer resort, Lake Mohawk now is home to approximately 7000 permanent residents. In January of 1926 the Arthur D. Crane Company along with developer and designer Herbert L. Closs began work in a valley called Brogden Meadow. The company dammed Wallkill River at the northern end of the valley and then cleared the lake bottom. The lake was named in honor of Princess White Deer's tribe. She was a full-blooded Mohawk woman who sang on Broadway and attended the 1927 opening of the private resort community.
Stretching three and a half miles long, 800-acre Lake Mohawk offers many amenities for its lake residents. Lake Mohawk is stocked with striped bass and smallmouth bass. Largemouth bass, catfish, and trout may also be caught at Lake Mohawk. There is a catch and release policy so fishing can be enjoyed on Lake Mohawk for many years. Golf is another very popular activity at Lake Mohawk. The Lake Mohawk Golf Club has a course that spans 126 acres and winds its way around the lake.
Other summer activities that can be enjoyed at Lake Mohawk resort community are volleyball, baseball, tennis, softball and water skiing. Water skiing is very popular, and New Jersey's award-winning water ski team, the Ski Hawks, can be seen practicing on the waters of Lake Mohawk. With 11 beaches, swimming and sun bathing are also enjoyed by the lake residents. Boater will enjoy the Mohawk Powerboat Club or the Lake Mohawk Yacht Club; both offer races and championships as well as classes for sailing and boating. When the weather turns cold and snow is on the ground, it is time for even more fun. Skiing, tobogganing, sleigh riding and ice hockey are sports that will keep lake residents from leaving home for the winter.
The Boardwalk winds its way through gardens and around beaches and is a pleasant way to take a stroll. There are many park benches on the Boardwalk that give weary walkers a place to sit and enjoy the view of beautiful Lake Mohawk. The Boardwalk is owned and maintained by the Country Club but parts of the Boardwalk can be used by the general public due to the fact that restaurants and shops sit along it.
The White Deer Plaza, named after Princess White Deer, is home to many shops and restaurants. The Plaza and the Country Club were placed on the National Register of Historic Places due to the unique architecture style that is a combination of Tudor, English Cottage and German Baronial. The architecture style is now called "Lake Mohawk Tudor". The architecture design includes half timbering, variegated slate roofs, stucco siding, gable roofs, stone work, and decorative brick. The Country Club resembles a medieval castle and is an ideal place for weddings or hosting other special events.
Lake Mohawk is a place to call home. Whether people are ready to retire or just to enjoy a perpetual vacation, they will find that Lake Mohawk has every thing they are looking for. The community around Lake Mohawk is made up of everyday people who all share the love of nature and the beauty of Lake Mohawk.
Things to do at Lake Mohawk
Vacation Rentals
Fishing
Boating
Sailing
Swimming
Beach
Water Skiing
Golf
Tennis
Tobogganing
Wildlife Viewing
Birding
Shopping
Fish species found at Lake Mohawk
Bass
Black Bass
Catfish
Largemouth Bass
Smallmouth Bass
Striped Bass
Trout
---
Lake Mohawk Photo Gallery
Lake Mohawk Statistics & Helpful Links
Spread the word! Share our Lake Mohawk article with your fellow Lake Lubbers!