Lake Misurina, Trentino-Alto Adige, Italy
Also known as:  Lago di Misurina
Welcome to the ultimate guide for history, statistics, local fun facts and the best things to do at Lake Misurina.
If you're considering Lake Misurina vacation rentals, we've made it super easy to explore accommodations and nearby hotels using the interactive map below. Simply click on a listing to compare similar properties, best rates and availability for your dates. Or keep scrolling to read our Lake Misurina guide!
Lake Misurina visitor and community guide
One of the most scenic destinations in Italy's Dolomite Mountains, Lake Misurina is a timeless treasure. The largest natural lake in the Caldore District of the Trentino-Alto Adige Tourist Region, Lago di Misurina is set within a heavily forested area of the Parco Naturale Tre Cime or Three Peaks Nature Park. A World Natural Heritage Site, the Three Peaks are Great Peak at 9839 feet, Little Peak at 9373 feet, and Western Peak at 9754 feet. The mirror-surfaced lake set against a green backdrop of trees and the towering Dolomites is a popular spot for holidays, hiking and leisure activities. Hotels scattered near the shore accommodate the many travelers who come to enjoy all the area has to offer.
Lake Misurina is located near the major ski and snow sport destinations in this area of the Italian Alps; the terrain lends itself to hiking, rock climbing and strenuous sports. The valleys are home to small farms, so their flatter roadways are popular for leisurely walks and cycling through a pastoral setting. The lake itself is ideal for picnics and scenic strolls along the lakefront. Some of the hotels here specialize as spa facilities and offer extensive health services. Just the clear atmosphere and serene nature of the lake instill a sense of wellness in visitors. Italy's most famous facility for asthmatic children is located at the lake, taking advantage of the pure mountain air. Because of its popularity as a ski destination, Lake Misurina and the nearest town of any size, Cortina, are somewhat expensive, particularly during ski season.
Area ski lifts are open in summer for visitors intent on getting a bird's-eye view of the surrounding mountains and Lake Misurina. Many hiking trails cross the surrounding nature park, and guided tours can best locate unusual features, wildlife and spectacular viewpoints. Hiking tours and activities are regularly scheduled by Italian hiking groups; the activity is so popular that a "National Week of Excursions" is scheduled each year with a variety of hiking activities in the area near Cortina. The 'week of excursions' actually lasts closer to a month, with many activities planned, including cycle tours, hikes and walks.
Cultural activities have grown up centered around music, food and history relating to this unique area of the Alps. The San Vito Blues & Soul Festival features world-class artists and draws hundreds of music lovers to its festival atmosphere. The 16th century Italian Renaissance artist, Tizano Vecelli, more commonly known as Titan, was born near Lake Misurina in Cadore. His early home is preserved as a tourist location. The town of Pieve de Caldore holds a statue of the artist in the town piazza, and a local church holds the only painting by the great master that remains in the area.
In keeping with the rich folklore tradition of the area, a myth explains the origins of Lake Misurina. The original Misurina was the spoiled princess grandchild of a loving and generous king. Whenever Princess Misurina wanted anything, she'd scream and kick her feet until Grandpa-King indulged her. One day Misurina found out that a witch on a nearby mountain owned a magic mirror that allowed her to see everything happening in the world. So, she demanded the magic mirror and kicked and screamed until she elicited a promise from Grandpa-the-King to obtain it for her. Unfortunately, the old witch drove a hard bargain, forcing the King to allow himself to be turned into a mountain to shade her herb garden. Misurina was distraught when she found out her beloved grandfather had sacrificed his life for her, and the tears she cried filled the lake forever known by her name.
The area near Lake Misurina has a long history of human occupation, with archeological evidence showing the area was inhabited over 2500 years ago. Two World Wars saw heavy action in this borderland between Italy and Austria. Periods of prosperity have alternated with hard times. Many of the smaller farmers have long since left, but historic churches and buildings are being preserved and carefully restored in the surrounding towns. Between the scenic mountains, lake and forests, the local countryside is a photographer's dream come true. Several forms of lodgings exist in the area besides the hotels at Lake Misurina. Farm-stays, guest cottages, holiday apartments and local inns are all available. Along the main roads, many small cafes offer their particular specialties, usually accompanied by a warm camaraderie proffered by the local citizens. Several cycling trails in the area take advantage of the abandoned rail beds left by long-defunct rail lines, including some spectacular stone bridges across valley gorges.
Once the course of the historic Dolomite Gold Cup auto race, the roads in the area are still popular for scenic drives through the park. The narrow mountain roads are full of switchbacks and challenging curves. There have been many improvements made to the roads in recent years, and the main roads to the ski areas are passable all year long. Other secondary roads may be closed during periods of heavy snows. The valley roads pass vegetable stands and local cafes while the forested areas are filled with deer and small mammals. And, as a measure of peace and beauty at the end of a busy day, Lake Misurina awaits, silent and serene within its fame of woods and mountains. It's a scene that will play in your memory forever.
Custom Lake Misurina house decor
Read our full review of these personalized lake house signs.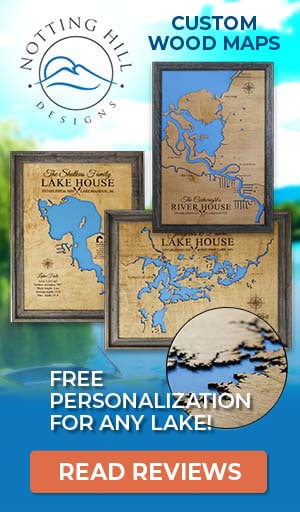 Things to do at Lake Misurina
Vacation Rentals
Picnicking
Hiking
Rock Climbing
Biking
Wildlife Viewing
---
Best hotels and vacation rentals at Lake Misurina
The Lake Misurina map shown above is a simple and stress-free way to search for trip accommodations. But if you want to take a deeper dive to find the ideal waterfront home, cabin, condo, hotel or resort, visit our favorite lodging partners by clicking the buttons below.
Note: These are affiliate links so we may earn a small commission if you book through them. While there is no extra cost to you, it helps provide resources to keep our site running (thank you)! You can read our full disclosure policy here.
---
Lake Misurina photo gallery
New photos coming soon!
Lake Misurina statistics & helpful links
We strive to keep the information on LakeLubbers as accurate as possible. However, if you've found something in this article that needs updating, we'd certainly love to hear from you! Please fill out our Content Correction form.
Advertise your Lake Misurina vacation rental
LakeLubbers will soon offer homeowners and property managers the opportunity to to showcase their vacation rentals to the thousands of lake lovers searching our site daily for accommodations. If you'd like additional details, please contact our advertising team here.
Looking for the Lake Misurina forum?
LakeLubbers previously offered visitors the ability to create accounts and participate in lake forums. When we overhauled the site's content management system in 2021 we had to disable those features. We're evaluating options and welcome your comments and feedback here.
We also encourage you to join our lake-lovin' community on Facebook and Instagram!
Spread the word! Share our Lake Misurina article with your fellow Lake Lubbers!