Lake Minocqua, Wisconsin, USA
Lake Locations:
USA - Midwest - Wisconsin - Lake Superior Northwoods Region -
Also known as:  Minocqua Chain, Minocqua Lake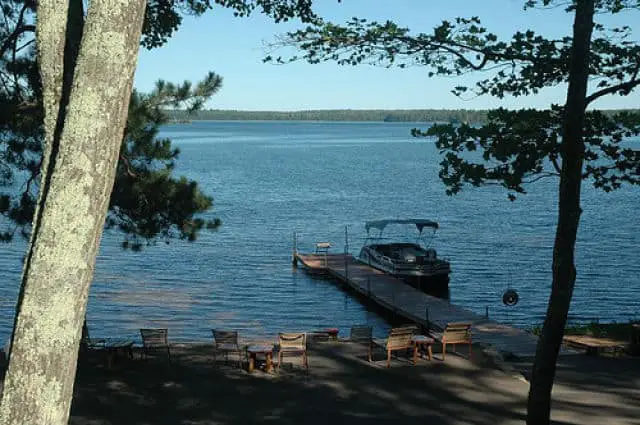 Summer vacation to many in the Midwest means Lake Minocqua. The time-honored tradition of 'going up North' connotes different destinations to different people, but usually means somewhere in northern Minnesota, Michigan or Wisconsin. Within families, generations travel to the same lakes, cottages and areas their grandparents did; one of the most popular is the Minocqua Chain of Lakes in the Lake Superior Northwoods Region of Wisconsin. Lake Minocqua has been greeting Mid-westerners since the late 1800s, offering them swimming, fishing, boating and cool lake breezes to defeat the heat of summer. The mode of travel, the fashions, and the choice of water sports may have changed over the generations, but the lake views and Northwoods vistas remain the same. The memories created around campfires and cooling swims in the moonlight are remarkably similar to those their parents and grandparents hold. Once again, the next generation renews its store of memories and relives its childhood at Lake Minocqua. It is not surprising that Midwest Living recently declared Minocqua one of the '25 Coolest Midwest Lake Vacation Spots'.
Lake Minocqua has a large number of cottages and resorts along the lakefront which are in high demand as the summer progresses. Many families try to reserve the same cottage or cabin annually to impart a sense of ownership to a familiar place on the lakefront. Some visitors bring their own watercraft or rent one locally for the duration of their stay. The interconnected lakes in the chain are perfect for lazy days floating along the irregular shoreline or trolling the longer reaches for walleye or bass. Waterskiing, tubing, pontooning, wake-boarding, sailing, canoeing and kayaking can all be enjoyed here. Large numbers of waterfowl and birds can be seen along the wooded shoreline. The loon's eerie call echoes across the water at dawn, and fish leave ever-expanding ripples on the surface of the lake as the sun goes down.
Fishermen come to Lake Minocqua to try their luck for largemouth bass, walleye, northern pike, smallmouth bass, bluegill, crappie and muskellunge. A number of local guide services offer fishing trips to the best locations and offer tips on local bait successes and water conditions. Fishing resorts along the shoreline usually have a guide service or two on their list to call, and many repeat fishermen utilize the same guides they used in past years. A few marinas offer boat rentals, fishing licenses, gas, bait, tackle and boat launch facilities. A number of campgrounds exist along the chain to the delight of both fishermen and families. Nearby the Northern Highlands State Forest, American Legion State Forest, and the Riley lake and Boot Lake State Wildlife Management Areas offer hundreds of miles for hiking, cycling, canoeing, bird watching and fly fishing. And there are always local golf courses for the avid golfer who just can't imagine not golfing during vacation!
The towns of Minocqua, Lake Tomahawk, Woodruff and Arbor Vitae supply not only the visitor's needs for groceries, medical services, banking and shopping, but a variety of entertainment options to attract visitors regularly. The Min-Aqua Bats ski team provides a display of their prowess weekly during the summer as does the performance troop at Northern Lights Playhouse in nearby Hazelhurst. This summer theater is screened for relief from the sometimes ferocious mosquitoes and other biting insects that descend at dusk on occasion during the summer. A local business offers Pontoon Nature Cruises on the lake to point out nesting spots and watering holes of some of the local wildlife. Only 20 miles away, the Northwoods Children's Museum provides hands-on activities and learning experiences that will delight the children in the family. Lake Tomahawk is the home of a unique 'sport' that has endured for nearly 50 years: Snowshoe Baseball! The local teams play weekly games for much of the summer and draw crowds as large as 300 people per game; all monies collected go to charity. The action isn't what you'd call fast, but certainly does involve some fancy footwork.
Lake Minocqua spans 1300 acres and is connected via water to several other lakes. Big and Little Arbor Vitae lakes, Carroll Lake, Madeline Lake, Mid Lake, Tomahawk and Little Tomahawk, plus Lake Katherine all flow into Lake Minocqua, which in turn flows into Lake Kawaguesaga. A small dam was built in the 1880s where Lake Kawaguesaga flows into the Tomahawk River. The dam raised water levels between four and five feet, not a very popular idea with some residents at the time as it resulted in Minocqua being known as 'the Island city'. The dam allowed larger boats to use the waterway; however, conflicts arose with lumbermen far downstream on the Wisconsin River who objected to having the water flow restricted. Several years of hard feelings and sabotage finally resolved into agreements that exist today.
Finding lodgings around Lake Minocqua is easy, as long as you reserve your favorites early. Literally hundreds of hotels, motels, resorts, private homes, cabins and cottages can be found for rent throughout the year here. Often these rentals are equipped for year-round residence and cater to hunters, cross-country skiers, snowmobilers and ice fishermen. Campgrounds on the Minocqua Chain can accommodate every type of camping from tents to large RVs. Many of the vacation rentals on Lake Minocqua include a row boat or canoe to make your visit complete. Real estate is often available, if not on Lake Minocqua, then on one of the other lakes in the chain. So, if 'going up North' is a part of your vacation vocabulary, come to Lake Minocqua. Make memories you will never forget!
Things to do at Lake Minocqua
Vacation Rentals
Fishing
Boating
Sailing
Swimming
Canoeing
Kayaking
Water Skiing
Tubing
Golf
Camping
Campground
Cabin Rentals
Hiking
Biking
Cross-Country Skiing
Hunting
Wildlife Viewing
Birding
State Forest
Museum
Shopping
Fish species found at Lake Minocqua
Bass
Black Bass
Bluegill
Crappie
Largemouth Bass
Muskellunge
Northern Pike
Perch
Pike
Smallmouth Bass
Sunfish
Walleye
---
Lake Minocqua Photo Gallery
Lake Minocqua Statistics & Helpful Links
Spread the word! Share our Lake Minocqua article with your fellow Lake Lubbers!