Lake McQueeney, Texas, USA
Lake Locations:
USA - Southwest - Texas - Prairies and Lakes -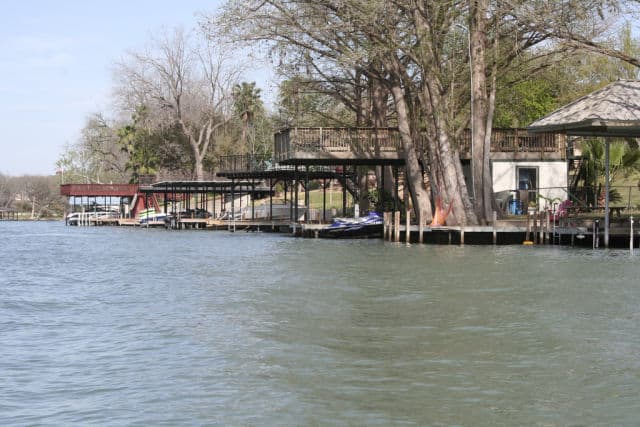 Located in the Guadalupe River watershed, Lake McQueeney is about 7 miles southeast of New Braunfels in the Prairies and Lakes Region of Texas. Managed by the Guadalupe-Blanco River Authority since 1963, Lake McQueeney was constructed in 1928 to provide hydroelectric power to the area. The lake's prominent feature is Treasure Island, a residential area in the center of the lake. The Treasure Island Bridge has traffic lanes with signage that have been set up by the Guadalupe-Blanco River Authority to control traffic of boats and jet skis. All jet skis are to pass under the bridge at no wake speed.
Most of Lake McQueeney is 10 feet deep with deeper sections along the center channel of the Guadalupe River. Recreation on the lake includes fishing, boating, jet skiing, swimming, and birding. There are no public parks or free boat ramps on the shores, as many private homes line the perimeter of the lake.
Aquatic vegetation in the lake includes cattail, pondweeds, American lotus, spatterdock, and rushes. Once a problem, many of the introduced exotics have been kept under control to allow for better access to Lake McQueeney. To help with control, the lake has been stocked with triploid grass carp. If caught, the carp must be immediately returned to the water unharmed. All other fish species are managed under the statewide fishing regulations.
Predominant fish in Lake McQueeney include largemouth bass, Guadalupe bass, striped bass, channel catfish, blue catfish, white crappie, and sunfish. The more popular sport fish are largemouth bass and white crappie. Crappie are more prevalent in the cooler months. Largemouth bass are best fished from fall through spring. A 104-pound yellow catfish caught in Lake McQueeney held the state record for 30 years.
Lake McQueeney is known by the locals as the Water Ski Capital of Texas. Lake associations host water skiing, jet skiing, and wakeboarding events regularly with the Ski Bees Ski club providing shows during the summer. Another area highlight is McQueeney Hall built in 1914 as the first general store in McQueeney. In 2004 the store was renovated into a true Texas honkytonk ballroom with live music and private party facilities.
Lake McQueeney is four miles west of Sequin in west central Guadalupe County. Originally settled by Germans in 1870, it has a strong German influence in the food and architecture of the area. San Antonio's Riverwalk is less than one hour west of the lake. There are numerous small towns to explore, including Sequin, McQueeney, Gruene's Historic District, Marion, Santa Clara, and Geronimo. Vacation rentals are available on Lake McQueeney, so bring your family for a relaxing lake vacation.
Things to do at Lake McQueeney
Vacation Rentals
Fishing
Boating
Swimming
Jet Skiing
Water Skiing
Wakeboarding
Birding
Fish species found at Lake McQueeney
Bass
Black Bass
Blue Catfish
Carp
Catfish
Channel Catfish
Crappie
Grass Carp
Largemouth Bass
Striped Bass
Sunfish
White Crappie
---
Lake McQueeney Photo Gallery
Lake McQueeney Statistics & Helpful Links
We strive to keep the information on LakeLubbers as accurate as possible. However, if you've found something in this article that needs updating, we'd certainly love to hear from you! Please fill out our Content Correction form.
Looking for the Lake McQueeney forum?
For years, we offered LakeLubbers visitors the option to create an account, vote on favorite lakes, edit lake descriptions and participate in forums.
In 2021, we embarked on a major site overhaul with a new content database system. While the result is a modern and faster site which is now optimized for both desktop and mobile users, it also meant we had to put account options on hold and take some time to reevaluate ways to interact with our visitors. 
We hope you'll stick around and see what's new here, and of course, we still welcome your comments and feedback regarding anything on LakeLubbers! You can do that here.
Spread the word! Share our Lake McQueeney article with your fellow Lake Lubbers!