Lake McConaughy, Nebraska, USA
Lake Locations:
USA - Midwest - Nebraska - Prairie Lakes -
Also known as:  Big Mac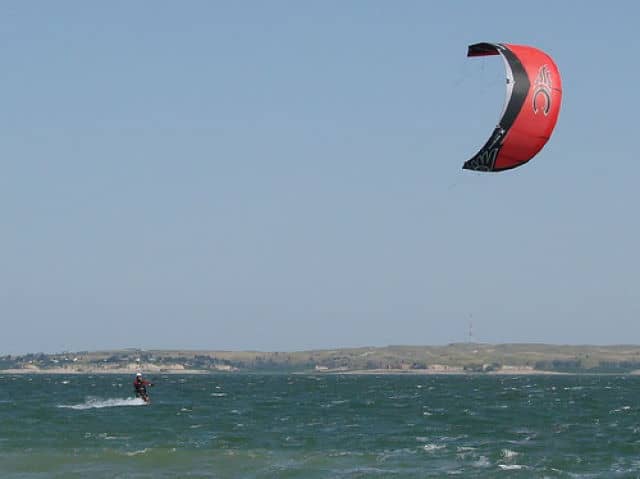 Lake McConaughy, commonly called Big Mac, is Nebraska's largest reservoir with 30,500 acres and 76 shoreline miles. Lake McConaughy is conveniently located near Interstate 80 in southwestern Nebraska's Prairie Lakes region near the city of Ogallala, the county seat of Keith County. Although Big Mac was created to serve as an irrigation reservoir and hydroelectric plant for southwest Nebraska, the lake is a major recreation destination for fishing, boating, sailing, windsurfing, water sports, camping and hunting.
The Central Nebraska Public Power and Irrigation District created Lake McConaughy by impounding the North Platte River. The Kinsley Dam was built between 1936 and 1941 as part of the New Deal Project. Kinsley Dam is one of the world's largest earthen dams, 3.1 miles long and 162 feet high. Today, Big Mac provides irrigation water to more than 220,000 acres along the Platte and North Platte Rivers and hydropower to Nebraska homes, farms, and industries. At normal conservation pool, Lake McConaughy covers 30,500 acres; at full capacity the lake's surface increases to 35,700 acres.
Lake McConaughy is a recreational gem known for its sandy beaches and diverse terrain. The eastern portion of Big Mac is dominated by the Kinsley Dam, where waters can reach depths of 135 feet. The wetland areas at the west end are shallow where the North Platte River enters the lake. Grassy sand hills and sandy beaches lined with cottonwood trees span the north shore. Steep cliffs sculpted by wind and water border the lake's southern shore near the dam, gradually decreasing in height to sandy grassland similar to the north shore. Most development, lake access, and recreation areas are located on Lake McConaughy's north and south shores. Most private housing and a golf course are located on the south shore.
Lake McConaughy is Nebraska's best walleye fishery. The Nebraska Game and Parks Commission estimates that there are more than 320,000 walleye at the legal size of 15 inches or longer. Record walleye reach up to 29 inches. Other Big Mac species include hook wipers, white bass, catfish, and northern pike. Lake Ogallala, located on the other side of the Kinsley Dam, is Nebraska's premier trout fishery. Anglers reel in brown and rainbow trout measuring 20 inches or more.
Almost all of the property owned by the Central Nebraska Public Power and Irrigation District is leased to the Nebraska Game and Parks Commission (NGPC) for recreation and wildlife management. The lake's shoreline is open to the public for camping, except during nesting season for some bird species. The Lake McConaughy State Recreation Area operates three campgrounds on the north shore: Cedar Vue, Lone Eagle, and Little Thunder. A park entry permit is required. The Lake McConaughy Visitors Center and Water Interpretive Center, located near the dam on a bluff overlooking the lake, include a freshwater aquarium, theater, and a Big Mac community room for meetings and receptions. The Clear Creek Wildlife Management Area (WMA) encompasses more than 6,200 wetland acres at the west end of the lake. Thousands of waterfowl, shorebirds, and sandhill cranes visit the WMA annually, a popular destination for nature lovers and bird watchers. Hunters seek deer, geese, ducks, turkey, and other wildlife at public hunting areas within the WMA.
Drought has significantly impacted the North Platte River and Lake McConaughy since the turn of the century. At normal conservation pool, the lake level of Big Mac is 3,265 feet above sea level. Levels dipped below 3,200 feet in 2004-2005, but have been recovering since that time. Because of Lake McConaughy's large size and depth, anglers, boaters, campers, and wildlife enthusiasts continue to enjoy Big Mac's recreational opportunities.
Things to do at Lake McConaughy
Vacation Rentals
Fishing
Boating
Sailing
Swimming
Beach
Golf
Camping
Campground
Hunting
Wildlife Viewing
Birding
Fish species found at Lake McConaughy
Bass
Catfish
Northern Pike
Perch
Pike
Rainbow Trout
Trout
Walleye
White Bass
---
Lake McConaughy Photo Gallery
Lake McConaughy Statistics & Helpful Links
Spread the word! Share our Lake McConaughy article with your fellow Lake Lubbers!