Lake Mashu, Hokkaido, Japan
Lake Locations:
Also known as:  Lake Masyu, Mashu-See, Mashu-ko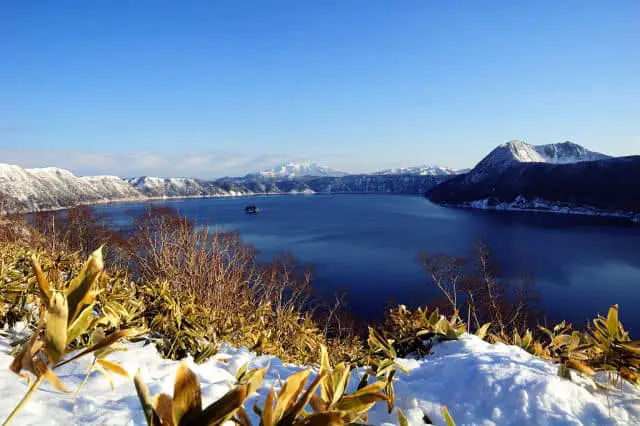 Akan National Park, established in 1934 on the island of Hokkaido, Japan, is a pristine and wild landscape. The park is known for its vibrant blue, clear caldera lakes and natural hot springs, and is divided into two sections; Lake Mashu, one of the clearest lakes in the world, is found in the Kawayu area. Total park area is 349 square miles (905 square kilometers), making up a large portion of northeastern Hokkaido, much of which is a former and still potentially active volcano. Although the last eruption of the volcano below Lake Mashu occurred about 1,100 years ago, the lake was formed around 30,000 years ago during the Holocene era, according to geologic estimates.
Lake Mashu, a natural lake that is 3.7 miles (6.0 kilometers) wide at its maximum, was formed in a caldera, which is a depression that may result from a volcanic eruption. When the magma evacuates from beneath the top of the volcano, often the weight of the volcano's peak is too much for the now-empty magma chamber to bear. The dome then collapses into a deep concave shape, or a caldera. The lone island in Lake Mashu, called Kamiushu, is actually a lava dome that is mostly underwater. The oval-shaped island rises about 82 feet (25 meters) above the lake's surface at its highest point.
Lake Mashu is a kidney-bean-shaped crater lake with a closed drainage basin–called an endoheic basin–which means that no rivers or streams appear to take water away from it, and no direct outlet is known. This is a curious phenomenon because two small streams feed the lake, but the water level is quite stable for most months of the year. Research has suggested that water likely seeps out through the underground volcanic vents or porous lake bed sediments to maintain the static water level. The lake's bottom, which is peppered with pumice deposits, has been found to be very level, which is fairly common among caldera lakes.
At an average depth of 451 feet (137 meters) and a maximum depth of 694 feet (211.5 meters), Lake Mashu is one of Japan's deepest and clearest lakes. In 1931, a measurement of the clarity of this lake's water was recorded at 136 feet (41.6 meters) depth for maximum transparency. In the decades since, the water has remained quite clear and remarkably deep blue, but has also become home to rainbow trout and sockeye salmon, which has decreased its clarity to some degree.
National parks in Japan are governed by the Ministry of the Environment, whose purpose is to protect the unique natural resources available in this island nation, while allowing the public and visitors safe and enjoyable but limited access. For Lake Mashu, this means visitors are prohibited from approaching the lake's shoreline, and no homes or camps are allowed along the lake; however, this rule is not difficult to enforce because 660-foot (200-meter)-high crater walls fully encircle the lake. On the western edge of the lake, an overhanging cliff dominates the crater wall. Full and lush evergreen and birch forests line the crater walls around the lake, and visitors are encouraged to use the two established viewing areas to enjoy the best views of the lake.
With its protected status and unspoiled environment, it's no surprise that Akan National Park is home to many endangered and protected species. Visitors are likely to encounter the northern red fox, red-crowned crane, ezo deer, brown bear, black woodpecker, white-tailed eagle, Blakiston's fish owl, and Steller's sea eagle. The sound of cicadas and crickets is a constant music in these areas in the warmer months.
Lake Akan holds the greatest acclaim of the three caldera lakes in this national park, which is due to its unique environment that allows the endangered and protected species of green algae called marimo to grow to unusually large sizes. These globes can reach up to 12 inches (0.3 meters) in diameter, are velvety in texture, and are brilliant green in hue. A festival is held each fall in their honor–a reminder that their protection is important to the lake's ecosystem. Although Lake Mashu, also known as Lake Masyu or Mashu-ko, is frozen over from December to April in most years, no winter sports are allowed in its vicinity. Instead, Lake Akan provides an arena for skating, ice fishing, and snowmobiling.
A local hiking trail along the crater's rim, known as the Mashu-dake Hiking Course, is an enjoyable trek and provides stunning views of the landscape and the valley of the lake. As might be expected, cycling near the lake is also popular, as is camping in the area beyond the prohibited zone. The Mashuko Youth Hostel, situated between the lake and the town of Mashuko, is well known for its good location. Teshikago, found to the south of Lake Mashu, is the closest small city, with a population of about 8,700. The Wakoto Peninsula Campground is located on the shore of nearby Lake Kussharo, which is a caldera lake to the west of Lake Mashu worthy of a visit. With Lake Akan to the southwest, these three caldera lakes draw many visitors to Akan National Park every year. Lodging and other visitor amenities are available in nearby areas.
For visitors interested in local culture, the nearby picturesque village of Ainu Kotan is a popular destination. Cozy streets allow travelers to roam from shop to shop, browsing handmade crafts and artisan jewelry, traditional folk art, souvenirs, woodcarvings, sculptures, and fabric crafts. Cafes and restaurants feature light snacks and full meals, some of the most popular showcasing local Hokkaido culinary specialties. The local Yukar Theater presents ancient dances of the Ainu people as well as other cultural demonstrations and entertainment. The highlight of Ainu Kotan, according to many visitors, is the traditional Ainu house that has been re-created to give a glimpse into the area's history. Included in this reproduction setting is a diverse collection of demonstrations and workshops that travelers can try or simply observe. From demonstrations on the manufacture of tools and clothing to woodcarving, cultural activities abound here and are sure to delight everyone interested in local traditions.
One of the most interesting aspects of Lake Mashu's history is its legendary status as a cursed lake. Known by the Ainu people as the "Lake of the Devil," Lake Mashu is said to bring bad luck to those who glimpse its serene and mirror-like surface. During the warmer months, a thick fog usually obscures the lake's surface. It's a truly ironic twist that most visitors never get to see this startlingly clear and brilliantly blue lake because it is so often shrouded in mist.
Things to do at Lake Mashu
Vacation Rentals
Ice Fishing
Campground
Hiking
Biking
Snowmobiling
Wildlife Viewing
Birding
National Park
Fish species found at Lake Mashu
Rainbow Trout
Salmon
Sockeye Salmon
Trout
---
Lake Mashu Statistics & Helpful Links
Spread the word! Share our Lake Mashu article with your fellow Lake Lubbers!