Lake Ashi, Kanto, Japan
Also known as:  Ashi-no-ko, Hakone Lake
Welcome to the ultimate guide for history, statistics, local fun facts and the best things to do at Lake Ashi.
If you're considering Lake Ashi vacation rentals, we've made it super easy to explore accommodations and nearby hotels using the interactive map below. Simply click on a listing to compare similar properties, best rates and availability for your dates. Or keep scrolling to read our Lake Ashi guide!
Lake Ashi visitor and community guide
One of Japan's most popular holiday destinations is Lake Ashi. Ashi-no-ko, as it is also called, is a crater lake nestled along the southwest wall of the Mount Hakone caldera in the Kanto Region of Honshu. The lake was created by the last volcanic eruption about 3000 years ago when lava flows dammed the valley's drainage routes. Fed primarily by underground springs, Lake Ashi has only a few short inflowing streams but forms the headwaters of the Hayakawa River. The depiction of Lake Ashi with Mt. Fuji overlooking the background is a well-known symbol of the Hakone region and is often duplicated in Japanese art. For many years, Lake Ashi was a favored honeymoon destination and still welcomes 13 million visitors each year. Completely surrounded by Hakone National Park, a wide variety of scenic and experiential adventures awaits visitors to the Hakone region.
Lake Ashi lies to the south of famous Mt. Fuji and is noted for the reflection of Fuji-san in the waters of the lake. This reflection is often difficult to see due to fog and low clouds. The lake welcomes tourists with a variety of boat cruises, 'swan boat' rentals, rentals of small fishing boats, and loosely organized fishing charters operated by local fishermen. Two competing tour operators maintain most of the cruise boats plying the lake; their competition has resulted in some interesting boat variations designed to encourage customers. The replica 17th century schooners, including a pirate ship, lend an amusement-park air to the cruise but are very popular for families with children. The cruises may stop at several of the small cities along the eastern lakeshore, where a number of tourism-geared attractions are located. Restaurants, hostels, spas and resorts all offer excellent views over the lake.
Fishing is a popular activity among visitors. Because fish is such a vital part of the Japanese diet, many restaurants loan customers fishing poles and tackle for the day. Upon returning the equipment, the kitchen cleans and cooks the catch. The deep, cold lake supports a variety of trout with rainbow trout the most sought-after species. Black bass – an imported species known as largemouth bass in its natural environment – is also a favored catch. Most local fishermen seem to focus on a native species of small fish called the pond smelt which are featured in many local dishes.
Lake Ashi offers a few public beaches, but small boats and canoes seem to be the favorite water sport. At least one resort offers year-round water slides with heated water from the thermal springs near the lake. The natural springs have been augmented with several drilled wells to access the heated water, and many hotels and resorts feature swimming pools utilizing the hot spring waters.
Although heavily developed in some areas and often overcrowded during popular holiday weeks, a few inns and guest houses still offer traditional lodgings, with sleeping rooms furnished with tatami mats, indoor grilling facilities, and meals served at low tables in the rooms. Others are strictly Western in their approach. A few campsites are provided around the lake, usually connected with the hotels to handle overflow. Many small guest houses are located around the lake, and the national park rents self-catering cabins which are very popular.
The western side of the lake can only be accessed on foot. This less-developed side offers great hiking trails under a canopy of leaves. Autumn is a favorite time to hike around the lake when shorter days turn the maples to brilliant reds. From nearly every point along the lakeshore, gondolas of the Hakone Ropeway can be seen gliding silently above. Nearly the entire shoreline can be reached by walking trail. The paths are also popular for mountain biking. The Skyline Trail is usually reserved for more athletically-inclined cyclists who thrill to the scenic views of Mt. Fuji and the lake far below.
Lake Ashi isn't reserved just for nature lovers. Several museums and historical points are located near the shore. Traditional Hakone Shrine is hidden among tall trees at the foot of Mount Hakone, but its distinctive red torii gate stands in the lake. A boat landing below leads visitors up a series of steps flanked by paper lanterns through an emerald-green forest to the shrine itself. A second Hakone Shrine, Mototsumiya ("original shrine") stands at the summit of Komagatake, one of Mount Hakone's multiple peaks. It is accessible from the Komagatake Ropeway from Hakone-en or via hiking trails. The Narukawa Art Museum is located along the shoreline and offers continually-changing exhibits of paintings, sculpture and other works of art. Picturesque Fukara Watergate on the northwest shore controls water flow to a 4200-foot-long irrigation tunnel built in 1670 and still in use. The Japanese Gardens at Hakone-en are one of the loveliest places to view the lake and Mt. Fuji. The Hakone-en Resort also maintains a major aquarium featuring over 2000 freshwater species and 20,000 saltwater fish.
Lake Ashi is ideally situated as a holiday destination. The eastern shoreline is the destination point for the bus lines and trains arriving from Tokyo and Yokohama and serves as the entry to the Hakone Ropeway system of gondolas, hiking trails and mountain biking pathways. Beautiful views of Lake Ashi's blue waters can be seen from these high vantage points. The area is well-known for its sulfur springs and medicinal baths. One location along the Ropeway sells 'longevity' eggs boiled to a deep black shell in the hot sulfur waters. It is traditional to partake of a few of these edible eggs to gain the seven extra years of life they promise.
Others come to enjoy some of the most spectacular resort spas along the Lake Ashi shoreline. Japan's bullet trains can reach Lake Ashi in two hours from either Tokyo or Yokohama. Nature, luxury and tradition all complement each other at Lake Ashi and provide the ideal getaway to city dwellers looking for scenic vistas. Come and enjoy Lake Ashi's many attractions. And, bring the salt shaker for that egg!
Custom Lake Ashi house decor
Read our full review of these personalized lake house signs.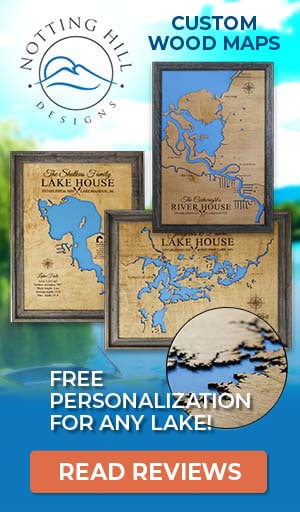 Things to do at Lake Ashi
Vacation Rentals
Fishing
Boating
Swimming
Swimming Pool
Beach
Canoeing
Camping
Cabin Rentals
Hiking
Biking
National Park
Museum
Amusement Park
Fish species found at Lake Ashi
Bass
Black Bass
Largemouth Bass
Rainbow Trout
Smelt
Trout
---
Best hotels and vacation rentals at Lake Ashi
The Lake Ashi map shown above is a simple and stress-free way to search for trip accommodations. But if you want to take a deeper dive to find the ideal waterfront home, cabin, condo, hotel or resort, visit our favorite lodging partners by clicking the buttons below.
Note: These are affiliate links so we may earn a small commission if you book through them. While there is no extra cost to you, it helps provide resources to keep our site running (thank you)! You can read our full disclosure policy here.
---
Lake Ashi photo gallery
New photos coming soon!
Lake Ashi statistics & helpful links
We strive to keep the information on LakeLubbers as accurate as possible. However, if you've found something in this article that needs updating, we'd certainly love to hear from you! Please fill out our Content Correction form.
Advertise your Lake Ashi vacation rental
LakeLubbers will soon offer homeowners and property managers the opportunity to to showcase their vacation rentals to the thousands of lake lovers searching our site daily for accommodations. If you'd like additional details, please contact our advertising team here.
Looking for the Lake Ashi forum?
LakeLubbers previously offered visitors the ability to create accounts and participate in lake forums. When we overhauled the site's content management system in 2021 we had to disable those features. We're evaluating options and welcome your comments and feedback here.
We also encourage you to join our lake-lovin' community on Facebook and Instagram!
Spread the word! Share our Lake Ashi article with your fellow Lake Lubbers!