Lake Malawi, African Great Lakes
Lake Locations:
African Great Lakes - Malawi - The Lakeshore - Mozambique - Manda Wilderness - Tanzania - Iringa - Mbeya - Ruvuma -
Also known as:  Lake Nyasa, Lake Nyassa, Lake Niassa, Lago Niassa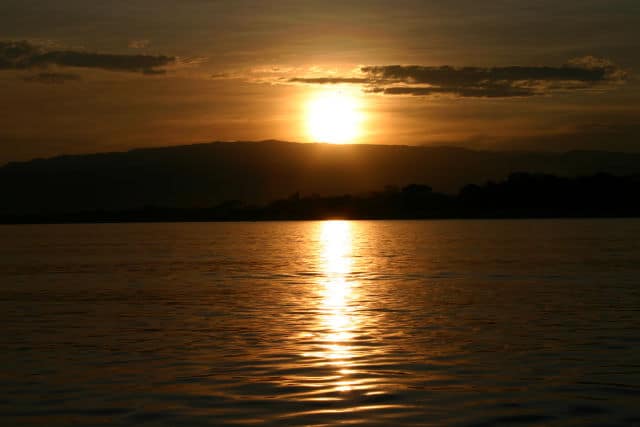 Located in the East African Rift Valley system between Malawi, Mozambique and Tanzania, Lake Malawi — also known as Lake Nyasa, Lake Nyassa, Lake Niassa, and Lago Niassa — is the third-largest lake in Africa at over 7,314,319 acres. It also has the distinction of being the second deepest lake in Africa with a maximum depth of 2,316 feet; and with its tropical waters, it reportedly contains more fish species than any other lake in the world. Its largest tributary is the Ruhuhu and its outlet is the Shire River. Lake Malawi is approximately 218 miles southeast of Lake Tanganyika, the second largest lake in Africa.
Lake Malawi, which is believed to be 40,000 years old, was discovered by Europeans in the mid-19th century, including David Livingstone in 1859; he named it Lake Nyasa. The United Kingdom claimed much of the area surrounding the lake during colonization and formed the colony of Nyasaland. Other areas around the lake were colonized by Portugal and Scotland. Most of the lake is in Malawi, with about one fourth located in Mozambique, including the Malawian islands of Likoma and Chizumulu, which are the lake's two inhabited islands. The islands, which are famous for their abundance of Baobab trees, support several thousand people each.
Part of the Great Lakes of Africa, Lake Malawi is third only behind Lake Victoria and Lake Tanganyika. Also called the African Rift Valley Lakes, the list also includes Lake Turkana, Lake Albert, Lake Kivu, and Lake Edward. The area is the source for the Nile and has been of great interest to Europeans for centuries.
Situated on the southern end of Lake Malawi, Lake Malawi National Park is the only national park in Malawi created to protect fish and aquatic habitat. It is home to crocodiles, hippopotamuses, baboons, an 800-year old baobab tree, and many endemic fish species, including cichlids, which are popular for aquariums. Expect to find chambo, large catfish, tilapiines, and haplochromines. The lake is also home to open-water and sand-dwelling species of fish such as the mbuna.
Activities at Lake Malawi include swimming, snorkeling, diving, sunbathing, fishing, sailing, horseback riding, water skiing, kayaking, and cruising. The water is very clear but take caution when going into waters far from home. The southern lake shore has good beaches in Senga Bay, Nkudzi Bay, Namaso Baym, and the Mangochi area. Vacation rentals are readily available in this area. The northern shore is less developed than the south and often cooler during the rainy season. Visit Livingstone and Karonga for some history and culture in the north. Diving in Lake Malawi is excellent, offering 70 feet of visibility in most of the lake's clear water.
Likoma Island, which is home to a very large cathedral built in the early 1900's, has several nice beaches and eco-friendly resorts. Take a boat from the mainland of Lake Malawi to the island and spend your days hiking on the island or kayaking around it. The mountain backdrop of the lake is breathtaking at sunset, offering beautiful African vistas.
One of Africa's great treasures, Lake Malawi offers clear water, mountain views, and an African wildlife experience not often matched, To view unparalleled sunsets across one of the largest lakes in the world, head to Lake Malawi and rent a vacation home for an adventure your friends will be envious of.
Things to do at Lake Malawi
Vacation Rentals
Fishing
Boating
Sailing
Swimming
Beach
Kayaking
Water Skiing
Snorkeling
Hiking
Horseback Riding
Wildlife Viewing
National Park
Fish species found at Lake Malawi
Catfish
Chambo
Haplochromine
Tilapiine
---
Lake Malawi Photo Gallery
Lake Malawi Statistics & Helpful Links
Spread the word! Share our Lake Malawi article with your fellow Lake Lubbers!