Lake Lyndon B. Johnson, Texas, USA
Lake Locations:
USA - Southwest - Texas - Hill Country -
Also known as:  Lake LBJ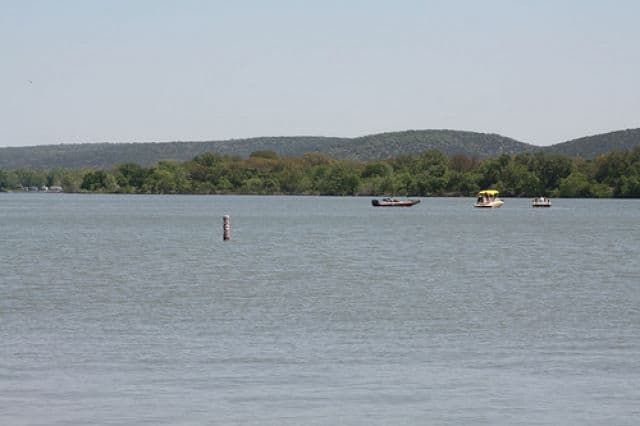 Lake Lyndon B. Johnson, also called Lake LBJ, is a 6,449 acre lake located in Llano and Burnet counties of the Texas Hill Country. The third of seven lakes in the Highland Lakes chain, the lake is about 45 miles northwest of Austin. Lake LBJ was created in 1951 by the building of Wirtz Dam at the convergence of the Llano and Colorado Rivers, which meet at the northern portion of the lake.
Originally called Granite Shoals, Lake Lyndon B. Johnson was created in 1951 by the Lower Colorado River Authority (LCRA) to provide additional hydroelectric power for the region. Lake LBJ also provides cooling water for the LCRA's Thomas C. Ferguson Power Plant along its Horseshoe Bay. There are seven reservoirs on the Colorado River called the "Highland Lakes,"; the others are Lake Buchanan, Inks Lake, Lake Marble Falls, Lake Travis, Lake Austin and Lady Bird Lake.
Lake Lyndon B. Johnson was renamed for the 36th President of the United States in 1965. President Johnson worked to enact the Rural Electrification Act, which helped create Lake LBJ and the other Highland Lakes. He also owned a ranch on the shores of Lake LBJ.
Lake Lyndon B. Johnson is extremely popular with water sports enthusiasts as it maintains a fairly consistent water level throughout the year. Boating, water-skiing, jet-skiing, and other water sports are enjoyed on the lake year-round. There are 17 boat ramps available as well as courtesy docks to launch boats and other water recreation vehicles.
Fishing is also popular on Lake LBJ. Largemouth bass, white bass, catfish, crappie, shad, bluegill and sunfish are stocked in Lake LBJ to make it a top-notch locale for anglers. Much of the of the property bordering the lake is privately owned, but the LCRA maintained Granite Beach Recreation Area on the south shore of Lake LBJ provides beach access for swimming, a boat ramp, picnic grounds, cabins and conference facilities. A water park is also available at the Lake LBJ Yacht Club and Marina in Granite Beach.
The region also provides many activities off Lake LBJ. Golfing, bird watching, and vineyards are nearby. History buffs will enjoy the Nightengale Archaeological Center at Kingsland, which provides information about prehistoric peoples inhabiting this part of Texas. For more recent history, President Lyndon B. Johnson's boyhood home and ranch offers tours in nearby Johnson City. Packsaddle Mountain, five miles outside Kingsland, provides hiking and wildlife watching opportunities as well as unique geological formations and historical connections to Texas' pioneer past.
Lake Lyndon B. Johnson provides some of the best venues for boating and watersports in central Texas, as well as many opportunities for fun both on and off the water. This beautiful region offers fun for the whole family all year long, as a vacation or retirement destination.
Things to do at Lake Lyndon B. Johnson
Vacation Rentals
Fishing
Boating
Swimming
Beach
Jet Skiing
Water Skiing
Golf
Picnicking
Cabin Rentals
Hiking
Wildlife Viewing
Birding
Fish species found at Lake Lyndon B. Johnson
Bass
Black Bass
Bluegill
Catfish
Crappie
Largemouth Bass
Shad
Sunfish
White Bass
---
Lake Lyndon B. Johnson Photo Gallery
Lake Lyndon B. Johnson Statistics & Helpful Links
Spread the word! Share our Lake Lyndon B. Johnson article with your fellow Lake Lubbers!